September 2023: Jordan Derby '22
After observing the impact of the COVID-19 pandemic on the elderly community, Jordan Derby and his wife started an organization called Our Futures Past. Founded in memory of his grandmother, Our Futures Past works with families and youth organizations to coordinate events to support the senior community in and around Anne Arundel County, Maryland. In July, the organization held a "retro movie" night for a senior center, and they are currently planning another event at an assisted living facility, at which volunteers and residents will pair up to create paintings on canvas.
Derby hopes that the organization will not only help the elderly but build a bridge between youth and seniors so that both communities can benefit, each gaining wisdom and understanding from the other. His next focus for the organization is developing a two-tiered junior support volunteer commitment program, called OFP Role Models, which would enable 15- to 18-year-olds to engage with the senior community and gain experience in areas such as event-planning, graphic design, nonprofit management, and other career paths.
"I volunteer because I believe the best way to make the world better is by serving those in your local community," shares Derby. In addition to running the organization, Derby is a father to three, a Navy veteran, and a graduate of UMGC's Master of Science in Cybersecurity Technology program.
August 2023: Abigail Stabile, current student
Abigail Stabile is an MBA student, mother of two, wife, Navy Reservist, and a volunteer within her community in Guam. Her volunteer service includes working with Friends in Need once a month to provide a meal for the homeless community; assisting in the Children's Ministry at her church; and helping at the Harvest House, an organization that supports Guam's foster children and families. Recently, she donated backpacks for their Back2School event.
In May, Stabile volunteered to help respond to Typhoon Mawar with her unit, Defense Coordinating Element West, Guam. For more than two months, she worked closely with other organizations (such as FEMA and Army National Guard) and served as the Admin Leading Petty Officer for her unit and the J1 for the response.
Stabile experienced childhood trauma that she was able to escape as a teen because other family members took her in. "I could have easily been in the foster system or homeless, but I wasn't because I had someone that loved me and was willing to make sacrifices for me," said Stabile. Seeing others care for her well-being has prompted her to be grateful for what she has, to count her blessings in life, and to give back to help others in need.
July 2023: Merry Nicole Meyer, current student
Merry Meyer, an undergraduate student majoring in management studies, has a long history of volunteer service. Currently, she serves on the board of two organizations that focus on the well-being of animals—SnipWell, a vet clinic that provides spay/neuter and wellness care at a reduced cost, and the Bichon Frise Club of America, a club that promotes responsible breeding and ownership of the bichon frise dog breed. In her roles with the organizations, Meyer helps to organize fundraising and development events. She also has helped the dog rescue arm of the Bichon Frise Club as a volunteer for its events and as a foster mom for the rescues.
In addition to her dedication to animals, Meyer has served on the board of her homeowner's association and volunteered at the local school as well as for other organizations. In her Maryland hometown, she was one of the founding members of Frederick's Bike Night Series, a fundraiser dedicated to helping local families who are struggling with high medical costs because of serious illnesses. In her current community in Charlotte, North Carolina, she hosts an annual "Party with a Purpose" Christmas Open House to benefit the Charlotte-Mecklenburg Police Department Explorers Toy Drive, the Loaves & Fishes Food Pantry, and SnipWell. More than 500 toys and bikes and 1,500 pounds of food— along with monetary donations and supplies for SnipWell—have been donated through this event.
"Volunteering helps me connect with my community and people with similar interests and offers unique experiences," says Meyer. "Supporting different organizations helps me discover hidden talents, broadens my skill set, and expands my network. It just feels good to help!"

June 2023: Edwin Williams, current student
Edwin Williams served on the 12-member UMGC Student Advisory Council (STAC) from January 2021 to May 2023. Shortly after starting his first term, he was nominated as the vice-chair, a position he held throughout his tenure. As a STAC representative, Williams attended monthly meetings and provided feedback to multiple staff members around the university on various projects and changes that affected students.
Based on his own first-year experience at UMGC, unaware of the power of having a success coach or the Golden ID program, Williams hopes that his service helped prevent students from being left in the dark. "I always felt a sense of accomplishment every time the council met to address problems that affect the entire UMGC student community," he shared. "Some of the issues that the council deals with may seem insignificant to one student but very significant to another, and we did not take them for granted, thanks to a great STAC team and superior coordination."
Initially from Ghana, Williams moved to Maryland after living in England and Canada. He is pursuing a Bachelor of Science degree in Cybersecurity Management and Policy.
April/May 2023: Saresa Pleasant '09
Saresa Pleasant is passionate about helping others see their potential and step into the profession they were called to pursue. Her career with the federal government, spanning 27 years across five agencies, has prepared her to share with others how to move up the career ladder through self-determination and a desire to succeed. Currently employed with the Department of Homeland Security, she is a mission support specialist with a specialization in workforce management.
Pleasant earned her AA from the Community College of Baltimore County–Dundalk, BA from the University of Baltimore, and graduate certificate in Leadership and Management from UMGC. She is a member of the National Résumé Writers Association and the Society for Human Resource Management. She has also been an active member of Toastmasters since 2003 and earned a Distinguished Toastmasters award in 2016.
In 2012, Pleasant and a former coworker founded SISTAS Thrilled About Reading. Featured in the Baltimore Times, this community-based book club builds a bond of sisterhood at monthly discussions that motivate and empower every member. Through fundraising efforts and donations, the club has awarded book scholarships to graduating high school seniors in the Baltimore area and donated toiletries to homeless women.
Pleasant dedicated her time to UMGC's Career Fair in March 2023, working with current students who were participating in the fair. 

March 2023: Aiden Allred, current student
Aiden Allred, a full-time servicemember in the Army, is also a father, a student, and a volunteer. In December 2022, Allred started volunteering for the Crisis Text Line. In this role, he assists people through times of crisis, having text conversations on sensitive, personal topics. During those conversations, Allred provides texters with resources to help them gain long-term coping abilities. As of early March, Allred has helped 32 people through the Crisis Text Line. He is also a blood donor and likes to help his community in other ways when the opportunity arises.
Allred, who completed his Associate of Arts degree at UMGC in fall 2022 and is now pursuing a bachelor's degree in finance, shares his love for helping people. "Whether it's serving my country, donating blood, cleaning up trash in my community, or spending time on the crisis line, I genuinely love helping others and knowing that what I do makes a difference."
Anyone can reach out for help by texting "HOME" to 741741.
February 2023: Jessica Johnson, current student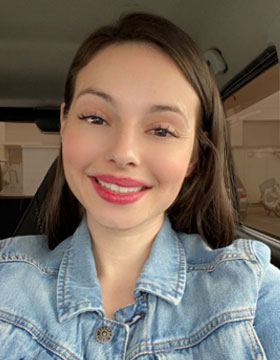 Jessica Johnson, an undergraduate student in UMGC's Asia division, is passionate about helping expanding families get the support they need. She has been volunteering with the American Red Cross for the past year, helping deliver Baby of the Month items to the naval hospital in Yokosuka each month. Johnson also volunteers as a lactation support educator for expecting mothers at the hospital, as well as with the Navy Marine Corps Relief Society, where she serves as a Budget for Baby instructor and occasionally helps with the postpartum support group. Johnson volunteers while also balancing a course load as she pursues her associate degree in general studies.
"I take pride in serving military families and being part of an extraordinary community of people who never hesitate when it comes to lending each other a hand," shares Jessica. "To volunteer is to serve others."
January 2023: Cliff Timpson '18 & '20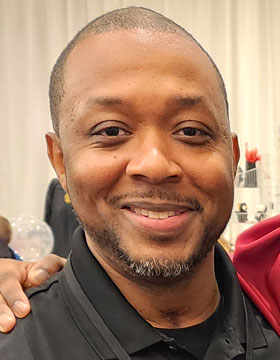 Clifford "Cliff" Timpson recently volunteered at UMGC's Winter Grad Walk. He spent two days greeting graduates and their families; celebrating the class of 2022; and sharing information about the UMGC Alumni Association, its benefits, and its resources.
"This was the first time I was able to be on campus and see an event dedicated to graduation on this level," Timpson said. "It was a unique and personal experience for thousands of grads. I was able to witness an engagement on stage, see a mother and her baby with matching caps and gowns, and meet staff members I only communicated with virtually."
The time and effort Timpson dedicated to Winter Grad Walk exceeded the expectations of his role and were surpassed only by the joy and pride he displayed for each graduate he met. His enthusiasm and energy were contagious.
December 2022: Kai Corkery, current student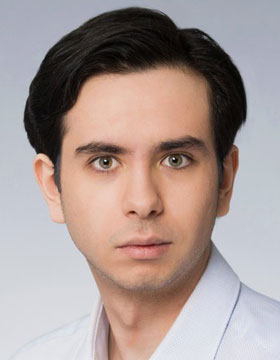 Kai Corkery, an undergraduate student pursing a Bachelor of Science in Management Studies, gives back to his community by volunteering at the New York Blood Center. Corkery helps donors after they have their blood drawn, encouraging them to stay for a 15-minute observation period, offering snacks and beverages, and requesting additional assistance when someone feels unwell. He has been volunteering at the blood center an average of four times a month since June 2022. He is also planning a blood drive at his church.
Corkery believes that volunteering is an important part of gaining a clear view of our community. He said, "I volunteer to avoid the pattern of absorbing headlines and believing they describe our world. We must engage in our communities and change our perspectives. Then we can perform actions that benefit others in tangible ways." 
November 2022: Brandon Sutan, current student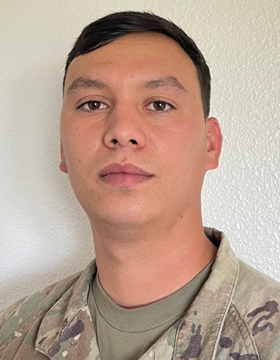 Brandon Sutan is an avid volunteer in his community at Fort Carson, where he donates his time to several organizations. He is a youth mentor through the Travis Manion Foundation, developing future leaders by providing guidance and teaching life skills. He also volunteers with the Fort Carson United Service Organization (USO), where he opens/closes the facility, makes sure it stays clean, and serves food to other active-duty servicemembers. As an ambassador for Mission 22, a program that supports veterans and their families, Sutan runs information booths and coordinates with state and regional leaders in planning and executing events. Through the Fort Carson Army Volunteer Corps, he helped set up and direct the first-ever Fort Carson Pinewood Derby. Sutan hopes that other soldiers will see him volunteering and follow his lead.
His service also extends beyond his local community. Sutan is an active member of the CatchaFire website community, which matches skilled volunteers to nonprofits to help them increase their capacity and achieve their missions. His work at nonprofits, where he taught others ways to use funding more effectively, saved those organizations more than $15,000.
Sutan, who is pursuing his associate degree at UMGC, believes that "any positive impact you have on someone's life can ultimately change their future." 
October 2022: Aaliyah El-Amin '14
Aaliyah El-Amin is a proud, energetic, and passionate member of the UMGC military advising team. She started her career working as an Education Services Specialist with the U.S. Army. After almost four years, she made the decision to move to UMGC in 2012. Not only is she an exemplary employee, she is also an incredibly involved alumni volunteer.
After coming to UMGC, El-Amin earned her Human Resource Management certificate in 2014. Over the course of the past several years, she has been an avid supporter of alumni programming through the Alumni Relations team. She has volunteered for many in-person events put on by Alumni Relations and by Career Services. Most recently she volunteered at the in-person 2022 Maryland Homecoming in Adelphi, Maryland.
El-Amin has done amazing work serving UMGC's working adult learners. This year—2022—marks her tenth year with the university. We couldn't be happier and more excited to have her as a colleague and active member of the UMGC alumni community.
September 2022: Ebony McArthur '18 & '20, current student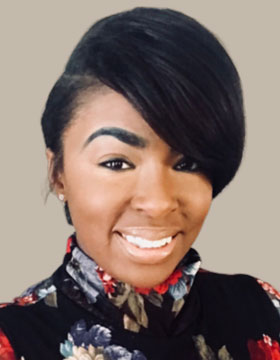 When the opportunity arose, Ebony McArthur chose to run for the Student Advisory Council (STAC), knowing that her unique perspective as a student who participated in multiple degree programs at UMGC would be valuable in a role that represented the student community. McArthur began her studies at UMGC in 2016 and has since earned a Bachelor of Science in Finance and an MBA. She began her service as a graduate representative on STAC in January 2021 when she entered the doctoral program in business administration.
In addition to serving on STAC, McArthur has also volunteered for various student panels, an experience that has enabled her to share the student experience directly with UMGC leadership. She has also been a member of the University System of Maryland Student Council since September 2021.
"Volunteering is extremely important to me because it gives me a sense of community and the ability to work with others," shares McArthur. "It means sacrificing your time and sharing your knowledge to aid others, which is what I love to do. I've always loved to learn, and I've always loved teaching and sharing my experiences."
McArthur is owner of McArthur Realty Group and a financial literacy coach.
August 2022: Marco Avecilla '22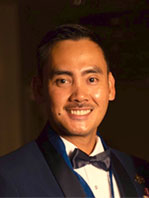 Marco Avecilla recalls how his father told him about almost becoming a priest when he was younger. In the end, his father followed his heart. "It is about choices and whatever that choice is, it must come from your inner soul," recalls Avecilla. "I volunteer because of his principles as a servant leader." At UMGC, Avecilla volunteers through his role on the Student Advisory Council, first as the undergraduate European division representative and then as an undergraduate stateside representative. 
Avecilla has served on the council since summer 2020. Often staying up past midnight to attend meetings in Europe, he provided valuable feedback, representing military students. In 2021, Avecilla became the secretary for the council, a position he held until June 2022. Avecilla completed his Bachelor of Science in Accounting this month. 
While serving in the U.S. Air Force, Avecilla was awarded Senior Non-Commissioned Officer of the Year, Air Force Meritorious Service medals, Air Force Commendation medals, Air Force Achievement medals, and NATO medals. 
"I volunteer because it is the right thing to do. Giving back to the community gives me a sense of humility and that there's hope for humanity," says Avecilla. "Just like my father left me with kindness and the legacy that I should be a model for others to follow."
July 2022: Alexandra Alexis '21 and current graduate student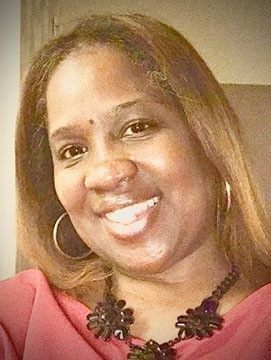 Alexandra Alexis believes in the power of celebration and helping others. During the COVID-19 pandemic, she recognized the importance of celebrating each course that took her closer to her goal. Nothing stopped her, and in May 2021 she earned her bachelor's degree in social science from UMGC. When she heard about the UMGC Spring Grad Walk and how 2020, 2021, and 2022 graduates were invited to walk, she wanted to celebrate this milestone with her fellow graduates. Instead of walking herself, she signed up to volunteer on both Saturday and Sunday, spending her weekend welcoming new graduates to the alumni community. Alexis believes "It is important to make time to motivate and encourage others to be successful and want to accomplish so much more!"
"I had a great time cheering for the new graduates. I know how much these graduates and their families have overcome to achieve this," shares Alexis. She has also overcome challenges to achieve her education. With a focus on her passion for helping others, she returned to UMGC and is pursuing her Master of Science in Healthcare Administration for a career in healthcare.
"It was not a question of whether I would be there to volunteer," says Alexis.  "Volunteering is good for the heart and soul."
April/May 2022: Nicole Bryant '16 & '18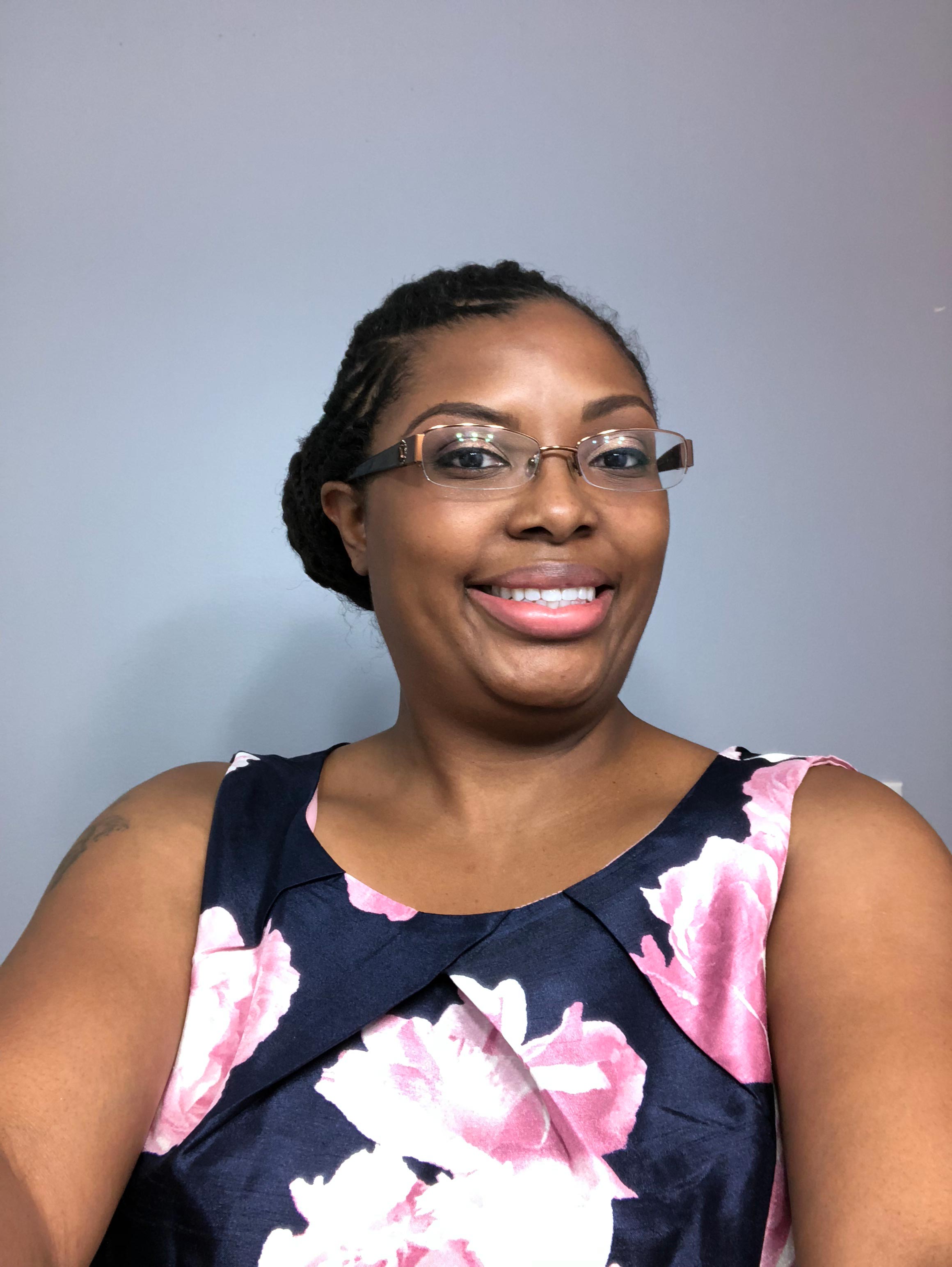 Nicole Bryant, an alumna who completed both an MS in Health Care Administration and an MBA at UMGC, volunteered for the university's annual career fair in March. The career fair is a large event designed to help match students with potential employers, and it relies on volunteers to provide both parties with a high-quality experience. "UMGC has given me an opportunity to share my talent and skills with other alumni and students," says Nicole, who mentors new employees at her job at MedStar Health.
Bryant has been a volunteer her entire life. As a child, she helped to put together food bags with her grandmother at their church to feed the homeless. Growing up, she continued to volunteer at local shelters and churches in their outreach initiatives. As an adult, Bryant has mentored new employees, helping young professionals become managers, directors, and vice presidents. She also helps at her church, in her neighborhood, and at her daughter's school, and she serves as treasurer and a mentor in the Greater Maryland Chapter of the National Black MBA Association.
"Volunteering is something everyone should do," Bryant said. "Either on a small scale or large scale, volunteering is the backbone of success for many people and organizations. Someone helped me to be successful, therefore I believe I must help the next person."
March 2022: Keairra Adams '14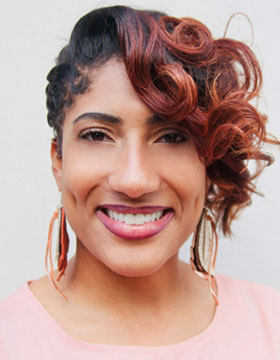 Keairra Adams makes volunteering and helping others an integral part of her life. "One of the greatest gifts you can give is your time, for we can never get it back," she said. Adams volunteers at various organizations, from her church, where she serves as an outreach ministry member, to local service organizations, where she participates in a number of events, including food drives, visits to rehab facilities, recycling initiatives, reading time at childcare centers, and women's empowerment activities.
While she was a student, Adams became a member of multiple honor societies, and she has given back to them by volunteering to serve on their scholarship committees. Most recently, she participated in the fall 2021 induction ceremonies for UMGC's chapter of Alpha Sigma Lambda, the premier honor society for adult students in higher education.
As a recent alumna of UMGC, Adams signed up to mentor new students in 2015, helping them adjust to the university and checking in on them throughout the term. She continued to help students until the mentoring program ended in 2016. She has also volunteered for UMGC's annual virtual career fair.
Adams said, "My favorite quote is 'Never doubt that a small group of thoughtful committed individuals can change the world. In fact, it's the only thing that ever has.' I aspire to be one of these world-changing individuals and pray that I've blessed at least one person in my years of volunteer service. It is my sincere honor and pleasure to continue forevermore."
February 2022: Barbara Archer, Current Student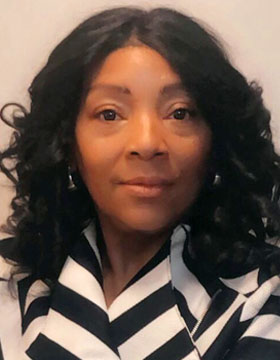 As a child, Barbara Archer learned firsthand what it is to rely on the kindness of others. She now feels fortunate that she was able to overcome the obstacles she faced to support herself and her children but is aware that not all people have had the same privileges she had. Therefore, Archer takes on volunteer roles when she has the opportunity in hopes of helping others.
For the past year, Archer has served as the executive chair of the UMGC Student Advisory Council. As chair, Archer plans and leads the monthly meetings, coordinates with UMGC staff, and communicates with fellow students. She hopes that she can make a difference in advocating and being the voice for the student body. She has also participated on the development committee for a new mental health advocacy student organization.
In 2000, Archer acted as the chaplain at a correctional facility. As chaplain, her main duties were to administer, supervise, and perform work in a program of spiritual welfare and religious guidance for inmates.
When asked, "How can one person open the door for someone else?" Archer said, "We all walk unique paths, and our own experiences shape how we view the world. You may think of yourself as an underdog, but just think how you can use your sphere of influence to help the next underdog be successful."
Archer is pursuing a bachelor's degree in legal studies in the hope of one day becoming an attorney so that she can continue to help others in a new role.
January 2022: Rachel Jones, Current Student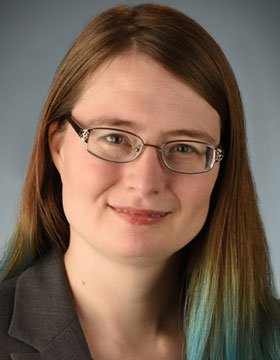 When Rachel Jones heard about the ARISS (Amateur Radio on the International Space Station) program with NASA, she embarked on a yearlong project to help local students participate. Her efforts included reaching out to schools, completing an application, designing a curriculum, teaching students, and coordinating a large-scale event. She also coordinated with local radio clubs to ensure that they had the technology needed to communicate with the International Space Station.
Throughout the year, Jones helped the students learn about various STEM (science, technology, engineering, and math) topics. "As a STEM mentor, I understand the importance of establishing a love of science at a young age," Jones said.
As a result of her efforts, ten students from Savannah River Academy in Georgia were able to talk to an astronaut on the International Space Station on December 10, 2021. More than 200 people attended the event in person, and—thanks to Jones's coordination with the local community—more than 2,000 others were able to watch the live stream.
Jones feels that her experience was well worth the hard work. "If there was one thing I learned from this experience, it's to make others tell you 'no' rather than stop yourself from trying," says Jones. "Savannah River Academy was a small school . . . , but we developed a program and put forth an application. We didn't let the size of our community stop us from trying. Together I think we accomplished something amazing."
Jones worked on the project while also pursuing her own studies in the computer networking and cybersecurity program at UMGC.
November/December 2021: Joseph Jolley, Current Student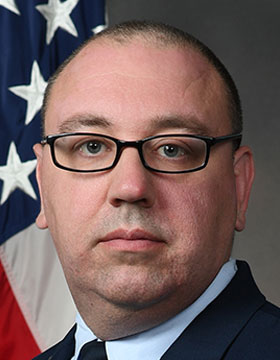 Master Sergeant Joseph Jolley, USAF, is an avid volunteer in his military community. While finishing up his bachelor's degree in business administration, he serves on the Wright-Patterson AFB Top III, an organization dedicated to improving the health, morale, welfare, and discipline of all enlisted airmen. Under the leadership of Jolley and the executive committee, the Top III has offered 16 professional and personal development courses to the base workforce, presented monthly awards to outstanding airmen, presented four scholarships to further airmen education, coordinated two senior enlisted release parties, and hosted an induction ceremony. Top III also recruits volunteers for 10 local food banks.
Jolley also serves as an advisor with Diversity Cyber Council, Inc, a nonprofit organization that serves disadvantaged communities by enabling the education, training, and staffing of underrepresented groups in cybersecurity fields.
Over the years Jolley has been part of different nonprofit organizations wherever he lived. "It's part of the life. I joined [the military] to protect and serve," he said. "I serve the community I am in. If that community is in a different country, it is still my community. I try to live by the 'high tides rise all ships' philosophy. Rising others rises us all."
October 2021: Matthew Gossett, Current Student

Matthew Gossett is about to complete his bachelor's degree with an English major and Asian studies minor in December 2021. When he is not working on his classes or completing his military duties, he is an avid volunteer within his community.
Since joining the Air Force in 2004, Gossett has enjoyed using his unique position to help people when he sees the chance. He has been a member of his local Air Force Sergeants Association and the Awards Committee leader. His team organized the annual POW/MIA remembrance run at their base and ensured that the POW/MIA flag moved around the base track for 24 hours straight. His efforts allowed his team to win the 2020 division-level Legislation Chapter of the Year Award.
Gossett aids in the professional development of his fellow noncommissioned officers and has been a leader in the E5/E6 ranks for many years. He was secretary of his unit E5/E6 organization at his last base. When he moved to another location and learned his unit did not have such an organization, he was able to bring together a team and build a program for his unit. They held their first elections in July.
"I volunteer because I enjoy helping people. Nobody is perfect; we all need help with something," shares Gossett. "I've been lucky to have been presented opportunities that allow me to be active in my community. Being a mentor to those around me has allowed me to share my experience and encourage others to find out what motivates them as well."
Gossett also encourages other students to find what they enjoy doing and to volunteer.
August/September 2021: Kaandra Wilson, Current Student

Kaandra Wilson, a psychology major, is currently fulfilling her lifelong dream of being a firefighter. She is now employed in the city of Alexandria as both a firefighter and a paramedic, holding the rank of lieutenant and serving as aide to the assistant chief of administration. Wilson is a member of the Alexandria Explorer's program and has also joined the International Association of Firefighters Local 2141 Union, the Black Professional Firefighter's Association, and the Traumatic Exposure Recovery Program (TERP) team.
The TERP team is a peer-driven group that communicates with Fire Department members who have responded to a call that can be perceived as traumatizing. The TERP team ensures that members have adequate resources to be resilient members of the department. The team's goal is to keep first responders healthy in their work and home environments.
"I believe that we all have special parts of ourselves that, when shared, may be the reason that someone else feels cared for," says Wilson. "Knowing that my peers feel comfortable enough to trust me when they are in a vulnerable state of mind is a humbling experience. I hope that we all can continue to be advocates for one another and build up our strengths so that we can care for the citizens in the city that we represent."
July 2021: Jerred A. Johnson, Current Student

Jerred A. Johnson is a current graduate student who expects to graduate in December of 2021. At UMGC, Johnson is starting his second year on the Leadership Board for the Behavioral and Social Sciences Student Association (BSSSA), this year serving as the communications director. With the BSSSA, he coordinated the implementation of the inaugural BSSSA newsletter, which won a UMGC Best in Show Student Organization Award. He is also a member of the Events Committee for the Public Safety Student Association and is a member of the National Society for Leadership and Success.
Johnson has been volunteering since early high school. He was named Volunteer of the Year in Worcester County, Maryland, in 2014 and received the Presidential Service Award all four years in high school. His volunteer service includes being a Disaster Action Team Responder with the American Red Cross; deploying to South Carolina during Hurricane Dorian in 2019; packing food for Terps Against Hunger; assisting veterans and loved ones at The Wall That Heals in Ocean Pines, Maryland; helping at the annual fundraisers for the local school that serves individuals with intellectual and developmental disabilities; and participating in various events for his local church. 
Johnson says, "I have always felt a calling to serve others and be present in the community. Through my service, I have been exposed to some of the best people on the planet, and I am blessed to serve for them or with them throughout the years." 
In addition to his education and volunteer work, Johnson works full-time as the emergency planner and public information officer at the county level on Maryland's Eastern Shore and is an avid outdoorsman, spending his free time fishing, hiking, camping, canoeing, gardening, and training as an aspiring survivalist.
June 2021: Michael Bick, Current Student

Michael Bick, an undergraduate student finishing up his bachelor's degree, is an avid volunteer in his local and military communities. In April, he spent 25 hours helping with flood relief efforts in Nashville, Tennessee, including handing out food and water, participating in cleanup, and rebuilding the local baseball and softball fields. He also helped with similar projects after tornados hit the area in 2020, working with local organizations to help others.
In the past year, Bick volunteered for the 2020 Wounded Warrior 5k, establishing a virtual team comprising 30 members across 12 military commands. Bick is also active in community sports—he is currently the head coach for a local Little League team and has volunteered for the Healthy Kids Marathon and the Nashville Dolphins Special Needs Swim Team.
"The reason I volunteer is simple to me—it is to give back to those around me and to provide support to those who need it," shares Bick. "I hope that if my family were to ever need a helping hand that we would have some level of support from our community. I truly enjoy helping and mentoring others and believe that it is our duty as humans to help one another whenever we can. It is the right thing to do."
May 2021: Kirk Platt '99

For the last year, Kirk Platt has dedicated his time and talents to coordinating more than 6,000 food donations and deliveries to countless hospitals every week. This work has recently earned him a Governor's Citation from Maryland Governor Larry Hogan. He also applies his engineering skills to V-Linc, a volunteer initiative where engineers work to solve problems for the disabled.
Platt has always been a steadfast volunteer. In 2017, he received a UMGC Achiever Award from the Alumni Association because of his participation in numerous UMGC alumni activities, including UMGC's Operation Welcome Home initiative. In 2014, he received the Boy Scouts' Silver Beaver Award, which is given to scouters who have made an impact on the lives of youth. He also received the Points of Light Volunteer Award from President George H. W. Bush in 2013 as well as Bronze, Silver, and Gold President's Volunteer Service Awards.
Platt has spent most of his life working in the government sector, protecting the country from harm, and is currently a consultant for Tower Technologies.
April 2021: Ashley Esposito, Current Student

As Ashley Esposito finishes her final classes for her bachelor's degree at UMGC, she reflects on the hours she has spent volunteering for the university and representing the UMGC student body in various ways. "I have chosen to volunteer and be active because at a young age I realized that using my voice alone, and within a collective, has power," shares Esposito. "I am very passionate about volunteering and being an advocate for students, especially those with learning differences." Esposito has served on the UMGC Student Advisory Council for more than four years, including holding the roles of secretary and chair; the Maryland Higher Education Commission Student Council; the University System of Maryland Student Council; and more. In addition, she recently participated on two panels geared toward new and prospective students, sharing her own educational journey. Many of these roles require her to take time out of her schedule to attend meetings—on weekends, before work in the mornings, and even on Friday evenings—so that she can provide feedback and work on behalf of students.
"One of my favorite quotes, by Maggie Kuhn, is, 'Speak the truth, even if your voice shakes,'" says Esposito. "That phrase resonates with me because people may not realize their perspectives are unique and valuable. As volunteers, collectively we can paint the big picture and offer solutions to tough challenges."
In addition to her volunteer work and classes, Esposito works full-time as a technology analyst and enjoys spending time with her husband and baby.
March 2021: Bernetta Reese, Current Student

For the past year, Bernetta Reese deferred her graduation so that she could advocate for adult students—first as a representative on the UMGC Student Advisory Council (STAC) and then as the 2020 STAC executive chair. Shortly after assuming these roles, she also became involved with the University System of Maryland Student Council (USMSC) and was elected to serve as the vice president of undergraduate affairs. Reese managed both roles while also working full-time and taking classes. On both student councils, Reese's goals included expanding opportunities for students who are pushing through the pandemic.
"It has been an honor to serve and represent UMGC and USM students across the globe," shares Reese. "I am enormously grateful for the many relationships that have been formed with students and faculty across USM and with senior leaders and elected officials. Our collective student voice and positive relationships within and across the USM continue to grow stronger and make a difference."
Beyond the university setting, Reese enjoys being active in her community. She has worked with homeschool families and with youth across the state as a homeschool mom and as a 4-H volunteer and certified archery instructor. Professionally, Reese has more than 20 years of public service in the federal government and with the military. She is finishing her bachelor's degree in Digital Media and Web Technology.
February 2021: Corey Watkins, Current Student

Corey Watkins has a passion for public safety, which shows in his work, studies, and volunteer activities in his community. In Harford County, Maryland, Watkins has served as a volunteer firefighter for 14 years. Currently, Watkins is a captain, overseeing both fire operations and the training officer, while also acting as a liaison to the Maryland Fire and Rescue Institute.
Watkins also volunteers for the county's Special Operations Team, which is responsible for technical rescues and hazmat incidents. Recently, he started managing their wilderness trail mapping and accountability system. Watkins participates in deployments after hurricanes with the Maryland Helicopter Aquatic Rescue Team and is involved as a deputy safety officer with Austere Medical Professionals, a group that focuses on educating the community about event risk management, specialized medical care in the wilderness and in isolated environments, and more.
"Growing up, my family was always involved in many types of volunteer work. It was only natural to begin volunteering myself when I was old enough," shares Watkins. "Through the years, I have gained many lifelong friends and have met so many incredible people. Working together and accomplishing tasks is a great feeling, especially when you look back and see the great things done to help an organization."
At UMGC, Watkins is finishing up his bachelor's degree, majoring in Public Safety Administration and minoring in Emergency Management. Professionally, Watkins works as a fire specialist at a local fire department.
January 2021: Mae Beale '20

Mae Beale has spent the past 40 years supporting her community in Howard County, Maryland, through community activism, civic engagement, and volunteering. Beale volunteers on the boards of a number of organizations in the county. She also has a passion for helping children. She is one of the organizers and a charter member of the Southeastern Howard/Laurel Chapter of Continental Societies, Inc., an organization that provides services related to health, education, employment, and recreation to children and youth. Under Beale's leadership as president and first vice president, the chapter won numerous awards for the programs and projects implemented in the community.
At UMGC, Beale served on the Student Advisory Council for four years, first as an alternate, then as a full voting member. As a member, Beale made a commitment to participate in the meetings and to provide feedback whenever she could. When she graduated in May 2020 with a bachelor's degree in management studies, she continued to participate as an ex-officio member until her term ended in December.
"It was an honor and a privilege to serve on the Student Advisory Council," shares Beale. "I hope I added value to the council and helped to make a great council better."
Moving forward, Beale hopes she can continue to volunteer for UMGC as an alumna.
December 2020: Ashley Glass '20

In the past year, Ashley Glass has volunteered her time as secretary for the Air Force Installation and Mission Support Center at her local base, Joint Base San Antonio. Glass and her team host virtual community events, including opportunities for socializing, development, and support, to stay connected during the COVID-19 pandemic. Just this month, the group has hosted a virtual party, a spirit week, and a donation drive, as well as other events to help celebrate the holidays. This group supports 4,700 airmen over four units.
Glass also originated the Air Force writing and self-improvement platform that provides airmen with networking opportunities and writing and professional development courses. In August, she hosted a virtual mentoring session for 300 members.
Overall, Glass has dedicated more than 200 hours toward developing leaders, peers, and subordinates. "I am passionate about helping others and providing an example to my young daughters on making a difference in others' lives," she says. Glass is graduating this month with her bachelor's degree in Communication Studies.
November 2020: Weiping Qin, Current Student

Weiping Qin already had a long history of volunteerism when he transferred to UMGC from Harford Community College (HCC). At HCC, Qin served as the Student Government Association President during the 2019-2020 year and was actively involved in the school's Alternative Break program, where students provide community service during their spring, summer, or winter break. These opportunities led Qin to volunteer in New Orleans, Rome, Italy, and at the National Marine Sanctuary in Key West, Florida. Qin enjoyed being part of a team that was there to help others. In addition to his community service at HCC, Qin donated money in 2019 to create the "Weiping Qin Freedom Scholarship" at Harford Community College.
"His Holiness the Dalai Lama told me that love and an altruistic heart can make me happy and make our world better," said Qin. "I totally agree — volunteering is one important part of my wonderful life."
Qin joined the Navy earlier this year and recently participated in the UMGC Virtual FUNd Run to support military veteran students. He began his journey at UMGC this past summer, where he is pursuing a bachelor's degree in management studies. In addition to his military commitments and studies, Qin is a YouTuber and enjoys being active on Twitter.
October 2020: Loyce Pailen '90, '96 & '05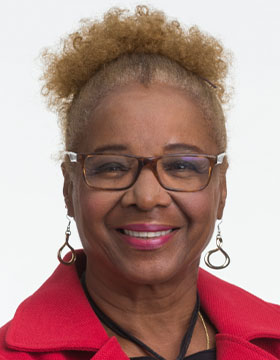 Dr. Loyce Pailen is an author, alumna, current UMGC employee, and an avid volunteer. Dr. Pailen helps older members of the Metropolitan Baptist Church by supporting Zoom call-in services for those who do not have computers in their home. Within her community, Dr. Pailen is a court-appointed surrogate advocate (CASA) for children in the foster care system, often using her vacation time to attend court appointments for the families.
"Loyce is such a kind-hearted giving person," shared colleague Jennifer Hull. "I don't think Loyce considers volunteering a job. She is just being herself; she would help anyone one that needed it."
As an author of children's books that focus on cybersecurity, Dr. Pailen donates some of her books to children both locally and internationally. She also volunteers her time to talk about the importance of cybersecurity to people of all ages as well as local associations. Dr. Pailen is the Director of the Center for Security Studies at UMGC, where she is currently organizing the annual Cybersecurity Awareness Month, which hosts a series of events open to students, alumni, and staff.
"I have been blessed to have many people who have helped me," said Dr. Pailen "I am dedicated to helping others who may not be as fortunate."
September 2020: Kevin Juico, Current Student

Kevin Juico first volunteered at the age of 15 as an altar server at Good Shepherd Catholic Church. He joined the U.S. Navy in 2017 and was stationed at Naval Medical Center in San Diego. During his time there, Juico assisted with the summer camp for the San Luis Rey District of the San Diego Imperial Council of the Boy Scouts of America and delivered food to people in need with Meals on Wheels.
Currently stationed at Camp Foster in Okinawa, Juico supports the local catholic church as an usher. He works with Single Marine Program (SMP) and leads base clean-ups to promote camaraderie among different commands. Overall, Juico contributed 296.5 hours of volunteer service in the 2019 and received a Gold Level of designation from the President's Volunteer Service Award.
"Volunteering enables me to be engaged with our community, especially in Okinawa where it helps strengthen our relationship with the local nationals," says Juico. "Helping make an impact — no matter how small the task — can positively affect those around you!"
August 2020: Joshua Lavoie, Current Student

Joshua "Jay" Lavoie is a peer tutor volunteer, assisting students with computing courses. The student who nominated him shares, "Jay is the embodiment of a good tutor. He is positive, patient, knowledgeable, and a good listener. Tutors like Jay has made my learning experience at UMGC pleasurable and successful!" Lavoie's interest in helping other students comes from his own experience of receiving valuable assistance from others. "I have had many people who have mentored me in several areas of my life," Lavoie states, "My wife and her family have instilled the importance of education in me, and I have enjoyed being able to pass that along to others when I have the opportunity to do so."
Lavoie is currently pursuing a bachelor's degree in computer networks and cybersecurity. As he moves forward in his career, Lavoie aims to be a professor one day. He is very thankful for the nomination and to UMGC for recognizing him for this award.
July 2020: Diana Ravelo, Current Student

Diana Ravelo is an active-duty servicemember in the U.S. Army, pursuing her bachelor's degree in human resources management. Ravelo received her associate's degree in general studies from UMGC in 2019.
Ravelo has volunteered more than 500 hours of service in support of various agencies. She served as the non-commissioned officer-in-charge for Better Opportunity for Single Servicemembers, planned holiday events and coordinated the gifting of baby baskets for soldiers and expecting mothers. Ravelo has also volunteered for the Green Berets Foundation. She received the Military Outstanding Volunteer Service member award in May 2020 from the U.S. Army for her efforts and contributions.
"Giving back to my community is what I'm passionate about. Doing that throughout my military career has been by far one of the best experiences," says Ravelo.
June 2020 Volunteer of the Month: Judy Kitusa '10, '12 & '17

Judy Kitusa is an alumna of the dual master's degree program, earning an MBA in 2017 and a Master of Science in cybersecurity in 2012. Kitusa earned a Bachelor of Science in information systems management in 2010.
Kitusa volunteered throughout her UMGC journey. As a member of Alpha Sigma Lambda, she participated in the Allies Mentoring Program as a peer mentor in 2016. Kitusa has been student vice president of the Phi Kappa Phi chapter of the National Honor Society for the last three years and has worked with the chapter's board of directors by attending monthly meetings and contributing to the annual initiation ceremonies. She helped organize annual book drives to support several local nonprofit organizations.
"Volunteering has given me motivation and a sense of self-accomplishment in knowing that I help to make a positive impact in the society," says Kitusa.
May 2020 Volunteer of the Month: Ron Jackson '15 & '16

Ron Jackson is a graduate of UMGC's dual master's degree program, earning an MBA in 2015 and a Master of Science in Management with a specialization in human resource management in 2016. As an alumnus, he has volunteered multiple times to present in webinars hosted by UMGC Career Services and Alumni Relations. In the webinars, Jackson helped other students through sharing his extensive work experience and by providing peer career advice.
Jackson joined the Natural Resources Conservation Service Office of the Chief Human Resources Management Officer in April 2017 as a Presidential Management Fellow Management Analyst in Washington, D.C. During this time, Jackson was the human resources liaison responsible for the day-to-day management of the agency's PMFs and the recruitment of the 2018 class of PMFs.
Before entering the federal workforce, Jackson served in the U.S. Army and spent nearly 23 years on active duty. He enlisted in the infantry with an assignment in the 82nd Airborne Division at Ft. Bragg, North Carolina. However, most of his career was in the U.S. Army Recruiting Command, where he served in several positions, including, recruiter, recruiting operations analyst, and senior trainer.
April 2020 Volunteer of the Month: Danielle Davis, Current Student

Danielle Davis, an undergraduate student pursuing her bachelor's degree in psychology, has a passion for helping others. As an instructor at the Airman Leadership School within the Air Force, in addition to teaching the curriculum, Davis mentors students through real-world barriers and helps them find resources so they can write a plan for success. On her base, she serves on the Base Club Board and the Innovation Council and has helped organize events, such as a Multicultural Day and a women's Veterans summit. She also volunteers at a local animal rescue and helps to fundraise for the shelter in her free time.
"I genuinely care about the health and wellbeing of others", states Danielle. "This is the driving force behind my passion for helping people."
When Davis served as a police officer in Baltimore City, she voluntarily completed Crisis Intervention Training to learn about different resources for citizens so that she can better assist the people she interacted with in the community. Davis continues to serve her hometown by volunteering as an emergency medical technician for the Baltimore County Volunteer Firemen's Association when she is home. She also enjoys visiting her old high school to speak with students about military opportunities.
Excited about the award, Davis appreciates "the opportunity to share my contribution to the selfless things UMGC students are doing for society." Congratulations, Danielle!
March 2020 Volunteer of the Month: Adam Arruda, Current Student

Last spring, when Adam Arruda received an e-mail to volunteer as a student leader for the UMGC chapter of the National Society of College Scholars, he jumped at the opportunity. As chapter president, Arruda took the initiative to revive the chapter by holding regular meetings, conducting information sessions, and collaborating with other officers to develop activities for members.
"As chapter president for NSCS for the past year, I have become a better leader and team-builder, while building skills in communication, social media, planning and development, and conflict resolution." Arruda graduates this year with a bachelor's degree in business administration, and he hopes the next president will benefit from the structure he's put in place.
Arruda also volunteers outside UMGC when opportunities arise within the military community. He is currently assisting in coordinating a USO mobile tour for a local Freedom Fest event, and recently participated in an Adopt A Highway® clean-up effort. Arruda has an interest in volunteering his time to teach mental health first aid and intervention skills to adults.
"I feel a sense of reward in helping others," says Arruda. "It is good for the mind and body and allows me to gain a broad spectrum of experience. I truly believe knowledge is power, so my main focus is to educate and professionally develop those around me at any opportunity I am given."
Thanks, Adam, for your dedication to the UMGC NSCS chapter and beyond!
January/February 2020 Volunteer of the Month: Marisa Sees, Current Student

Marisa Sees is an East Asian studies major at UMGC and an active-duty servicemember in the U.S. Air Force. Sees volunteers as team leader at the Titans' Refuge Ministry Center at Incirlik Air Base, Turkey, which provides approximately 3,000 U.S. military and NATO personnel with a place to connect and recharge through complimentary amenities, refreshments, and special events.
Sees has more than 382 volunteer hours, has trained more than 200 new volunteers, and has supported 188 community events. She has also taught Japanese classes so that she can share her love for Japan and educate her peers about the language and culture. Through her dedication, community service, and time working with the Ministry Center's volunteer team, she's received the President's Volunteer Service Award (Gold Level), as well as the Military Outstanding Volunteer Service Medal (MOVSM).
Sees also served as the secretary for the dorm council at Minot Air Force Base in North Dakota and as the president of the Incirlik Air Base Security Forces dorm council.
"I knew I wanted to grow as a leader," says Sees. "As president [of the dorm council], I have worked hard to improve the quality of life for our residents, as well as raise funds for dorm events."