Gain management expertise through a broad and flexible course of study aimed at turning you into a leader.
Today, many business, government, public service, and technical environments require knowledge of management principles from multiple disciplines. University of Maryland Global Campus's Bachelor of Science in management studies can help you gain that expertise through a course of study focused on decision making, problem solving, and leadership.
These program requirements are for students who enroll in the 2019–2020 academic year. For prior year academic requirements, visit the catalog archive in the Current Students section.
About the Management Studies Bachelor's Degree
In your core management studies courses, you'll focus on management principles and organizational dynamics for today's global, multicultural, and multinational organizations. You'll also benefit from a full spectrum of related business courses, including statistics, business writing, marketing, finance, and organizational behavior.
What You'll Learn
Through your coursework, you will learn how to
Apply leadership skills to promote communication, ethical behavior, and quality performance
Implement employment practices, encourage team building, and mentor junior staff members
Communicate effectively with culturally diverse audiences using a variety of formats and technologies
Assess and develop performance measures, feedback, and coaching that facilitates employee development
Employ self-reflection and mindfulness of individual and cultural differences when interacting with others
Research, plan, and develop processes and procedures that ensure organizational performance
Coursework Examples
In past projects, students have had the opportunity to
Create a management or a leadership plan
Create decision matrices, balanced scorecards, and appraisal performance reviews for an organization
Conduct a fishbone analysis and an internal and external environmental scan
Management Studies Bachelor's Degree Requirements
Our curriculum is designed with input from employers, industry experts, and scholars. You'll learn theories combined with real-world applications and practical skills you can apply on the job right away.
Courses in the Major
This program requires 33 credits of coursework in the major.
BMGT 110
ACCT 301 or ACCT 220
BMGT 364
BMGT 365
BMGT 464 or BMGT 465
BMGT 317
BMGT 305 or any upper-level ACCT, BMGT, FINC, HRMN, or MRKT course
BMGT 304 or any upper-level ACCT, BMGT, FINC, HRMN, or MRKT course
BMGT 484 or any upper-level ACCT, BMGT, FINC, HRMN, or MRKT course
BMGT 496
BMGT 485
Related Required Courses
The following may be applied to general education or elective requirements:
ECON 201 or ECON 203
IFSM 300
STAT 200
Electives
This program requires 46 credits of minor and/or elective coursework.
General Education Requirements
This program requires 41 credits of general education coursework.
Research and Computing Literacy
PACE 111B or other PACE 111 course
(to be taken in first 6 credits)
LIBS 150, CAPL 398A, or other general education elective
IFSM 300
(related requirement for the major)
Communication
WRTG 111 or other writing course
WRTG 112
COMM 390 or other communication, writing, or speech course
WRTG 391 or other advanced upper-level writing course
Mathematics
STAT 200
(related requirement for the major)
Arts and Humanities
HIST 125 or other arts and humanities course
HUMN 100 or other arts and humanities course
Behavioral and Social Sciences
ECON 201 or ECON 203
(related requirement for the major)
BEHS 103 or other behavioral and social sciences course
Biological and Physical Sciences
One of the following pairs of lecture and laboratory courses in the same session:

BIOL 101 and BIOL 102
NSCI 100 and NSCI 101
Other paired science lecture and laboratory courses taken in the same session

GEOL 100 or other science lecture course
Since some recommended courses fulfill more than one requirement, substituting courses for those listed may require you to take additional courses to meet degree requirements. Consult an advisor whenever taking advantage of other options. Please also see more information on alternate courses (where allowable) to fulfill general education requirements.
Overall Bachelor's Degree Requirements
In addition to the general education requirements and the major, minor, and elective requirements, the overall requirements listed below apply to all bachelor's degrees.
You must complete a minimum of 120 credits.
You must maintain a minimum grade point average of 2.0 overall and a minimum grade of C for any class applied to the academic major or minor.
Within the 120 credits required, the following coursework must be taken through UMGC:

30 credits (normally the final 30)
Half of the required number of credits within both the major and the minor
15 credits at the upper level (earned in classes numbered 300 to 499), preferably within the major or minor

At least 45 credits must be upper level and include at least half of the credits required for the major. The remaining upper-level credits can be earned in any part of the curriculum.
At least half the required number of credits for any academic major or minor must be earned through graded coursework. Credit earned by examination, portfolio assessment, or noncollegiate training does not count as graded coursework.
Double majors: You can earn a dual major upon completion of all requirements for both majors, including the required minimum number of credits for each major and all related requirements for both majors. The same class cannot be used to fulfill requirements for more than one major. Certain restrictions (including use of credit and acceptable combinations of majors) apply for double majors. You cannot major in two programs with excessive overlap of required coursework. Contact an admissions advisor before selecting a double major.
Second bachelor's degree: To earn a second bachelor's degree, you must complete at least 30 credits through UMGC after completing the first degree. The combined credit in both degrees must add up to at least 150 credits. You must complete all requirements for the major. All prerequisites apply. If any of these requirements were satisfied in the previous degree, the remainder necessary to complete the minimum 30 credits of new classes should be satisfied with classes related to your major. You may not earn a second bachelor's degree in general studies and may not obtain a second associate's degree within the second bachelor's degree. Contact an admissions advisor before pursuing a second bachelor's degree.
Electives: Electives can be taken in any academic discipline. No more than 21 credits can consist of vocational or technical credit. Pass/fail credit, up to a maximum of 18 credits, can be applied toward electives only.
Career Preparation
This program is designed to help prepare you for an entry-level management position in business, government, public service, and technical environments. It will also help prepare experienced managers or midcareer professionals who are looking to advance their career.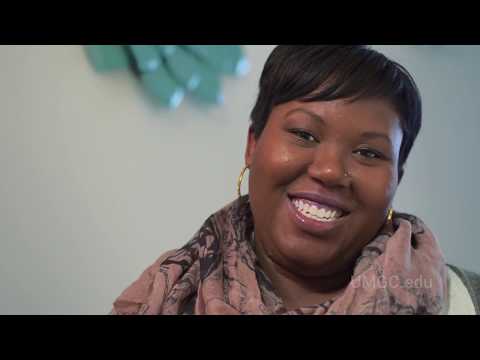 Bianca Bostic wanted more than just a job. She wanted a career. UMGC made it possible for Bianca to return to school while being a single mother. After graduating with her BS in Management Studies, Bianca landed an exciting position where she could directly apply her new knowledge. UMGC helped Bianca stand out from the competition.
About the Faculty
Our world-class faculty members combine academic credentials with a wealth of experience in the field.
Faculty members in this program hold or have recently held positions including
Attorney
Chief executive officer
Consultant
Entrepreneur
Judge
Program manager
Vice president
Our faculty work or have worked at organizations including
Cartier International
Discovery Channel
Hilton Worldwide
University of Maryland Upper Chesapeake Health
Verizon
Featured Faculty
Patricia Beckenholdt
Program Chair and Professor, Business Administration
Elizabeth K. Brunn
Program Chair, Management Studies, and Collegiate Professor