If you have a way with numbers, consider earning a Bachelor of Science in accounting at University of Maryland Global Campus. No matter their mission or type of work, all companies and agencies need accounting departments to keep their finances on track, so with an accounting degree, you'll have a wide range of directions to choose from.
This major combines theory and practice to help prepare you to analyze and report on the economic activities of organizations. You'll develop skills in managerial accounting, budgeting, accounting systems, internal controls, financial analysis, financial reporting, internal and external auditing, taxation, and international accounting.
These requirements are for students who enroll in the 2020–2021 academic year. Read this year's program catalog to see our recommended course sequence for this program. For prior year academic requirements, visit our catalog archive.
This program is also available as a minor.
About the Accounting Bachelor's Degree
What You'll Learn
Through your coursework, you will learn how to
Communicate with financial and nonfinancial audiences in a clear and concise manner and make appropriate financial decisions
Research, prepare, analyze, and review financial and business data by applying accounting and business management principles to produce financial and business reports
Use current technology and analytical tools to work collaboratively and facilitate decision making
Employ analysis, critical thinking, and problem solving to identify, test, and validate processes, systems, and financial data
Define, develop, and demonstrate ethical business practices and accountability by identifying and addressing current and emerging issues
Conduct fraud detection and deterrence planning, analysis, and communications
Perform a range of functions, including auditing and financial reporting, to manage finances for federal agencies
Create reports and conduct disclosure analysis
Coursework Examples
In past projects, students have had the opportunity to
Relate accounting concepts to actual companies and agencies
Analyze the U.S. Securities and Exchange Commission Form 10-K, which companies use to disclose information
Review and analyze publicly traded companies and examine federal financial statements, operation reviews, RFPs, and reports related to fraud and ethics
Review and analyze corporate governance and ethical issues to ensure understanding of and compliance with license and government regulations
Industry Certification
This program can help prepare you for the following certification exam(s):
Accounting Bachelor's Degree Requirements
Our curriculum is designed with input from employers, industry experts, and scholars. You'll learn theories combined with real-world applications and practical skills you can apply on the job right away.
Courses in the Major
Total Credits Required: 120
Required Major Courses: 36
Minor and Elective Courses: 43*
* See Related Required Courses below for more details.
Required Major Courses
ACCT 220
ACCT 221
ACCT 310
ACCT 311
ACCT 321
ACCT 323
ACCT 326
ACCT 410 or any upper-level ACCT course
ACCT 422
ACCT 424
ACCT 436 or any upper-level ACCT course
ACCT 438 or any upper-level ACCT course
Related Required Courses
The following required courses may be applied to general education or elective requirements:
BMGT 364
BMGT 380
ECON 201
ECON 203
FINC 330
MRKT 310
STAT 200
ACCT 411 or BMGT 496
WRTG 293 or COMM 390 or WRTG 394
Vertical Pathway
Through a vertical pathway, students who complete this program may be eligible to reduce their total coursework for a master's degree in Accounting and Financial Management, Accounting and Information Systems, or Management with an Accounting specialization.
Career Preparation
This program is designed to help prepare you for accounting careers and certifications in a wide range of industries as well as at corporations and nonprofit and government organizations.
State-Specific Details
This program is designed to help prepare students to sit for the Uniform Certified Public Accountant Exam and/or obtain initial licensure as a Certified Public Accountant in Maryland. To sit for the CPA Exam in Maryland, a candidate is required to have successfully completed 120 credits toward an accounting degree. Many other states, however, require candidates to successfully complete 150 credits prior to sitting for the CPA Exam.
To obtain initial licensure as a CPA in Maryland and most other states, a candidate is required to have successfully completed 150 credits. Maryland has additional requirements to obtain initial licensure as a CPA, not all of which can be fulfilled through education. Learn more about Maryland's requirements for initial licensure. Students seeking licensure in another state are advised to contact the appropriate licensing board in their state.
Learn more about professional licensure and how to contact your state's licensing board.
UMGC is great for people who want to individualize their program. You get a taste of a lot of the topics in business, including marketing, accounting, financial math, and legal topics. The professors are people working in the real world, not just academics, and the students are people who are working too.
Janet Langenderfer
Managing Director, Vision Partners & Associates
Business Administration Bachelor's Degree
I work in an accounting firm. And in order for me to advance, I needed my degree. Even though I had the work experience, I needed my degree. I recently went on a multibillion-dollar presentation for a firm…and I was invited to come along…. At the end of the [presentation], my partner came to me and said, 'That was awesome. You did great.' And I can only attribute it to the formal training that I received here.
Darla LaSure
BAS Manager, Grant Thornton LLC
Information Systems Management Bachelor's Degree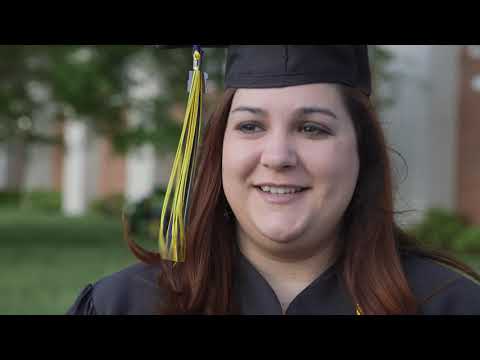 Debra Kindinger gained so much valuable information from her UMGC accounting courses, she created a unique presentation to showcase her knowledge, leading to a new job.
Student Clubs and Organizations
Type: Student organization
Available To: Undergraduate and Graduate

The Accounting and Finance Forum provides information about the accounting and finance majors as well as topics of interest from course selection to career paths. It assists students with the exploration of resources on accounting and finance careers and the accounting and finance fields, including job postings and information about career opportunities.
About the Faculty
Our world-class faculty members combine academic credentials with a wealth of experience in the field.
Faculty members in this program hold or have recently held positions including
Certified public accountant
Chief operations officer
Computer systems analyst
Controller
Database, network, and systems administrator
Financial analyst
Financial auditor
Financial manager
Information technology auditor
Systems analyst
Systems auditor
Featured Faculty
Helen Pruitt
Associate Professor of Accounting
Kathleen Sobieralski
Program Director and Associate Professor, Accounting, Accounting and Financial Management, Management, Accounting and Information Systems
Eric M. Sumners
Associate Professor of Accounting