Degree Plans
Through our partnership with USNCC, we are proud to offer students several degree options, including
GENERAL EDUCATION REQUIREMENTS
CREDIT HOURS
COURSE TITLE

Research and Computing Literacy
(7 credit hours)

1
(1 Credit, LIBS 150)
 
3
PACE 111T Program & Career Exploration in Technology
 
3
(3 Credits, IFSM 201)

Communications
(6 credit hours)

3
(3 Credits, WRTG 111)
 
3
(3 Credits, WRTG 112)

Mathematics
(3 credit hours)

3
(3 Credits, MATH 105) or (3 Credits, MATH 107), (3 Credits, STAT 200)


Arts & Humanities
(6 credit hours)

3
NAV 101 - Naval Ethics and Leadership
*taken directly with USNCC
 
3
NAV 102 - Naval History
*taken directly with USNCC

Behavioral & Social Sciences
(6 credit hours)

3
NAV 104 - Civil Mil Org and Policy
*taken directly with USNCC
 
3
NAV 105 - Introduction to Geopolitics
*taken directly with USNCC

Biological and Physical Sciences
(7 credits)

4
(4 Credits, BIOL 103) (or other biol./Physical Science with AA related lab)
 
3
(3 Credits, NUTR 100) (or other biol./Physical Science)

Total Gen Ed Credits:

35
 

CONCENTRATION COURSES
Professional Certificate in Computer Networking

 
 
 
3
(3 Credits, CMIT 202)
 
3
(3 Credits, CMIT 265)
 
3
(3 Credits, CMIT 320)
 
3
(3 Credits, CMIT 326)
 
3
(3 Credits, CMIT 351)
 
3
(3 Credits, CMIT 321)

Total Concentration Credits:

18
 

ADDITIONAL ELECTIVE CREDITS

 
 

Required course with USNCC

3
NAV 103 - Force Design and Concepts

Suggested Course for pathway to BS degree

3
(3 Credits, SPCH 100)

Suggested Course for pathway to BS degree

1
CAPL 398A Career Planning Management


Total Elective Credits:

7
 

TOTAL DEGREE CREDITS

60
 
Undergraduate Degree Pathway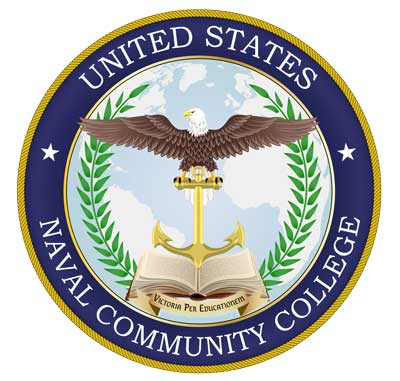 Several of the degrees offered through the USNCC-UMGC partnership contain pathways to undergraduate degrees at UMGC. These pathways include suggested course sequences that will position you to get a head start on a bachelor's degree in cybersecurity. Please check your specific degree plan (listed earlier under Degree Plans) to see if a pathway is being offered. If so, please work with your UMGC military education coordinator to plan a pathway from the associate degree to the bachelor's degree.
UMGC is currently offering an undergraduate pathway to our award-winning cybersecurity program for all eligible USNCC students. In the bachelor's in computer networks and cybersecurity program, you'll learn the operational procedures and technologies to design, implement, administer, secure, and troubleshoot corporate networks while applying cybersecurity principles operationally.
Designed to combine the benefits of a traditional college education with hands-on training in state-of-the-art computer technology, the computer networks and cybersecurity curriculum integrates technical skill with communication skills and superior general education knowledge.
UMGC was named a National Center of Academic Excellence in Cyber Defense Education (CAE-CDE) by the National Security Agency and the Department of Homeland Security. UMGC is also a designated National Center of Digital Forensics Academic Excellence (CDFAE) institution.



UMGC is also proud to offer several transfer credit options for military students, so you can earn your degree even faster!