As a student, it can be hard to figure out what you should prioritize in your daily life. Priorities can range from completing your next class assignment, finishing a task for your job, or fulfilling the needs of your family or personal life. With so many things always going on in life, it is easy to see why your wellbeing and mental health can fall lower and lower on your list of priorities. While this may seem like a minor short-term issue, it could lead to long-term stress and health effects as you try to juggle all that life demands. 
While students have a long list of priorities, it's imperative to ensure that wellbeing is closer to the top of that list to achieve everything else.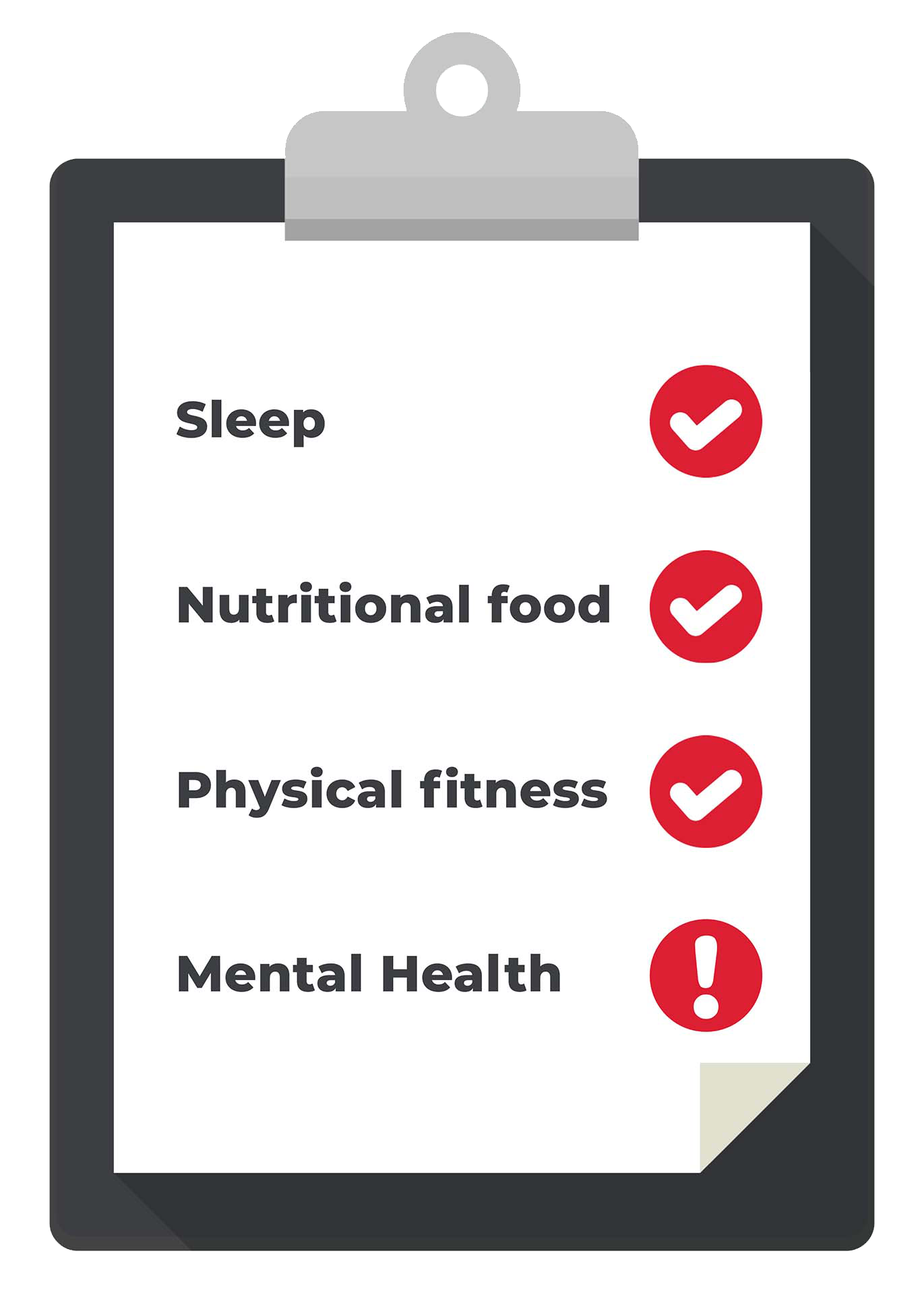 "Wellbeing includes the basics like adequate sleep, nutritional food, physical fitness and yes, mental health," says Beth Mulherrin, assistant vice president of learner access services at University of Maryland Global Campus (UMGC). "Focusing on our wellbeing is particularly important when we are challenging ourselves, like physical conditioning for exercise, and by prioritizing your mental health and wellbeing you can be better equipped to handle stressful situations."
Time management is one of the most common challenges students face. It can be stressful to balance work, school, and life all at the same time, and getting into a structured routine that addresses everything can sometimes feel impossible. It can be overwhelming to handle multiple roles simultaneously and preserve energy to perform work at a high level while taking care of yourself and others. 
"By understanding and advocating for your own needs, you are better able to manage competing priorities, and you are also creating and sustaining a support network that can help you to achieve your goals, whether it's finishing a research paper or completing a degree," says Mulherrin. "Asking for help when you need it, whether it's understanding a math concept, someone else loading the dishwasher while you study for an exam, or waiting until after your children are in bed to focus on your own schoolwork, most students need to figure out what works best for their own personal situations."
To prioritize your mental health and wellbeing, here are some quick ways you could relieve stress throughout the day or during a study break.
1. Meditate
Meditation can help people manage stress and anxiety,1 and can be done in as little as five minutes. Meditation is an act of mental focus, where you intentionally clear your mind of varying thoughts and try to focus on a singular idea. This singular idea can be focusing on your breathing, gratitude, a mantra, or a sound. Meditation can help you take a moment to not think about the stressful factors, and to just be present in your own mind and body. 
"Giving yourself permission to take breaks whether you feel you need it or not is crucial to pacing yourself and refocusing your mind and energy in a more positive direction when you are feeling stressed out," says Mulherrin. "There are apps and timers that can remind you to pause for quick breaks and even if you just dismiss them sometimes it's a helpful reminder that it's okay and sometimes necessary to prioritize your wellbeing."
If you are new to meditation or unsure of how to start, there are a variety of online guided meditations that you can utilize during your study break, ranging from breathing exercises, calming music, or visualization techniques to relax your mind.
2. Take a Walk Outside
When you are sitting at your desk for long periods of time to complete assignments or study for an exam, going for a walk in a different surrounding can be a nice way to mentally hit "reset.". Walking outside, even just around the block, can help you feel restored, and gives both your mind and body a necessary break from being sedentary. Studies have found that nature excursions can help alleviate feelings of time pressure and stress.2
Studies have also found that short breaks of ten minutes or less help reduce mental fatigue and increase vigor and performance 3 If you're working on an essay and have writer's block, you may find that a short walk in nature and breathing fresh air may spark your creativity when you return.
3. Play a Word Game
If you feel like you cannot concentrate, taking a break to play a word game could be a way to re-focus your mind without having to get up and leave your desk. Word games can allow our brains to have a singular focus, and figuring out a puzzle can give a boost of dopamine that could motivate you to return to your studies. It's important to set a timer and to avoid scrolling on your phone through social media, which could cause you to take a longer break than expected and break your focus.
4. Listen to Your Favorite Song
Many students have specific music that they listen to when they study or complete assignments, and this music tends to be calming to promote focus. If you have five minutes, throw on your current favorite song, and even get up to dance as it plays. This can help get you out of a sedentary position, boost your energy, and have an enjoyable break before you jump back in. This is also a great option if you don't have the space or opportunity to walk outside, as moving your body indoors can still give you the benefits of reduced stress and anxiety.
5. Prepare a Nourishing Snack
When you're focused on studying, you may not realize how much time has passed since you last ate. Eating nourishing foods can fuel both your body and mind, and it gives you the chance to walk away from a stressful moment and focus completely on yourself. Some quick snacks that have health benefits for your brain include almonds, fresh cut vegetables, dark chocolate, apples with nut butter, and edamame. 
At UMGC, we are dedicated to offering our students an accessible education as well as the resources to help them succeed. UMGC has a variety of wellness resources that are available to students, and a support system to assist you. Togetherall is an anonymous, no-cost online peer-to-peer support service available to all UMGC students. When you create an account on Togetherall, you'll gain access to a safe space where you can vent your feelings, explore your mental health challenges, and connect with like-minded students who understand what you're going through and can offer support anonymously, without judgment, and at any time. UMGC also offers students access to an online directory of more than 10,000 therapists, text lines, and mental health advocacy programs.
If time management is causing you stress, you can reach out to UMGC's success coaches who are there to offer support to you throughout your student journey. Success coaches can help you develop learning strategies, clarify your goals, and offer additional resources. 
Being a student in addition to the other roles in your life can feel stressful and overwhelming at times. Mental health is important to your overall health and success, and UMGC is here to help you every step of the way in your educational journey.

Don't be afraid to ask questions. Don't be afraid to ask for help when you need it. I do that every day. Asking for help isn't a sign of weakness, it's a sign of strength. It shows you have the courage to admit when you don't know something, and to learn something new.
– Barack Obama
1 Ginexi, Elizabeth, Erin Burke Quinlan, and David Shurtleff. "Meditation and Mindfulness: What You Need to Know." National Center for Complementary and Integrative Health, June 2022.
2 Heckman, William. "How Being Outdoors and Getting Active Impacts Stress Management." The American Institute of Stress, February 28, 2020.
3 Albulescu, Patricia, Irina Macsinga, Andrei Rusu, Coralia Sulea, Alexandra Bodnaru, and Bogdan Tudor Tulbure. "'Give Me a Break!' A Systematic Review and Meta-Analysis on the Efficacy of Micro-Breaks for Increasing Well-Being and Performance." PloS one, August 31, 2022.
Reference on this webpage to any third-party entity or product does not constitute or imply endorsement by UMGC nor does it constitute or imply endorsement of UMGC by the third party.