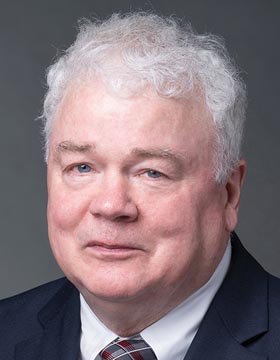 For University of Maryland Global Campus's 75th anniversary, we spoke with James Cronin about some of his favorite experiences and where he hopes to see the university in years to come. James Cronin is vice president and director of the Asia Division at UMGC. Cronin joined the university in April 2000, after retiring from the U.S. Army as a lieutenant colonel that year. Since joining the university in 2000, Cronin has focused on improving the functionality of UMGC's military portals and expanding enrollment. He was inducted into the International Adult Continuing Education Hall of Fame in November 2017.
How long have you been working with UMGC?
Approximately 22 years
Which UMGC location do you work at? Have you worked at other UMGC locations during your tenure here? If yes, please share any other UMGC locations you have worked?
I started work in April 2000 as an assistant director as an original member of a four-member team called Military Partnerships, which is now known as Global Military Operations (GMO).  I had the pleasure working with my colleague Kelly Wilmeth to form the unit by bringing together several different organizations throughout UMGC. I became the vice president of Stateside Military Operations (SMO) in 2014 and then in 2016 I transferred to Asia as the Vice President and Director of the Asia Division, where I have served for the last six years.
How do you feel about UMGC's role in supporting the military, wherever they are?
I came to UMGC for the singular reason that I wanted to continue my role in supporting military students. I spent my entire adult life before coming to UMGC in the miliary and after 20 years I retired as an Army Lieutenant Colonel. I actually saw an ad in a newspaper to be part of a new organization at UMGC which supported the military students in the U.S., before all of it was overseas in either Europe or Asia. Finally, six years ago I got a chance to be the VP of Asia's division. We have and continue to support the U.S. military everywhere they serve, and it is a point of immense pride. It is why I still serve.
If you had one word to describe your experience at UMGC, what would it be and why?  
Privileged because I am lucky to be able to come to work every day and do something that helps our U.S. military.
During your time at UMGC, how have you seen the university evolve and change? What is the most significant change you have witnessed at the university?
When I first started working at UMGC, the predominant focus of UMGC was with the overseas divisions and the stateside enrollments was much smaller. I had often used the terms like we were run like a "Mom and Pop" store. We were just getting into the online business and the three businesses were run almost separately. Most recently the university has been run much more like a "worldwide university" where students are treated the same between campuses and the employees see they are part of something bigger.   
What has been your favorite part about working at UMGC?
By far my favorite part has been working with the tremendous young staff members of both Stateside Military Operations and of the Asia Division who spend so much time taking care of our students. It just energizes me. Especially as we celebrate each of our commencements, we have four in Asia, where these young staff members get to spend time and meet with students who graduate.
UMGC is celebrating 75 years of excellence in education. What does that history mean to you? Why is it important?
I had the opportunity to read Beyond the Ivory Tower which covers the first 70 years of UMGC's history. I also had the opportunity to see the PBS special "Over There: The Adventures of Maryland's Traveling Faculty." These pieces really demonstrate what UMGC has done to support the U.S. military for the past 75 years. Today, we are part of this achievement as we continue to support the military. The technology has changed but the mission has not, and it is just as important today as it was when we started.
Which of UMGC core values resonates with you the most and why? (Students First, Accountability, Diversity, Integrity, Excellence, Innovation, Respect, or People Always)
The core value that has always resonated the most with me has been "Students First".  On my first day in the Asia Division, I prepared a document where I highlighted "Students First" as the theme that everything we do centers around. It is our mission to help provide students with what they need to give them a chance to succeed. If we focus on students first, then we will always have our compass pointed in the right direct.
UMGC recently introduced its new mission "Inspire hope, empower dreams, and transform lives ... one student at a time." What does that mean to you?
In some ways the end of the UMGC mission closely relates to the mission of GMO, which was "To be the most trusted and respected institution in the military community….one student at a time." To me, it means that each and every student has their own reasons and dreams to come to UMGC, and we must provide the individual attention to each of them to achieve their dreams.
Where do you hope to see UMGC in the next 75 years?
In 75 years, I will be long gone from this earth, but I hope that we are still serving the U.S. military.