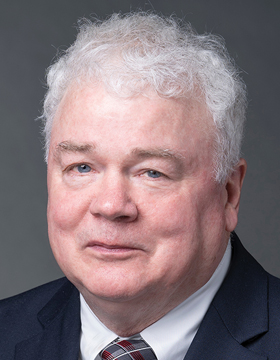 James "Jim" Cronin
Vice President and Director, UMGC Asia
Biography
James Cronin is vice president and director of the Asia division at UMGC. Cronin joined the university in April 2000, after retiring from the U.S. Army as a lieutenant colonel that year. He holds a Bachelor of Science degree in political science from DePaul University and was commissioned as a second lieutenant in the infantry in 1980. He earned a Master of Science in administration from Central Michigan University and a graduate certificate in distance education from UMGC.
During an Army career that spanned more than 20 years, Cronin served as an infantry officer in the 8th Infantry Division (M) in Mainz, Germany; the 5th Infantry (M) at Fort Polk, Louisiana; and the XVIII Airborne Corps at Fort Liberty (then Fort Bragg), North Carolina. He commanded two infantry companies and served as a brigade executive officer. Cronin also served as recruiting company commander and held various positions in public affairs stateside in Fort Huachuca, Arizona, and overseas in Korea and Bosnia. In his final assignment, he served as director of the Public Affairs and Journalism division of the Defense Information School at Fort Meade. His military service won him the Legion of Merit and six Meritorious Service Medals from the Army.
Since joining the university in 2000, Cronin has focused on improving the functionality of UMGC's military portals and expanding enrollment. He served for a number of years as associate vice president of program management, supervising various programs and partnerships. As program manager, he was responsible for all facets of the moves into military-specific institution admission portals. Cronin also developed and coordinated a number of special partnerships with military institutions, including the Army Signal Center, the Information Resource Management College, and the Army Command General Staff College. In 2013 Cronin was appointed vice president of stateside support, and in July 2016 he was selected for his current role as vice president and director of Asia operations. In addition, Cronin has served as an adjunct associate professor at UMGC, teaching Introduction to Public Speaking. He was inducted into the International Adult Continuing Education Hall of Fame in November 2017.