Earn your master's degree in information technology with a specialization in systems engineering to learn the design, development, and deployment of complex systems.
The Master of Science in information technology with a systems engineering specialization at University of Maryland Global Campus can help you apply traditional and modern life-cycle models, techniques, and tools in the specification, design, development, and deployment of complex systems. You'll study a variety of cases across different application domains to learn the wide scope of systems concepts. Courses include requirements engineering, system design and development, model-based systems engineering, system integration and testing, system engineering management, and more.
These program requirements are for students who enroll in the 2019–2020 academic year. For prior year academic requirements, visit the catalog archive in the Current Students section.
About the Information Technology Master's Degree with Systems Engineering Specialization
The systems engineering specialization within the master's degree in information technology features projects involving real clients, so you'll learn systems engineering skills you can apply immediately on the job.
What You'll Learn
Through your coursework, you will learn how to
Organize and manage a systems engineering team
Apply a wide variety of domestic and international standards to systems engineering practice
Use various computer-aided design and testing tools
Coursework Examples
In past projects, students have had the opportunity to
Develop a system requirements document
Break down a complex system into manageable subsystems
Specify strategies for verifying and validating that the overall system meets requirements
Industry Certification
This program can help prepare you for the following certification exam(s):
Information Technology Master's Degree with Systems Engineering Specialization Requirements
Our curriculum is designed with input from employers, industry experts, and scholars. You'll learn theories combined with real-world applications and practical skills you can apply on the job right away.
Master's - specialization Courses
Introductory Course
UCSP 615
(to be taken within the first 6 credits of study)
Core Courses
ITEC 610
ITEC 625
ITEC 626
ITEC 630
Core Rules & Recommendations
ITEC 610 must be taken in the first term of coursework.
You must complete 6 credits of core courses before taking a specialization course.
Specialization Courses
SYSE 610
SYSE 620
SYSE 625
SYSE 630
SYSE 640
SYSE 650
SYSE 660
Specialization Rules & Recommendations
Specialization courses must be taken in the order listed.
Capstone Course
Capstone Rules & Recommendations
You must take SYSE 670 in your final term.
Other Requirements
You must maintain a GPA of 3.0 or higher at all times.
All degree requirements must be fulfilled within five consecutive years.
Any transfer credits must have been earned within the five-year time frame to be applied toward a graduate degree.
Career Preparation
This program is designed to help prepare you for work in systems engineering theory and practice.
Experience Recommended for Success in the Program
We recommend you have a professional or educational background in a technical discipline, such as engineering or computer science. We recommend UCSP 605 if you'd like to improve your graduate writing skills.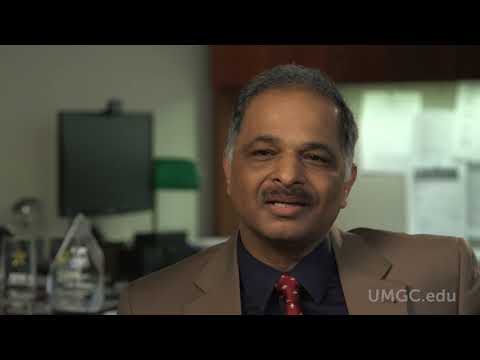 When it was time to make his business more innovative, Sunil returned to UMGC for a Doctor of Management degree. UMGC's doctoral program not only helped Sunil expand his business beyond services, it also fostered new connections that led to increased opportunities.
Student Clubs and Organizations
Type: Student organization
Available To: Undergraduate and Graduate

The Computing Club aims to create a dynamic environment where members can work collaboratively, share innovative ideas, enhance their career-readiness, and gain marketable experience in their respective fields.
About the Faculty
Our world-class faculty members combine academic credentials with a wealth of experience in the field.
Faculty members in this program hold or have recently held positions including
Chief technology officer
CEO and president
Our faculty work or have worked at organizations including
An automotive robotics company
U.S. Department of Energy