Discover the many ways UMGC provides support and assistance to military & veteran students.
We are dedicated to helping our veteran students throughout their time at University of Maryland Global Campus and beyond by providing academic advising, financial assistance, and other support services that are available now and well past graduation day.

For more information, please contact the Office of Veterans Initiatives and Outreach at vesseyvrc@umgc.edu.
Best For Vets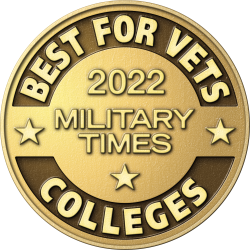 Best For Vets
Military Times has ranked UMGC No. 1 "Best For Vets" in Primarily Online Education for 2022.
Student Veterans of America: UMGC Chapter
The UMGC Chapter of Student Veterans of America is an in-person and online community for UMGC veterans and their families. The chapter is dedicated to ensuring that veterans, active-duty servicemembers, reservists, and their family members have a voice on campus and are successful in fulfilling their academic, employment, and support needs. For more information, please email sva@umgc.edu.
SALUTE Honor Society
The principle behind SALUTE—which stands for Service Academics Leadership Unity Tribute Excellence—is to recognize academic success among our student veterans. Learn more on the SALUTE webpage.
UMGC helped me reenergize, refocus for the academics and helped me succeed as I progressed throughout the career force. I'm proud of what I've done.
Juan R., Springfield, VA, Master of Business Administration (MBA)