Online learning has emerged, not just as a viable alternative to its traditional classroom counterpart, but as the preferred mode of higher education for millions of Americans. It is a mode that provides convenient, affordable access to top-notch courses and programs that are just right for the student, even when the institution is on the other side of the country—or the other side of an ocean.
In the past, when your best academic fit was an out-of-state college, you were faced with a difficult choice: You could either relocate to attend that college, which would mean leaving your support network of family and friends and dealing with the expense and disruption of moving, or you could settle for a less-than-ideal program at a local school that might not meet all your needs. Thanks to credible leaders in online higher education, those days are over.
Because online education doesn't tie you to a specific location, considering an out-of-state online university gives you the most opportunities to find a school with the programs and services that fit your situation and goals. Indeed, if you wish to attend an accredited university with significant experience in online learning, designed for working adults, with the program just right for you, you may need to look beyond the borders of your home state.
Rapid Growth of Online Learning
While the online education trend has been evident for many years, recent events, most notably the COVID-19 pandemic, have accelerated interest in online learning. Between 2012 and 2019, the number of students enrolled in distance education (primarily online and hybrid courses) rose by 36 percent. By fall 2020, about 75 percent of all undergraduate students (11.8 million) were enrolled in at least one distance learning course—a 97 percent increase over 2019. During that time, about 44 percent (7 million) were taking distance education courses exclusively—up 186 percent.1
During the pandemic, however, many traditional universities were compelled to offer classes online and rushed to create web-based programs that they might not have been fully prepared to deliver, and the student experience was generally poor.
By contrast, those institutions with decades of experience in online learning have been much better positioned to deliver quality, respected higher education to the virtual classroom. Such schools are filling a growing need for a more student-driven, less institution-driven mode of education—that is, education centered around the students' needs, rather than the school's requirements. Studying online at the right institution can afford you the ability to learn on your own schedule and from wherever you are.
Crossing State Lines: What to Consider
Finding the program outside your state that best fits your needs will require some research on your part. The institution you choose should be accredited by one of the nation's reputable regional accreditation agencies and have a solid reputation for academic excellence. It should offer a broad range of programs, a curriculum that closely aligns with your goals, and a faculty with relevant, real-world experience in your field of study. If you are a working adult, you'll want a school that is specifically geared to serve your needs for flexibility, convenience, and career-focused programs and resources.
You'll also want to review the transfer credit policies of any universities you are considering. A generous transfer credit policy with alternative paths to credit can save you a lot of time and money and allow you to finish your program faster. Here again, you may need to look outside your area to find the university with the best transfer credit policies for your situation.
Online Education Is Accessible Education
Online universities generally allow you to set your path to certificate or degree completion at a pace that works best for you. In addition, like brick-and-mortar universities, many online schools also offer advising, library services, and career services; the only difference is that you access them remotely.
Online universities are often able to reduce costs and improve access to higher education because they don't have the traditional physical campus and facilities of brick-and-mortar schools and the associated fees and inflated tuition. You can also save time and money because you don't need to worry about transportation costs, fixed class schedules, or commuting.
Why Choose UMGC?
University of Maryland Global Campus (UMGC) was founded more than 75 years ago specifically to serve the higher education needs of working adults and servicemembers like you. UMGC is accredited by the Middle States Commission on Higher Education and is a constituent institution of the University System of Maryland. The university has repeatedly received awards and recognition for our innovative educational programs and commitment to excellence.
Cameron Brown, who lives in New York, earned his bachelor's degree in business administration from UMGC in 2022.
"During the pandemic, I decided that I wanted to complete my bachelor's so that I could pursue other opportunities at my current company. I did some research and decided that UMGC would be the best fit for me."
UMGC offers online courses that you can access virtually anywhere in the world. We have more than 175 classroom and service locations worldwide, including locations across the United States, from Richmond to Colorado Springs to San Diego and Honolulu.
At UMGC, you can choose from more than 125 career-focused undergraduate and graduate programs, many in high-demand fields, nearly all of which you can complete entirely online. Our online courses are built from the ground up specifically for the virtual environment. As innovators in online education since 1997, UMGC delivers a seamless, collaborative, and satisfying online classroom experience that prepares you for today's digital business environment. Hybrid options are also available. 
To provide a truly online experience, we've replaced bulky, expensive textbooks with no-cost digital course materials in nearly every course. The materials are easy to download within your online classroom and continually updated with the latest industry information. They also save students an average of more than $1,200 per year.2
Tiana Clark earned her bachelor's degree in political science in 2004. At the time she applied to UMGC, she was stationed in Lakenheath, UK, with the Royal Air Force.
"As an Air Force servicewoman based overseas, I knew I'd be moving around, and I wanted to ensure I had a consistent and quality experience," said Clark. "In 2001, online degrees were relatively new. I knew UMGC was on the cutting edge, but I was initially concerned about attending college online. Specifically, I wanted to receive a high-quality, academically rigorous education from a highly respected institution. UMGC exceeded my expectations."
Designed with You in Mind
We make it easier to fit school into your busy life by offering multiple start dates throughout the year and a streamlined admissions process that doesn't require the SAT®3 or GRE. You can apply, enroll, and access a comprehensive array of support services and resources—all from your electronic device.
Part of making your education accessible is making sure it's affordable. That's why we offer a variety of ways to help you meet, manage, and reduce your education costs, including tuition and fees that are competitive, reduced military tuition rates, and more than 140 merit- and need-based scholarships.
As the university with the most transfer students of any college in the country,4 UMGC recognizes that not all college-level learning happens in the classroom. To help you reduce the time and expense of earning your degree, we offer multiple ways to get you the most credit for what you already know, including transfer credit for college coursework, as well as credit for prior learning, military experience and training, and workplace learning.
"It had been 15 years since I initially started college, so I wasn't sure what credits I had that would transfer," said Brown. "The process was very easy. I sent in my previous transcript, and UMGC gave me a list of the credits that I could transfer. It turns out I had a great portion of credits already established. From there, I worked with the university advisors to come up with a game plan to get the rest of the courses that I needed to graduate."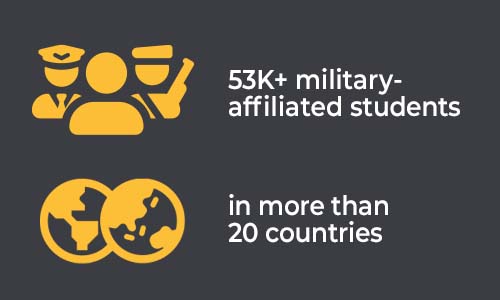 UMGC is consistently recognized as a military- and veteran-trusted university. Our dedication to educating servicemembers and veterans goes back to our founding when we became the first university to send faculty overseas to teach courses for active-duty military personnel in Europe. Today, we serve more than 53,000 active-duty servicemembers, reservists, National Guard members, veterans, and their family members and have locations on military installations in more than 20 countries and territories throughout the world.

We're Dedicated to Your Success
Your courses are taught by our faculty of experienced scholar-practitioners who are leaders in their fields. They can help you develop the skills that are valuable in today's job market. Plus, they understand the challenges faced by working adults attending school, and they'll work with you to help ensure your academic success.
UMGC takes its commitment to your success a step further by teaming you up with a dedicated success coach to support you throughout your entire student journey. Your success coach is there to help you develop learning strategies, map out education and career goals, and assist you with class selection.
"My success coach checked in periodically to make sure I was registering for the right classes, making sure that I wasn't taking classes that I didn't need," said Brown. "That was a great help in steering me throughout the process of finishing my degree."
And no matter where you are in your career or how long you may need them, you'll have access to UMGC's lifetime career services and our network of more than 280,000 active alumni around the globe, so you can always approach a job search with confidence.
"The faculty and staff diligently worked with me to ensure I could continue my education and still graduate from college within three years," said Clark. "Choosing UMGC was the best decision I could have made."
Learn More About UMGC
Learn how UMGC's programs and services can help you prepare for your next success. To get started, contact  a dedicated UMGC admissions advisor at 855-655-8682 or studentsfirst@umgc.edu.
Reference on this webpage to any third-party entity or product does not constitute or imply endorsement by UMGC nor does it constitute or imply endorsement of UMGC by the third party.