For many students pursuing a doctorate degree, they look for a program that can help prepare them for an executive position in an organization once they graduate. According to the Bureau of Labor Statistics, the median salary for chief executives in 2021 was $179,520 per year, and employment of executives is projected to grow 6 percent from 2021 to 2031.1
To help prepare students with skills and knowledge they can apply to the workforce right away, University of Maryland Global Campus offers a Doctor of Business Administration (DBA). UMGC's DBA program is designed with input from employers, industry experts, and scholars. The curriculum centers on high-level management theory, strategic thinking, organizational leadership, and the latest changes and research throughout the global business environment.  
"The UMGC DBA program offers students a high-quality education, flexibility, research opportunities, and valuable skills and knowledge that prepare them for success in the job market," says Monica Sava, collegiate professor at UMGC. "By earning a DBA from UMGC, students can develop their expertise, network with industry professionals, and advance their careers in various fields."
A DBA can be valuable in today's job market.  
Students who earn a DBA have an enhanced level of knowledge in business, which many employers look for when hiring for executive-level positions. UMGC's DBA program emphasizes rigorous research methodologies, which enables students to conduct in-depth research and apply their findings to real-world business challenges. This practical approach enhances problem-solving capabilities and equips graduates with a competitive edge in the job market. 
"A DBA signals a high level of academic achievement and expertise, distinguishing individuals from their peers," says Sava. "It demonstrates a commitment to professional development and positions graduates for senior-level positions, promotions, and higher salaries."
Earning a DBA could open the door to a variety of career opportunities in a wide range of industries:
Industry Specialists and Advisors. DBA graduates may work as industry specialists or advisors, providing expert insights to organizations in specific sectors. They can offer specialized knowledge in finance, marketing, human resources, or operations, assisting companies in making strategic decisions and driving business performance.

Management Consultancy. With their advanced knowledge and expertise, DBA graduates are sought after by consulting firms to provide strategic guidance, conduct research, and offer solutions for complex business challenges. They may specialize in organizational development, change management, or strategy consulting.  

Entrepreneurship and Business Ownership. DBA graduates often leverage their expertise to start businesses or become successful entrepreneurs. Their deep understanding of business concepts, industry trends, and research methodologies can help them make informed decisions and drive entrepreneurial success. 
At UMGC, DBA students have access to networking opportunities through lifetime career services. Students can network with peers, faculty, and alumni who are industry experts in their field. These connections can open doors to job opportunities, collaborations, and mentorships, which can enhance their professional prospects before and after they graduate. 

What to look for in a DBA program.
When choosing a DBA program, one of the most important things to consider is if the program is accredited. Accreditation can ensure that the program meets strict requirements of what is taught to students. UMGC's School of Business has received specialized accreditation for its DBA program through the International Accreditation Council for Business Education (IACBE). IACBE's accreditation process examines if a program is functioning effectively, accomplishing its mission, and teaching students what they are intended to learn. UMGC follows a process of continuous quality improvement that builds student competencies and prepares them to succeed professionally.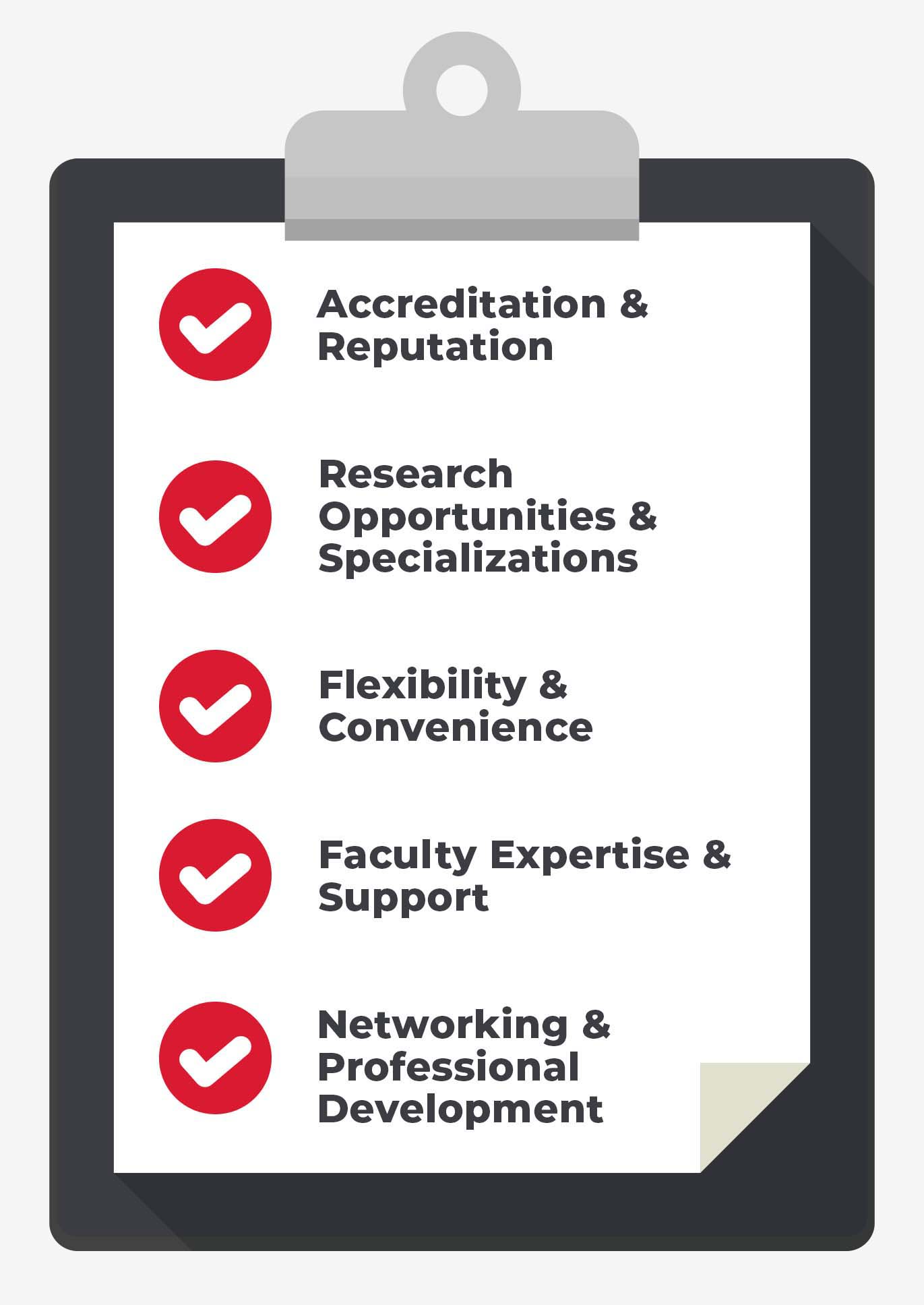 Experienced faculty who are experts in their field are crucial when selecting a DBA program that will help students succeed. Students should seek programs with faculty members with extensive industry and academic expertise, ensuring they receive expert guidance and mentorship throughout their DBA journey. UMGC boasts a diverse faculty team comprising accomplished scholars and industry practitioners. The faculty's expertise and real-world experience provide students with practical insights and a holistic understanding of business challenges. 
Students should also look for a DBA program that will give them research and collaboration opportunities. When pursuing a doctorate, students should have the ability to explore their research interests and provide valuable insights to the business community as they complete their dissertation. A great way for students to gain knowledge and expertise is through collaborating with their fellow DBA program students. The UMGC DBA program embraces a cohort model, fostering close relationships and a strong sense of community among students.  
"By progressing through the program together, students build lifelong connections and a supportive network of peers and colleagues," says Sava. "This cohort-based approach creates an environment that promotes collaboration, shared learning experiences, and the opportunity to develop lasting professional relationships that extend beyond graduation."
As working adults who are pursuing their degree, students should choose a DBA program that is flexible and allows them to succeed in both work and school. UMGC understands the needs of working professionals and offers a flexible online format. To complete their residency, a requirement for most doctoral degrees, students at UMGC only have to commit to a two-day in-person residency each term for the core content courses. This allows students to pursue their DBA without compromising their personal and professional commitments.    
Should you earn a DBA after an MBA?
Once a student has earned an MBA, it can be valuable for them to continue in their studies and pursue a DBA. While an MBA provides a broad understanding of various business functions, a DBA offers a deeper level of expertise in a specific area. Pursuing a DBA allows students to specialize and conduct advanced research within their chosen field, developing a unique niche and becoming subject matter experts. 
Doctoral degrees require students to complete a dissertation, where they contribute new research and knowledge to a field. A DBA program emphasizes research methodologies and equips students with advanced analytical skills. These skills enable graduates to conduct original research, critically evaluate complex business problems, and showcase their knowledge to future employers through a portfolio of published work.
"Combining an MBA with a DBA demonstrates a commitment to continuous learning and professional development," says Sava. "It positions individuals for senior leadership roles, promotions, and career advancement opportunities that require advanced research and strategic decision-making capabilities."   
UMGC's DBA program offers students a high-quality education, flexibility, research opportunities, and valuable skills and knowledge that prepare them for success in the job market. Many of the DBA courses are completely online, so students can advance their education on their time and achieve more. UMGC also offers students scholarships, financial aid, an interest-free monthly payment plan, and no-cost digital materials in place of most textbooks to help make your education as affordable as possible. By earning a DBA from UMGC, students can develop their expertise, network with industry professionals, and advance their careers in various fields. 

Reference on this webpage to any third-party entity or product does not constitute or imply endorsement by UMGC nor does it constitute or imply endorsement of UMGC by the third party.