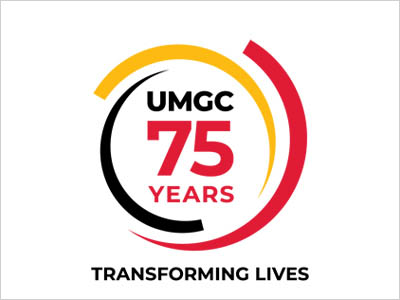 In its 75th year as an institution, University of Maryland Global Campus (UMGC) did something it had never done before: reimagine graduation. 
In past years, UMGC held traditional commencement exercises in a large auditorium. Then came the pandemic, which prevented UMGC from holding commencements in 2020 and 2021. Once it was safe to host in-person events again, UMGC graduates from those two classes were invited to join the Class of 2022 in one big celebration: Grad Walk.
Graduates and their families attended Grad Walk at a time of their choosing over the course of four days in May. Upon arrival, they could immediately take their place in line to receive their diplomas, or they could first spend some time mingling, shopping, having pictures taken, and celebrating with family and then graduate. Everything was on the student's own schedule. Grad Walk represents the type of pivot and innovation that has made UMGC successful for the past 75 years. UMGC remains dedicated to putting our students first no matter the challenges or realities of the moment. 
As we celebrate 75 years of education and innovation, here are a few facts you may not know about UMGC and our commitment to bringing an accredited state university education to working adults and servicemembers around the world, no matter the obstacles.
UMGC began in 1947 as the College of Special and Continuation Studies. This branch of the University of Maryland's College of Education was created to provide off-campus, evening, and weekend courses for part-time adult students throughout the state. In 1970, it was reorganized as a separately accredited institution under the name University of Maryland University College. Then in 2019, the name was changed to University of Maryland Global Campus to reflect its worldwide presence and its tradition as a respected state university.
UMGC was the first university to send faculty overseas to serve active-duty military personnel in Europe. Two years after its founding, UMGC established higher education programs at several U.S. military installations in occupied Germany. In 1956, those programs were extended to Asia, making UMGC a truly global institution.
In 1963 UMGC went to Vietnam. That year during the Vietnam War, the university began offering classes in Saigon, Vietnam. By the 1969–70 academic year, enrollments in Vietnam reached 11,000 students at 24 military installations. Since then, UMGC has sent faculty and field representatives "downrange" into many dangerous areas around the world, including Bosnia, Afghanistan, and Iraq, to offer education programs at military sites in or near combat zones.
The first man on the moon addressed graduates at a UMGC commencement. At the graduation ceremony in 1971, two years after the historic Apollo 11 mission, legendary astronaut Neil Armstrong became the first of his profession to speak at a UMGC commencement. He was also presented with an honorary degree.
A UMGC alumnus went on to become America's top military officer. In 1982, President Ronald Reagan named U.S. Army Gen. John W. Vessey Jr. the 10th Chairman of the Joint Chiefs of Staff. Vessey graduated from UMGC in 1963 with a bachelor's degree in military science, the same year he was promoted to lieutenant colonel.
UMGC has been the vanguard of online learning from the very beginning. In 1993 the university launched its Bachelor's "Degree-at-a-Distance" program, giving students in the United States the ability to complete their degree without attending class onsite. In 1997, UMGC offered its first web-based courses. Growth of online courses was so rapid that, within a decade, 80 percent of all stateside undergraduate enrollments were for online classes. Today, UMGC is the largest public online university in the nation, with enrollment of nearly 90,000 students worldwide.
In 2016, we dropped the textbooks. UMGC was the first major university to replace textbooks with no-cost digital resources in all undergraduate classes. The move saved students an estimated $17 million in the first year alone. Today, undergraduate and graduate students alike can access materials for nearly every course within the online classroom. The materials are easy to download and continually updated with the latest industry-relevant information.

Class of '15 alumna Deshauna Barber was crowned Miss USA in 2016. Barber was a U.S. Army Reserve captain at the time—the first woman serving in the military to wear the crown. She spent her yearlong reign as Miss USA supporting organizations such as the USO, Smile Train, Best Buddies, and Operation Homefront. In 2017, Barber gave an inspirational address at UMGC's commencement, and in 2018 she was the recipient of the Edward A. Parnell Outstanding Alumnus Award.
UMGC is America's top choice for transfer students. U.S. News & World Report ranked UMGC as the No.1 school with the most transfers in 2022. UMGC allows students to transfer and earn credits from a variety of sources, including prior course work, military education and training, credit by exam, and workplace learning.
More than 60 percent of UMGC's students are military-affiliated. That includes more than 55,000 active-duty military servicemembers, reservists, veterans and dependents enrolled around the globe.
For three-quarters of a century, University of Maryland Global Campus has been a leader in distance learning. We're proud of our history and heritage, our illustrious students, alumni, faculty and staff, our partners and supporters, and our international reputation for academic excellence. We look forward to many more years of delivering educational opportunities to working adults and servicemembers wherever they may be in the world—or in life.