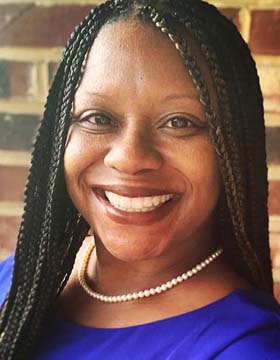 Alesha Tyson is the senior director of the Office of Student Success at University of Maryland Global Campus, first joining the university in 2001. For UMGC's 75th anniversary, we spoke with her about some of her favorite experiences and where she hopes to see the university in years to come. The Office of Student Success supports students with advising, lifetime career services, and student organizations. 
Which of UMGC core values resonates with you the most and why?
"Students first." It's why we are here! 
Can you name some UMGC faculty or staff members (or even students or alumni) who impacted your career here at UMGC? 
Tom Porch hired me in my first student-facing role back in 2003 and has truly helped shape me professionally.
UMGC is celebrating 75 years of excellence in education. What does that history mean to you? Why is it important? 
We are a school of so many "firsts": the first institution to be sent overseas to teach college classes to active-duty servicemembers, and one of the first universities to offer online bachelor's degree programs. Being a pioneer in this online space is something I'm so very proud of. As I've watched traditional schools embrace online learning, I know that we lead the way for what is happening in this space today.
How do you feel about UMGC's role in supporting the military wherever they are? 
It's not just something to put on a website for us. We support not only our servicemembers but those who support them. It makes me proud to know we are doing our part to give back to people who give so much. 
UMGC recently introduced its new mission "Inspire hope, empower dreams, and transform lives . . . one student at a time." What does that mean to you? 
Working on the student side, this mission truly hits home with me. I see it daily. I work with the success coaches who beam with pride sharing their student stories each day. These aren't just words to me. It's why I do what I do. 
If you had one word to describe your experience at UMGC, what would it be and why? 
Home. This institution has given me so much. Colleagues who are like family. A career that I love. It is truly home.  
Where do you hope to see UMGC in the next 75 years? 
I see us continuing to be the leader in online education!