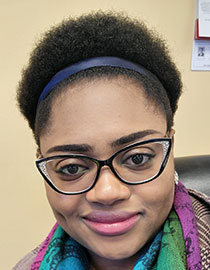 Lucille Eyombo
Ex-Officio Alumni Representative
Biography
Lucille E.A. Eyombo was born and raised in Cameroon, Central Africa. She immigrated to the USA and has been a resident of Prince Georges County in the GREAT State of MARYLAND for the past 6 years. She previously has a degree in Political Science and worked as an Administrative Assistant for over 7 years at Gulf Petroleum Institute in Limbe, Cameroon. Currently, Lucille is the Financial Coordinator at Candid Home Health Care Services, and is the CEO & co-owner of Ladies Crush, a small business promoting the rich cultural African heritage to the world at large.
To start her American dream, Lucille decided to get an American degree, and was privileged to enroll at UMGC as an undergraduate student to pursue a degree in Information Systems Management with a minor in Business Administration. She plans on continuing to the graduate level after obtaining her degree.
Lucille's passion is travelling to new places, cooking, and spending quality time with family. Her drive as a widow is to be a good role model to her daughters and to instill good moral values in them to become good human beings to themselves, neighbors, and the community.
Lucille was elected to serve in the Student Advisory Council at UMGC to advocate for the student body. She is honored to represent those who have not been fairly represented, overlooked, and unrecognized due to their immigration status, by fighting for equality and equity as we all are an integral part of UMGC to make it a GREAT University.