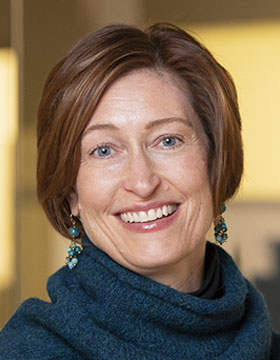 Blakely Pomietto
Senior Vice President and Chief Academic Officer
Biography
Blakely Pomietto has served since April 2020 as UMGC's senior vice president and chief academic officer. In this role, she defines, implements, and advances key academic initiatives, strategic planning, and institutional priorities, guiding the leadership team in Academic Affairs and coordinating with senior leaders across the institution. Pomietto and her team oversee quality of programs and instruction, academic support programs and services, digital teaching and learning, instructional design, faculty affairs and development, academic operations, policies and procedures, and UMGC's compliance with the Middle States Commission on Higher Education standards.
Pomietto has previously served as UMGC's Deputy Chief Academic Officer, as well as Acting Provost and Senior Vice President for Academic Affairs. She joined the university in 2015 as Assistant Vice Provost for Policies and Reports, including oversight of the Academic Affairs policy portfolio, academic program reviews and approvals, and mandated reporting.
Prior to joining UMGC, Pomietto served as chief of staff in the University of Maryland, College Park School of Public Health. In that role and others, she led the school through initial and reaccreditation by the Council on Education for Public Health and coordinated with the school's dean's office and individual units, including academic affairs, communications, finance and administration, research, and student services. Previously, she served as director of student services and program coordinator for the Master of Public Health and taught for 12 years as an adjunct faculty member in the School of Public Health.
Pomietto holds a bachelor's degree in biology from George Mason University and a Master of Public Health, with a concentration in community health education, from the University of Maryland, College Park.