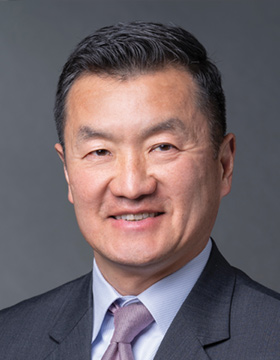 Tony Cho
Vice President and Director, UMGC Europe
Biography
Tony K. Cho is the vice president and director of UMGC Europe. He leads the administrative and academic operations for faculty and staff at UMGC Europe headquarters and in 17 countries across Europe, the Middle East, and Africa. He joined the Europe team in 2017 from UMGC Asia, where he had served as the associate vice president and deputy director.
Cho retired as a colonel after 26 years of service in the U.S. Army as a combat arms and foreign area officer. His last assignment was as the Northeast Asia policy division chief for the U.S. Joint Chiefs of Staff at the Pentagon, working as the primary advisor to the Chairman on issues related to North Korea, South Korea, Japan, and Guam. This followed a variety of command and staff positions throughout the Middle East, Asia, South Asia, and Europe, including serving as Senior Army Fellow and political-military affairs officer at the U.S. State Department. Cho's combat tours include Operation Desert Storm as an infantry platoon leader and Operation Enduring Freedom as the director of operations in Pakistan. His military awards include the coveted Combat Infantryman's Badge and the Ranger Tab.
Prior to joining the Army, Cho was an aeronautical engineer with Lockheed Martin Space, leading a team of engineers in designing the flight control systems for the Navy's submarine-launched Trident II ballistic missile. He also worked at the NASA Dryden Flight Research Center.
Cho received a BS in aeronautical and astronautical engineering from the University of Illinois. He also holds an MS in mechanical engineering from Stanford University; an MA in East Asian Studies and an MPA from Harvard University; and an MA in national security studies from the United States Army War College.