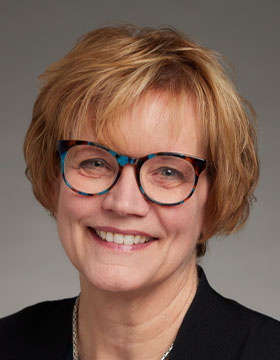 Sharon Fross
Vice President and Dean, School of Arts and Sciences
Biography
Sharon Fross, PhD, is vice president and dean of the School of Arts and Sciences at UMGC, a position she has held since July 2021. As dean, she is responsible for the vision and delivery of arts and sciences education through the university's open-access model for adult and military students.
Fross joined UMGC with extensive experience in a variety of academic administrative roles in public and private institutions, including liberal arts and sciences colleges and research land grant universities. She brings a proven record of leading transformative strategies to generate sustainable growth in business, education, nursing, arts, public health, and social sciences for residential, online, and external audiences. She has expanded online development and experiential learning capability and led discipline and institutional reaccreditation initiatives.
Fross served most recently in a senior consulting role with UMass Online, where she led all academic components related to online education. She has also served in senior executive and academic administrative roles at the University of Massachusetts Amherst, Pennsylvania State University, the College of Charleston, and smaller private institutions.
Fross holds a Bachelor of Arts in history and a Master of Public Administration from the College of Charleston in South Carolina. She earned her Doctor of Philosophy in educational administration from the University of South Carolina.