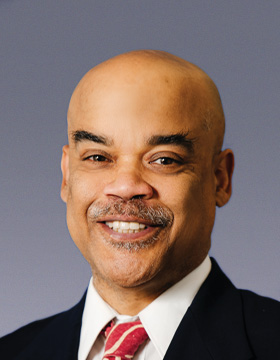 Schroeder Cherry, EdD
Vice Chair, Art Advisory Board
Biography
Working artist and museum educator Schroeder Cherry is an associate for Clear Writing Services, which provides grant development and technical/scientific writing services to colleges, universities, hospitals, and organizations. As an adjunct professor at Morgan State University, he develops and facilitates courses for graduate students in the interdisciplinary museum studies program.
Cherry uses very different forms of art to create open-ended stories about African American history and culture. He uses acrylic paint and mixed media on wood, found objects, and text to construct stories, and he creates puppets and performs original shows with them in museums, libraries, and cultural centers for adults and children alike. 
He holds an EdD in Museum Education from Columbia University, New York, New York; an MAT in Museum Education from the George Washington University, Washington, D.C.; and a BFA in Painting and Puppetry from the University of Michigan, Ann Arbor, Michigan.