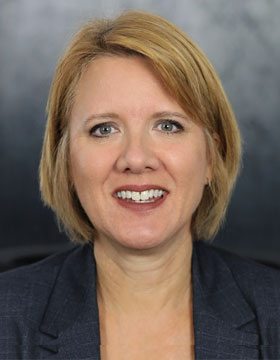 Patricia A. "Trish" Coopersmith
Vice President and Director, UMGC Europe
Biography
Patricia "Trish" Coopersmith became the UMGC Europe associate vice president and deputy director, headquartered in Kaiserslautern, Germany, in November 2016. In fall 2022, she was promoted to the vice president and director position. Coopersmith is responsible for Europe-based headquarters departments (Academic Affairs, HR, IT, finance, marketing, etc.) and for a wide variety of policies and processes across the division. She manages two large military contracts, approximately 500 staff and faculty at 55+ locations in 19 countries, and a large operating budget while keeping the Europe division effective and efficient.
Coopersmith has more than 30 years of business and advisory experience in academic, government, and corporate environments. Before joining UMGC, she served at the Department of Defense (DoD) National Defense University (NDU) in Washington, D.C., as the director of Outreach, International Relations, and Academic Partnerships. There, she was responsible for NDU's iCollege Academic Partnership Program, growing it from eight university partners—UMGC was the first—to more than 40. Coopersmith has worked extensively with the DoD and other federal government agencies, as well as with international defense ministries in Europe and Asia. She also taught as an adjunct professor at NDU and the University of Mary Washington. Before her tenure at NDU, she served as a business process reengineering management consultant for IBM and PricewaterhouseCoopers and as an industrial engineer for Westinghouse.
Coopersmith received an MBA from Augusta University and a BS in industrial engineering from Penn State University.