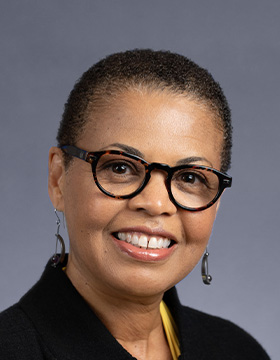 Myrtis Bedolla
Chair, Art Advisory Board
Biography
Myrtis Bedolla has more than 20 years of experience as an advisor to private and institutional collectors on the acquisition and sale of fine art. Currently she is founding director of Galerie Myrtis, a contemporary fine art gallery located in Baltimore, Maryland. She also provides professional curatorial services, lectures, and educational programming to corporate, civic, and arts organizations and serves as cultural liaison for the embassies of Ghana, Haiti, Mali, Republic of Georgia, and Zimbabwe. As a writer, she contributes to the International Review of African American Art, Valentine Magazine, and the online newsletter ARTINFO.
Bedolla serves on the Art Advisory Board of UMGC, the Board of Directors for the Smith Center for Healing and the Arts, and the Executive Board for the Station North Arts and Entertainment District of Baltimore, Maryland. She is also a member of ArtTable, a national organization for professional women in the visual arts, and sits on committees at various institutions, including the Maryland Institute College of Art, the Walters Art Museum, the Open Society Institute of Baltimore, and the Congressional Black Caucus.
Bedolla holds a Bachelor of Science in Business Administration from UMGC and received her curatorial training at the Maryland Institute College of Art in Baltimore, Maryland.