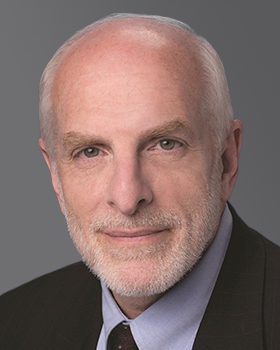 Michael Freedman
Senior Vice President and Journalist in Residence
Biography
Michael Freedman is senior vice president and Journalist in Residence at UMGC. During his tenure, Freedman and his team have built the university's global communications operation; reimagined commencements and events; created the UMGC Global Media Center; enhanced online and print publications; and produced the award-winning Maryland Public Television documentary Over There, chronicling the work of the university's pioneering overseas faculty.
In a distinguished career spanning more than 40 years, Freedman has served as president of the National Press Club; general manager of CBS Radio Network News; managing editor for the Broadcast Division of United Press International; vice president and professor of journalism at the George Washington University; and executive producer of the award-winning public broadcasting series The Kalb Report, moderated by Marvin Kalb and airing on Maryland Public Television and American Public Television.
As the 113th president of the National Press Club in 2020, Freedman led the world's leading professional organization for journalists through the pandemic, protests, politics, a presidential election, a failed insurrection, a presidential inauguration, and the launch of COVID-19 vaccinations, while serving as a leading voice for global press freedom.
During his tenure at CBS News, Freedman partnered with Walter Cronkite on the legendary newsman's final programming for the network, including the 30-part radio series Walter Cronkite's Postscripts to the 20th Century.
Freedman and his teams have received more than 85 honors, including 14 Edward R. Murrow awards for excellence in broadcast journalism and the Global Grand Award in the New York Festivals International Radio Program competition. He is co-author of the Broadcast Voice Handbook and a contributing author to Broadcasting Through Crisis, Responsible Journalism, and the Encyclopedia of Journalism.
He is a member of the National Press Club Journalism Institute Board of Directors and served previously on the National Press Club Board of Governors, the Newseum Educator Advisory Team, and the Duke Ellington School of the Arts Board of Directors.