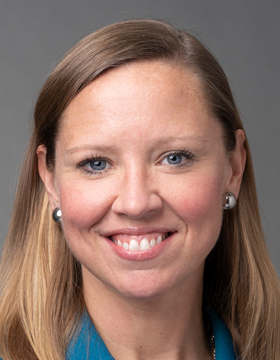 Martina Hansen
Senior Vice President and Chief Student Affairs Officer
Biography
Martina Hansen is senior vice president and chief student affairs officer at University of Maryland Global Campus. In this role, she focuses on increasing persistence, retention, and the institution's various measures of student success. She oversees enrollment management, regional center operations, academic support and new student experience functions, tutoring, the Effective Writing Center, library services, student resolution, student communications, retention and engagement initiatives, career services, and virtual lab support for students.
Hansen joined UMGC in August 2018, initially serving as vice president of student retention and later as vice president of student affairs. She has led the design, implementation, and improvement of programs to continuously enhance academic student services and student success.
Hansen brings more than 18 years of experience in enrollment management and operations to UMGC. Previously, she served as vice president of operations at Delta Career Education Corporation. In that role, she was responsible for centralized operations, information technology, PMO, application development, training and development, and procurement. Simultaneously, she served as a regional vice president of campus operations, with profit and loss responsibility for 17 of Delta's campuses. At Delta, Hansen carried out several strategic operational transformations, migrated the organization to a new academic model, and led enterprise technology integrations.
Before that, Hansen served as vice president of continuous improvement at Career Education Corporation, where she implemented strategies to improve student success and persistence, served as a liaison between departments, and worked to ensure the effectiveness of new growth and student experience initiatives.
Hansen holds a Bachelor of Business Administration with a concentration in marketing and communications from University of Wisconsin-Eau Claire and a master's degree in technology management from Georgetown University.