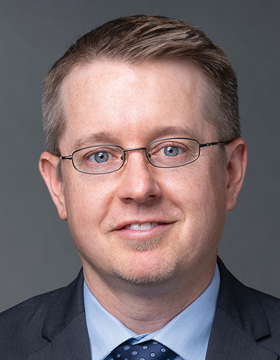 Kristophyre McCall
Chief Transformation Officer
Biography
Kristophyre McCall is UMGC's chief transformation officer, overseeing innovation, enterprise program management (ePMO), and information security across the organization. In that role, he is responsible for driving forward critical business and technology processes, products, and programs that support academic and administrative priorities.
McCall joined UMGC in 2018 as vice president of academic operations and acting registrar, working to optimize key processes and operations that strengthened our service for learners worldwide. He led the Academic Operations teams to record-setting performance during the COVID-19 pandemic, worked across Academic Affairs and with other institutional partners to develop the Straightline Paths for UMGC's undergraduate programs, and led a variety of other initiatives to improve efficiency and effectiveness in service to students.
McCall came to UMGC with more than 17 years of experience in enrollment management and university operations, having served previously as vice president of enterprise solutions at Pearson Online Learning Services and prior to that as senior vice president of university operations for Western International University. Earlier, at Career Education Corporation, he held senior level positions overseeing operations and developing student management foundations across multiple university systems.
McCall holds a bachelor's degree in economics from Northern Illinois University and a master's degree in business management from Colorado Technical University.