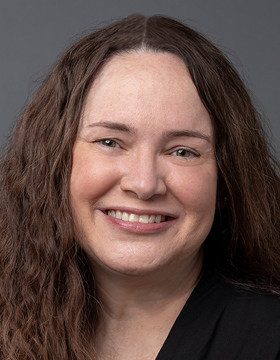 Jennifer Frank
Deputy Chief Academic Officer
Biography
Jennifer Frank has served as UMGC's deputy chief academic officer since January 2021. In this role, she works closely with institutional and academic leaders to facilitate and implement academic planning, policies, evaluation, and budgeting. She supports the senior vice president and chief academic officer in advancing key academic initiatives, strategic planning, and institutional priorities and leads a team focused on the university's academic structure, including academic administration, academic integrity and accountability, academic planning and partnerships, and faculty affairs.
Before joining UMGC, Frank served as executive vice president of the Maryland Independent College and University Association (MICUA). At MICUA, she advocated for MICUA's 15 member institutions, managed a capital grants program, provided support for academic program approval, and coordinated academic initiatives in areas including transfer/articulation and teacher preparation. From 2013 to 2015, she served as assistant secretary of the Maryland Higher Education Commission (MHEC), where she oversaw the offices of Academic Affairs, Research/Policy Analysis, and Information Technology.
Frank previously served at UMGC (then University of Maryland University College) as assistant to the dean of the Graduate School in 2000. She also held positions as P-20 project director at the University System of Maryland Office, director of Institutional Research at Loyola University Maryland, and assistant to the provost at Washington College. She has taught online graduate courses for Penn State World Campus, Clemson University, and Goucher College.
Frank holds a BA in Leadership Studies and German from the University of Richmond and an MA in College Student Personnel Administration and a PhD in Higher Education Policy from University of Maryland, College Park.