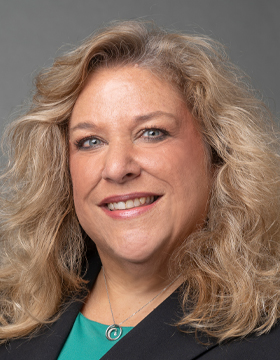 Jamie Jaynes
Vice President, Admissions
Biography
Jamie Jaynes is vice president of admissions at UMGC. In this role, she oversees new student recruitment and community college partnerships, and coordinates training for the enrollment management department. She joined UMGC in June 2017.
With more than 16 years of experience in enrollment management, Jaynes most recently served as a district manager with C2 Education, managing daily operations and student enrollment and ensuring that financial goals for five centers in the Dallas area were met. For more than 15 years, she served in various roles with DeVry University. As vice president of admissions, she was responsible for meeting on-site and online enrollment goals; managing, training, and developing up to 20 admissions directors; and ensuring budget outcomes were achieved on multiple campuses. Jaynes also served as a leader on multiple special projects to develop, streamline, and standardize enrollment processes to increase enrollment efficiencies; adopt technology to enhance the new student experience; and create and deliver admissions and recruitment training in both classroom and virtual environments.
Jaynes earned a Bachelor of Business Administration in finance from Texas Christian University and a Master of Business Administration with a concentration in human resources from DeVry University's Keller Graduate School of Management.