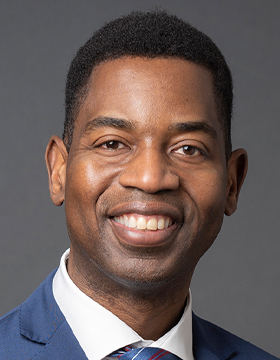 Gregory Fowler
President
Biography
Gregory W. Fowler, PhD, president of University of Maryland Global Campus, is a nationally recognized leader in developing innovative learning models and experiences for adult and nontraditional populations. He has served on the leadership teams that built what are now the two largest universities in America, both of which serve nontraditional students in nontraditional ways.
Now, at UMGC—the largest provider of postsecondary education in Maryland and recently designated a minority-serving institution by the U.S. Department of Education—Fowler is leading a transformation that aligns the entire learning journey with the needs and expectations of nontraditional populations and the global workforce.
Building on the institution's 75-year history of innovation in serving adult and military learners, this transformation—informed by data science and aligned with industry best practices—includes (1) a redesign of the admissions and advising process to adopt a success coaching model that wraps learners in a cocoon of support and resources that are readily and proactively available; (2) an overhaul of the university's course and content development infrastructure to yield a sustainable and scalable system for creating and updating next-generation learning experiences; and (3) a refresh of the business model to prioritize cultivating new revenue streams; fostering innovative, mutually beneficial partnerships; and leveraging the university's unmatched network of 100-plus global locations to bring education within reach for new and underserved populations.
Before joining UMGC in January 2021, Fowler served as president of Southern New Hampshire University Global Campus and as SNHU's chief academic officer and vice president for academic affairs in its College of Online and Continuing Education, and before that held senior-level academic and administrative positions at Western Governors University. In those roles, he led efforts to develop competency-based online and hybrid programs that respond to the demands of the workforce and global populations and oversaw development of new competency-based degree programs and the launch of a new student orientation program that exponentially increased student persistence.
Formerly an assistant professor of literature and American studies at Penn State University–Erie, Fowler received two Fulbright awards to Germany and Belgium, where he collaborated with students, faculty, and lawmakers on the future of the European Union and the impact of the Bologna Accords and taught at the John F. Kennedy Institute for North American Studies at Freie Universität–Berlin.
As a commissioner and board member of the New England Commission of Higher Education (NECHE), Fowler co-chaired the team responsible for the future of post-pandemic remote learning experiences for colleges and universities. He currently serves on the Presidents Forum, the Board of Directors of the National Cryptologic Foundation, the Board of Trustees of the Consortium of Universities of the Washington Metropolitan Area, and the UPCEA Council for Chief Online Learning Officers.
Fowler holds an undergraduate degree from Morehouse College, which included two years as a Charles A. Dana Scholar at Duke University; a master's degree in English from George Mason University; an MBA from Western Governors University; and a PhD in English/American studies from the State University of New York (SUNY) at Buffalo. He was granted an honorary doctorate and Alumni of the Year award by George Mason University and has completed programs in higher education administration and executive leadership and negotiation from the Harvard University Graduate School of Education and Business School, respectively.