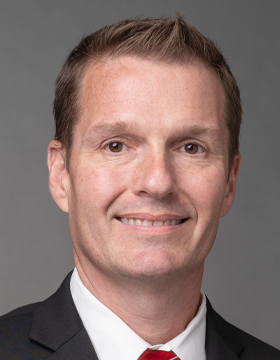 Eugene D. Lockett, Jr.
Vice President and Chief Financial Officer
Biography
Eugene D. Lockett Jr. is vice president and chief financial officer at UMGC. He has been with the university since 2004.
Lockett is responsible for the financial health and integrity of the university. He ensures the accounting functions of the university are carried out in strict accordance with recognized accounting principles and conducts financial analysis on university operations, potential business opportunities, and contractor performance.
Lockett oversees all financial operations, including the offices of Finance, Student Accounts, Budget, Payroll, and Financial Analysis; manages the preparation and execution of UMGC's budget; and is responsible for the university's audited financial statements. He also oversees the office of Facilities Management, which maintains UMGC's facilities, physical plant, and grounds, and provides for the safety and security of UMGC's employees and assets. Facilities Management also handles all real property transactions and construction activities.
In addition, the College Park Marriott Hotel & Conference Center reports to Lockett through its general manager. The center, including its hotel, provides UMGC with a significant source of income and visibility. Thousands of people, regionally, nationally, and internationally, attend conferences at the center each year.
Before joining UMGC, Lockett served in progressively responsible positions in business and financial management at the University of Maryland, Baltimore. While there, Lockett was instrumental in bringing new housing to the UMB campus through a creative public/private partnership and in instituting a student loan initiative that realizes millions of dollars annually in reduced loan costs and scholarships for students.
Lockett also worked as a branch manager for a major financial services company in Baltimore, where he managed the most successful field office in Maryland for the consumer finance wing of the world's largest financial services corporation.
Lockett graduated with honors in earning both his MBA from the University of Baltimore and his BS in business administration from Towson University.