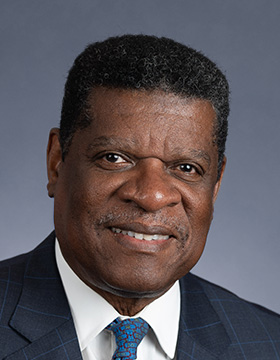 Eric Key
Director, Arts Program
Biography
Eric Key is an art lover, investor, and collector who—by his own admission—"can't draw a straight line." He came to UMGC in 2008 with more than 35 years of experience in art administration, after serving for more than a decade as executive director of the Kansas African American Museum (Wichita). He also served as director of programs for the Black Academy of Arts and Letters, curator for the African American Museum, and assistant curator of African American history at Old City Park, all in Dallas, Texas. Over the course of his career, he has curated more than 200 culturally diverse exhibitions; worked with countless artists, curators, and directors; and expanded and sharpened his knowledge of the art field.
Since Key joined UMGC, the university has added almost 2,200 individual pieces to its collection and has increased the percentage of works on public display. Key is responsible for the overall care of the collection, its development, and its future. He also leads the university's robust visual arts exhibition program, which features several new exhibitions in the UMGC Arts Program Gallery each year.
Key earned a bachelor's degree in political science and a master's degree in museum studies from Hampton University.