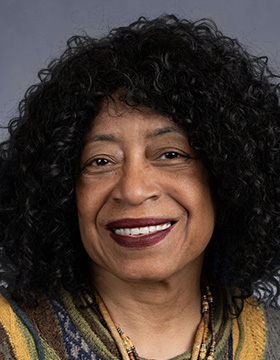 Dianne A. Whitfield-Locke, DDS
Biography
Dianne A. Whitfield-Locke, DDS, is a dentist with offices in Washington, D.C., and Capitol Heights, Maryland. She is also known throughout the region as an avid art collector and patron of the arts.
Whitfield-Locke and her husband have amassed roughly 1,000 works of art over the past 10 years—a relatively short period of time for a collection of that size. Although she has an affinity for artworks from the late 1800s to 1940 and concentrates on collecting sculptures, she also recognizes the need to support emerging and established contemporary artists and has expanded her collection to include masterful works by some of the world's most recognized African American artists. Works by James Richmond Barthé, Elizabeth Catlett, Selma Burke, Sam Gilliam, Augusta Savage, James Phillips, Simmie Knox, David Driskell, Samella S. Lewis, E. J. Montgomery, Lois Mailou Jones, Reginald Gammon, James Wells, Tim Davis, Ed Clark, Benny Andrews, Edward Bannister, Robert Duncanson, Palmer Hayden, Aaron Douglas, and Romare Bearden can all be found in her impressive collection.
Whitfield-Locke earned a Bachelor of Arts in Sociology at Hampton University in Hampton, Virginia; a Master of Arts in Teaching from Northeastern University in Chicago; and a Doctor of Dental Surgery with a specialty in Pediatric Dentistry from Howard University. She spends her time outside her private dental practice reading about art, artists, and art history; supporting local artists; advocating for art initiatives and philanthropic causes; and helping to develop and advance the Arts Program at UMGC by serving on UMGC's Art Advisory Board.