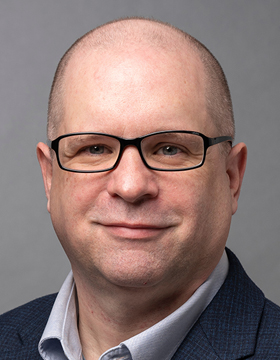 Christopher M. Davis
Vice President, Academic Quality
Biography
Christopher M. Davis, PhD, UMGC's vice president of academic quality, began his career in higher education as an adjunct faculty member at Baker College in Michigan in 1997, joining the full-time faculty a year later. He went on to serve as dean of computer science and technology, system director of effective teaching and learning, and director of assessment.
He subsequently served as vice provost of institutional effectiveness at National Louis University in Chicago; vice provost for Colorado Technical University, responsible for online faculty and later the supervision of doctoral programs; and vice president for institutional effectiveness, provost, and ultimately president of Western International University during the teach-out of the university until it closed in March 2019.
Davis has continued to teach both online and face-to-face through his career and served for 15 years as a peer reviewer for the Higher Learning Commission. He studied sociology as an undergraduate at the University of Michigan, where he went on to complete a PhD in urban, technological, and environmental planning. He also holds an MS in higher education leadership from Capella University, an MS in psychology from Walden University, and an MBA in IT management and accounting from Western International University.
He published his first book, How to Become a Professor, in 2018, and his second, Should I Go to College? In 2019.