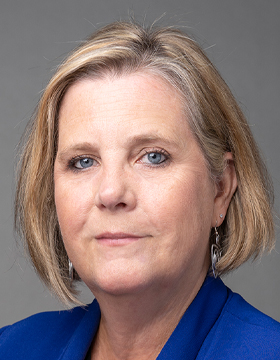 Cathy Sweet
Vice President, Institutional Advancement
Biography
Cathy Sweet has served as vice president of institutional advancement for UMGC since 2008. In this role, Sweet leads the Development, Alumni Relations, and Career Services units. With more than 25 years of management and fundraising experience, she led the first capital campaign at UMGC and stood up an innovative Career Services model that serves both alumni and students.
During her 14-year tenure at Gallaudet University, Sweet served as executive director of institutional advancement, leading two capital campaigns that raised more than $70 million for scholarships, program support, and the construction of two academic buildings. Later, as special assistant to the president, she served as liaison with the board of trustees and board of associates and led all congressional relations activities.
Before joining Gallaudet, Sweet worked for United Way, where she directed a community service center that served deaf and hard-of-hearing citizens in Forsyth County, North Carolina. She has served on the boards of Habitat for Humanity Metro Maryland and Special Olympics Maryland and is a member of Leadership Maryland's Class of 2010.
Sweet earned a master's degree in counseling from Gallaudet University and a bachelor's degree in education from the University of North Carolina.