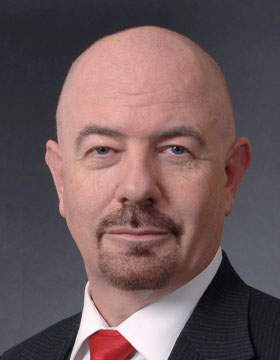 Ray Letteer
Compliance Branch Deputy Chief (Cybersecurity and SISO), Marine Corps Authorizing Official
Biography
Ray A. Letteer, D.Sc, is currently the Deputy, Compliance Branch/Cybersecurity (ICC/CY) in the Command, Control, Communications, and Computer Division (IC4), Deputy Commandant – Information (DC I), Headquarters, U.S. Marine Corps. He is responsible for and oversees all cybersecurity policies, tasks, standards, and conditions within the Marine Corps, which includes Computer Network Defense (CND), Defensive Cyber Operations (DCO), Public Key Infrastructure (PKI), Smart Card management (Common Access Card, Tokens), Identity Management, Electronic Key Management Systems (EKMS)/Key Management Infrastructure (KMI), and Authorization & Approval (A&A) under the Risk Management Framework (RMF). Letteer has been with HQMC IC4 for over 18 years and has over 38 years of cybersecurity experience, working in DoD, the Intelligence Community, and in Federal Civil Agencies.
Letteer received both his Doctor of Science (D.Sc.) in Information Assurance and Master of Science in Network Security from Capitol Technology University. He has a Bachelor of Arts in political science from the University of Maryland Global Campus, a graduate certificate in Systems Management from the University of Southern California, and a Post-Graduate Intelligence Program Diploma in Strategic Intelligence from the National Intelligence University.
He is a graduate of the Federal Executive Institute's Leadership for a Democratic Society program. He is also the lead author of The Transitioning Military Cybersecurity Professional. Prior to his arrival in the Marine Corps in 2003, Letteer worked in private industry as a federal contractor with Booz Allen Hamilton from 1994 to 1997, and SAIC from 1997 to 2003. He supported a variety of government clients in IA and systems security, including the Department of the Navy, the state of Maryland, the Defense Information Systems Agency, and the Department of the Interior. He was one of the key developers of the DoD IT Security Certification & Accreditation Process (DITSCAP).
Letteer honorably served from 1973 to 1994 in the intelligence, security, and cybersecurity fields in the U.S. Air Force Security Service, and later in the Electronic Security Command. Letteer is a Certified Information System Security Professional (CISSP), a Certified Chief Information Security Officer (C|CISO), NSA Information Assurance Methodology (NSAIAM) certified, Information Technology Infrastructure Library (ITIL) certified, and a Certified SCRUM Product Owner. He is Acquisition Level 1 Certified and an Associate member of the American Bar Association, participating on the Science & Technology Committee. Letteer was an adjunct faculty member of the National Cryptologic School at NSA, teaching operational information system security, was an adjunct faculty member of Capital Technical University in Laurel, Maryland, teaching courses in the doctoral Cybersecurity program and where he was a dissertation Chair for seven doctoral candidates, and was an adjunct faculty member of Utica College, teaching in the Cybersecurity program.