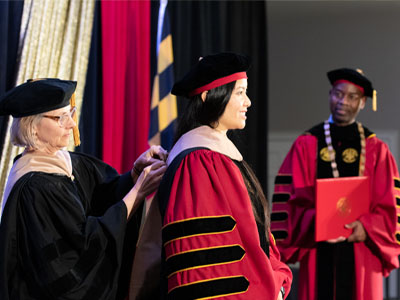 For the first time in three years, University of Maryland Global Campus was filled with the buzz, happiness, and excitement of college graduates and their families. Over 13,000 students graduated from UMGC this year, and come from across the country, four U.S. territories, and 20 countries. For seven days, UMGC graduates from 2020, 2021, and 2022 had the opportunity to come to campus and achieve their dream of walking across the stage surrounded by their professors, classmates, friends, and family members.
"To be able to walk across the stage, I just feel happy," said Dominicia Dunston, a class of 2020 graduate who earned her bachelor's degree in accounting. "The moment I found out I was graduating was when COVID hit, and I was depressed because I wanted to walk across the stage. I was hoping that UMGC would make it up for us; my prayer came true, and I'm so happy they did it."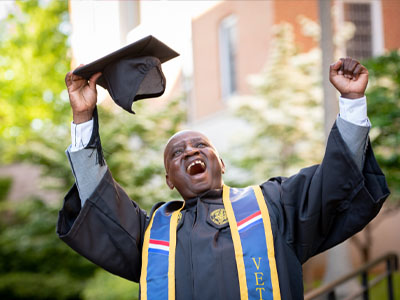 Rather than holding large ceremonies at the XFINITY Center, UMGC hosted a Grad Walk at the College Park Marriot Convention Center's ballrooms. Graduates were able to arrive, put on their caps and gowns, and walk across the stage while their friends and family members watched directly on the side. The event was an intimate and celebratory affair that focused on the graduates and their loved ones. It catered to graduating adults and their priorities.
"It's unique and it's innovative. I think it will definitely be a different experience, but I like it compared to the traditional sit-down ceremony. It's more individualized and more personal," said John Englehart, who graduated with a master's degree in distance education. "I'm just really glad to be here and that UMGC put this together."
Because UMGC is an online university, the ceremony was, for many, the first time they'd been to the university's headquarters and their first time meeting UMGC staff and faculty in person. Classmates who had only known one another through a computer screen were able to shake hands and hug while they joked about the classes they took and how they could be there together and share in their achievement.
"My class was pretty diverse. We had people on duty in the military overseas, and you have people who are grandmas in their sixties who are just trying to be an example for the family," said Menachem Davis, an MBA graduate. "At every stage that I went to, people were clapping, which I thought was really nice because you thought you would only get it on a [traditional] stage. Everyone is really friendly here and really happy."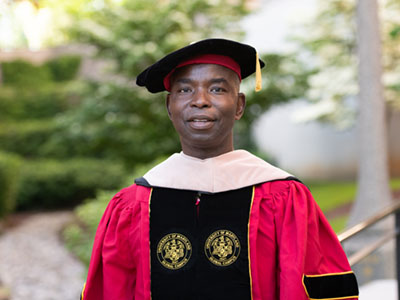 Once graduates walked across the stage, they entered the celebration zone: a tent with photo backdrops and photographers so students could remember this moment. Graduates and professors chatted, and they had the opportunity to get diplomas framed or get UMGC alumni apparel. Throughout the celebration, graduates took the time to reflect on how far they've come.
Dominique Thomas, who graduated with a bachelor's in accounting, said being at the event was mind-blowing.
"I started this journey fifteen years ago," Thomas said, "and had to take a pause then came back, so it just feels very rewarding right now."
With their degrees in hand and their next chapters right around the corner, many of the graduates had words of encouragement and advice for other students who were thinking about starting college or who are working toward graduating.
"Continue to follow your dreams, never give up, and know that you can always achieve anything you set your mind to," Thomas said.
"It's good to have a good support system, and look to lean on people," said Nicholas Doolin, who graduated with a bachelor's degree in communication studies. "They're there to push you, so you're never alone in that way."
"Whenever you want to strive to educate yourself, I think that's one of the best things you can do, and you're going to do it at a world-class renowned institution of the University of Maryland Global Campus," said Davis. "You have a bright future, and life is too short to not accomplish what you want to do and live your life your own way."
While each graduate has the next steps they will be taking in their life and education, the joy of the day was what they were most excited about.
"First things first, celebrate! Sleep!" said Doolin. "Congratulations to us, and congratulations to me!"