In the military community, June represents the start of permanent change of station (PCS) season. This annual announcement of moves by servicemembers and their families requires them to transfer from one duty station to another by the end of the summer.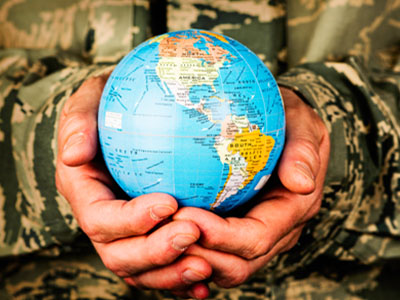 Moving households, whether to the other side of the country or the other side of the world, can be one of the best—and worst—parts of military family life. On the one hand, you have a chance to experience places that you might not have been able to see otherwise. On the other hand, moving is stressful and potentially pricey. On top of that comes the social and emotional impact on family members. Military spouses may need to find work to support the family. Children will have to acclimate to a new community and try to build friendships at a new school. It would be safe to say that starting your life over from scratch every two to four years is not easy. So, for these military families, anything that can remain steady and consistent in their lives is a welcome bonus.
Fortunately, with the additional option of online school available today, the one thing military families won't need to give up is a high-quality education. Thanks to several online schools and programs, military personnel and their families can choose any type of degree depending on their interest and passion. From move to move and location to location, they can continue to pursue their degree or earn a certificate at their own pace.
While most members of the military have already attained a high school diploma, they may still plan to pursue an undergraduate or graduate degree. Some choose to pursue another degree to rise in rank should they decide to stay in the armed forces. Others view a new online degree as a way to pursue a variety of civilian job opportunities upon retirement.1
Here are Military.com's:2 seven reasons for active-duty military to consider pursuing an online degree
Proven Online Success: Convenience and efficiency are the name of the game. Online schools are easy to get started in and normally provide 24/7 technical support.
Sound Technical Capabilities: Class work is conducted using proven technologies. Email, bulletin boards, and websites abound for the learner while many programs offer video streaming, whiteboard capabilities, and video conferencing.
Online Faculty: Teaching online is more than just being a teacher with an internet connection. Most programs have qualified instructors able to facilitate online classes and teacher/student interaction.
Quality Customer Service: Online schools are very customer oriented to help students avoid confusion, wasted effort, and longer time to graduation. Most assign personal advisors from enrollment to graduation who can answer questions and take care of administrative details.
Satisfied Graduates: Prospective students should look for graduate testimonials. Request information about the success and happiness of students and alumni and ask the university for names of some graduates whom you might be able to contact.
Small Classes, Large Enrollments: As a rule of thumb, online classes have fewer students and enjoy more attention from the instructor. Conversely, online candidates should look for large enrollments. A large student total suggests that a program is proven.
Graduation Schedule: As a rule, most students are able to receive an online degree in 2-3 years (see Note below*), attending classes on a part time basis. Many schools work hard to get scholars graduated as it does getting them to enroll (Their business depends on it.) 2
"Any student going to college, but especially a non-traditional adult student, is trying to balance three things in pursuing their degree – affordability, access and quality," said Keith Hauk, associate vice president of stateside military operations at UMGC. "With the lifestyle challenges facing military servicemembers and their families, online education at a school like UMGC—especially given our 75-plus year history of serving the military, veterans and their families -- provides a great way to balance those three things."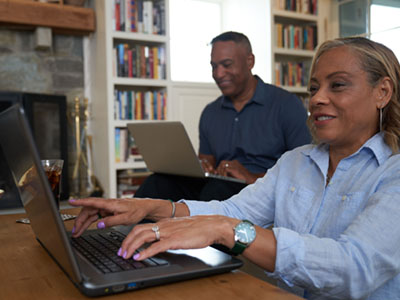 There are other great benefits too for military families to pursue an online education. In addition to being highly transportable and flexible; online degrees are more budget-friendly as many online degrees cost less than in-person ones. 3
And what if a servicemember or spouse was pursuing a degree or certification at another institution, such as an in-person program, prior to their PCS assignment? Fortunately, many online universities accept transfer credits and have a smooth accepting process to help military students pick up where they left off.
In addition to fully online offerings, there are also hybrid programs – a combination of online learning and in-person classes – that can provide servicemembers and their families more opportunities to find the best fit for their educational pursuits.
"It took 20 years and living on three continents to get here. From discovering my passion to finally choosing a degree program that worked with my family's schedule. As a military spouse, we move around the world so much that a traditional university would not have worked for me. UMGC gave me hope that I could finish. They understand the challenges that military members and spouses face. I have never been so proud of accomplishing anything before. I worked tirelessly for my degree and I cannot wait to see what good I can do for the world with it."
Rebecca B., BS in Psychology
Achieving your degree is a great goal to have that will be with you throughout your military journey and if/when you transition to civilian life. It can improve your professional options and chances for promotion, and it could also offer you better educational opportunities to pursue advanced degrees to further enhance career growth. Discover the flexibility that earning your online degree can offer you and your family, no matter your next move.
University of Maryland Global Campus has a long history of serving the military dating back to 1947. Today, more than 53,000 military and military family members are enrolled in our online programs. Learn more about UMGC's military degree programs and certificates.