When you think of summertime, what comes to mind? Trips to the beach? Barbecuing? Ice cream? 
What about school?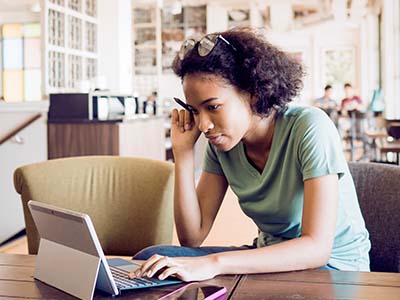 It's probably not something most people associate with summer, but depending on your academic and career goals, taking summer courses may be a good option. 
At UMGC, courses are offered year-round so students can create a schedule that works for their individual goals. Some students choose to take classes during the summer to finish their degree or certificate as quickly as possible.
"I find it more common for students to take classes in the summer. The feedback I hear from students is that they want to keep going toward their goal," says Deborah Garcia, a UMGC student success coach. "With a significant portion of our students working full-time, their schedule doesn't change significantly in the summer, so they find it easy to just keep moving forward."
Other students do want that break during the summer.
"We do have students who make the decision to take a break," says Karly Oristian, another UMGC success coach. "That is the beauty of UMGC: Students can decide to take a break when it is needed!"
While some students find summer is the best time for them to take a break, others may take breaks based on other factors.
"Many of our students are working adults," says Orstian. "Therefore, a break could be beneficial if they are experiencing a busy season at work, preparing for a new work-related project, or wanting to spend time with their family."
Students at UMGC can take a break that lasts up to two consecutive years before they need to reapply. While this timeline applies to both undergraduate and graduate students, it's important to be mindful of your completion timeline. 
"Graduate students have a five-year timeline to complete their degree," says Garcia. "If a student takes too long or too many breaks, they may run out of time to complete their program without courses expiring."
No such time limit exists for undergraduate students, but taking a long break and needing to reapply can have other consequences.
"Reapplying will put students under a new catalog year, which may require them to take additional credits, or their degree may no longer be available," says Oristian.
Taking a break can also impact a student's motivation and rhythm and make it harder for them to return to school after becoming accustomed to their break schedule.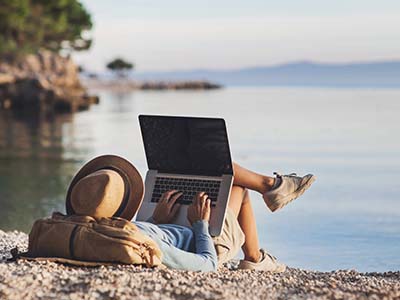 "When a student is first starting school or returning after a break, developing time in their schedule to devote to school is often one of the largest obstacles. Once that schedule, or rhythm, is found, maintaining it is much easier. The student just 'stays in motion,'" says Garcia. "This is not to say that there are not good reasons for a student to take a break from their studies—it is just important to address the inertia they may experience when they start up again."
For many students, the benefit of taking courses through the summer outweighs taking a break. 
"The greatest benefit of taking summer courses is keeping the momentum going!" says Garcia. "I have also had students, because they are not taking a full load of classes in the summer, decide to enroll in one of their more difficult classes. If a student has been dreading taking statistics, it may seem odd to take it during the 'fun' summer months. However, if the student is only taking one class in the summer instead of two, they may find it is the perfect time to focus on a more difficult course."
In some instances, certain courses may only be offered in spring or fall. Success coaches can help students plan ahead.
"Although the summer term isn't identical to our other semesters, UMGC still offers opportunities for students to make progress toward completing their degree," says Oristian. "In other words, students will be one step closer to graduating and accomplishing their academic goals!"
It is also important to note that for select programs that operate in a cohort structure, such as the Doctor of Management, students cannot stop and start classes as easily. If a student is unsure about whether their program follows a cohort structure, they should check with their success coach. All students can check the academic calendar ahead of time and work with their success coach who will help them plan their academic schedules.