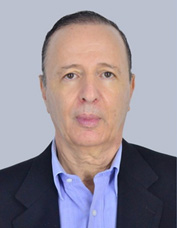 Saad Laraqui
Professor and Program Director, UMGC School of Business
Biography
Saad Laraqui, PhD, has been with University of Maryland Global Campus since 2004 and is currently professor and program director in the School of Business. For the past three decades, he has taught international business, finance, and strategic management on four continents. He has been active with regional leading professional and practitioners consulting firms in Institutional Certification & Accreditation in Supply Chain, Quality, Project, and Organizational Management.
Laraqui has held numerous positions with private (banking and manufacturing) and government organizations around the world. His recent consulting projects include multiple large-scale public-private partnership projects in higher education in Africa and the Middle East, and several joint venture projects for the development of airlines in the Middle East and Central Asia regions. Laraqui serves as a member of the Education and Research Executive Board (EREB) of VCARE Academy (Value Chain Applications and Research Education). He is also a member of the Regional Advisory Board of the International Supply Chain Education Alliance (ISCEA) for the EMEA region.
Laraqui holds a PhD in Management from Rutgers University, an MBA from the University of Tampa in Florida, a Diploma in Airline Accounting and Finance from IATA Aviation Training and Development Institute, and numerous certificates in various aviation-related subjects. His undergraduate degree in business is from the Institut Superieur de Gestion in Paris, France. He is also certified Lean Six Sigma Black Belt, Project Management Professional (PMP, PMI), Certified Supplied Chain Analyst (CSCA- ISCEA), and Certified Supplied Chain Manager (CSCM- ISCEA).
Several of his works have been published, including a chapter on Airline Management and Operations in the Transportation Engineers' Handbook, and chapters in Borderless Business: Managing the Far-flung Enterprise; and in Development and Implementation of RFID Technology a chapter titled "RFID System Integration Design.