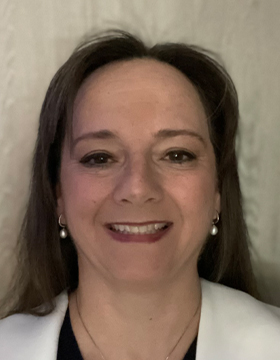 Phyllis Medina, PhD
Acting Program Director, Psychology
Biography
Phyllis Medina has been a University of Maryland Global Campus (UMGC) faculty member for 22 years. She began her UMGC journey in 2000 on the island of Okinawa in Japan as an adjunct instructor teaching both on-site and online psychology courses. Medina continues to enjoy serving adult learners and the faculty team in her current role as acting program director of psychology at UMGC.
Medina received her bachelors, master's, and doctorate in general psychology from Oklahoma State University. Her graduate training and research took a nontraditional path, and she pursued an interdisciplinary approach that blended experimental and industrial/organizational psychology. Leveraging various perspectives collected from psychology, sociology, and organizational behavior, Medina's current research and instructional interests include emotional intelligence and wellbeing coaching across diverse communities.
Medina's professional pursuits beyond the classroom include seminar development in the areas of leadership and teambuilding. Her professional organization memberships include the American Psychological Association, Society for the Teaching of Psychology, and the American Association of Colleges and Universities. In her spare time, Medina enjoys baking bread, movie night with her family, and the tranquility of gardening.