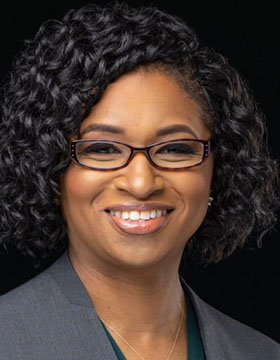 Nicole DeRamus
Assistant Vice President, Veterans Programs
Biography
Dr. Nicole DeRamus (Captain, U.S. Navy, Retired) serves as UMGC's assistant vice president of veterans programs in Stateside Military Operations (SMO). In this role, she oversees veteran student services and support programs through the Veterans Certification Office (VCO) and the Veterans Initiatives and Outreach Office. She ensures that military-affiliated and veteran students receive the resources, support, and advocacy they need to have a successful student experience at UMGC.
Nicole is a 27-year Navy veteran who joined UMGC in August 2020. She has served in multiple leadership positions in the areas of manpower and personnel, military accessions, technical training, graduate education, executive leadership development, and strategic policy.
Nicole holds a baccalaureate in industrial engineering from Auburn University, a master's degree in operations research from the Naval Postgraduate School, and a PhD in education from Capella University.