A Record Nine Caregivers of Wounded Warriors Awarded 2020 Pillars of Strength Scholarships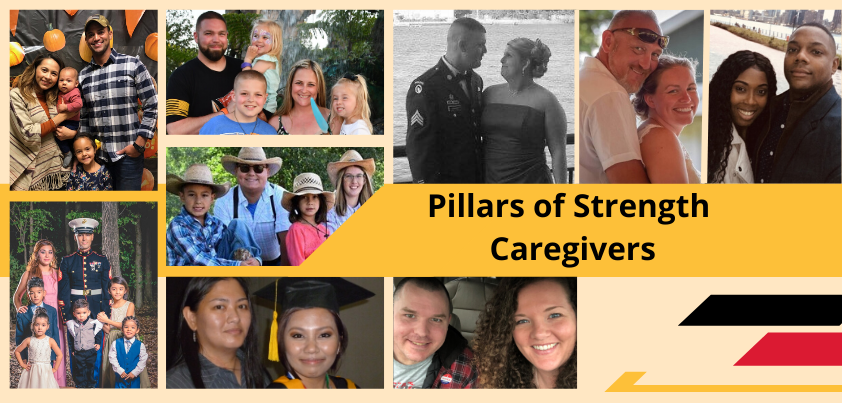 Adelphi, Md. (July 20, 2020)—The Pillars of Strength Scholarship Program has selected a record nine volunteer caregivers of severely injured service members to receive full scholarships to attend University of Maryland Global Campus (UMGC). It is the greatest number of scholarships ever awarded by the program in a single year—and brings to 38 the total number of caregivers who have received Pillars of Strength scholarships since the program's inception in 2013.
In all, eight Pillars scholarship recipients have already earned a degree and three others are expected to graduate this year.
"I am so proud once again to reward the selfless caregivers who support our nation's heroes," said Rich Blewitt, president of the Blewitt Foundation and founder of the Pillars of Strength Scholarship Program.  "It is indeed a privilege to provide full scholarships to these nine deserving individuals who sacrifice so much, and to honor them in this very special way."
Pillars of Strength was created specifically to help exceptional volunteer caregivers—often spouses, friends, parents or children–who have sacrificed their own careers to help their loved ones recover from serious physical injuries or psychological trauma that they suffered while serving in the military.
Its scholarships are made possible by The Blewitt Foundation and the National Military Family Association in alliance with UMGC, the nation's premier global provider of higher education to the U.S. military since 1947.
"Caregivers of our military service members dedicate themselves to the health and well-being of their families and loved ones, often at great personal sacrifice," said Ashish Vazirani, NMFA Executive Director and CEO. "It is a privilege to join The Blewitt Foundation and UMGC to ensure that the career aspirations of these caregivers aren't sacrificed, but supported. This partnership strengthens these military families."
Pillars Scholarship recipient Candace Laguna said the spine-shattering injury her husband sustained during Army training in 2009 combined with injuries suffered five years earlier while deployed in Iraq created a "medical-damage domino [effect]."
But while fighting for her husband's health, the family would be tested further when their son, Antonio, the eldest of the couple's four children, was diagnosed with ROHHAD syndrome, a rare and incurable condition that typically results in early death.
"From 2010 to 2019, life consisted of living from one hospital appointment to the next ICU admission or surgical waiting room," Laguna said.  "Many nights, I was waking up to check and ensure that our child was still alive, as well as making sure Frank was coping with his depression and pain."
Managing daily life—which included homeschooling four children to minimize everyone's exposure to colds and flu—was complicated and required effort and sacrifice on everyone's part, she added.
Such caregivers often need to complete a college degree to financially support their families, but typically receive little or no education benefits, said Blewitt.  "They have been there for their loved ones, and we hope the [PIllars of Strength] scholarships will enable them to reach their educational goals and ensure a better future for themselves and their families."
Laguna said she took a deep breath when she learned she would be receiving a Pillars of Strength scholarship. She always told her husband and kids she had their back.
"But now, with this scholarship, someone is saying, 'I've got you.'"
Meet the 2020 Pillars of Strength Scholarship Recipients
Each recipient's story is both extraordinary and unique—and each embodies a spirit of perseverance, dedication and courage in the face of incredible hardship and personal challenge. Select a recipient's name to learn her story.
Erika Auro-Romillo                  Sarahi Chavez                  Stephanie Hall
Candace Laguna                      Dacy Luther                      Nicole Paredes-Laign
Tona Rimmer                           Pamela Rutkowski           Lindsay Williams
 About The Blewitt Foundation
The Blewitt Foundation supports military families experiencing severe injuries and invites financial support to assist the foundation in carrying out its mission for special men and women who are suffering—and who, with their families, have sacrificed so much for all of us. Its mission is based on the belief that military family members serve, as well.
About National Military Family Association
The National Military Family Association is the leading nonprofit dedicated to serving the families who stand behind the uniform. Since 1969, NMFA has worked to strengthen and protect millions of families through its advocacy and programs. They provide spouse scholarships, camps for military kids, and retreats for families reconnecting after deployment and for the families of the wounded, ill, or injured. NMFA serves the families of the currently serving, veteran, retired, wounded or fallen members of the Army, Navy, Marine Corps, Air Force, Coast Guard, Commissioned Corps of the USPHS and NOAA, and Space Force. To get involved or to learn more, visit www.MilitaryFamily.org.
About University of Maryland Global Campus
University of Maryland Global Campus is a world leader in innovative educational models, with award-winning online programs in disciplines including biotechnology, cybersecurity, data analytics and information technology that are in high demand in today's increasingly technical, global workplace.
With an enrollment of some 90,000 students, UMGC offers open access with a global footprint and a specific mission—to meet the learning needs of students whose responsibilities may include jobs, family and military service. The university offers both undergraduate and graduate degree and certificate programs, including doctoral programs. A pioneer in distance education since 1947, UMGC today is harnessing the power of learning science and technology to deliver high quality, low cost, accessible higher education.