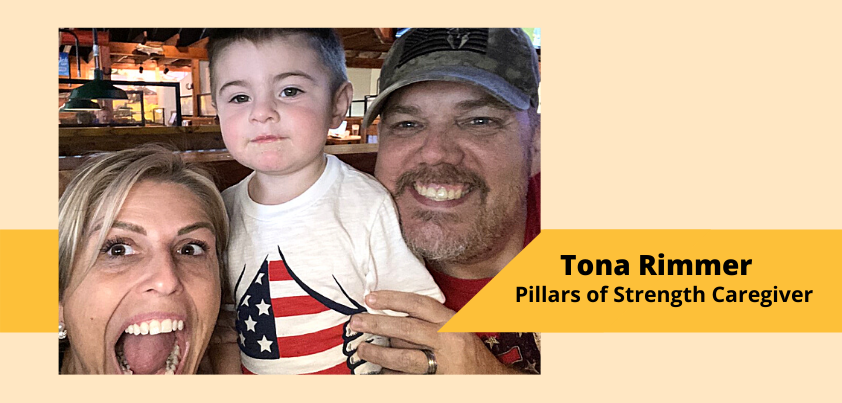 It was Easter Sunday 2007, and  Tona Rimmer's husband, Dana, was on his fifth tour of duty as part of an Army unit transporting supplies from Kuwait to U.S. forces in northern Iraq. The two were chatting on Yahoo Messenger when—everything suddenly went dark.  
Her husband called back as quickly as he could to tell her there was an "issue" and that she would not hear from him for a couple of days. He said he was fine, and he hung up. 
He had been injured in a mortar attack, and it was not his first wound in his years of engagement in Iraq. On his third tour of duty, right after Christmas 2005, he was driving a heavy equipment truck when he ran over an IED. 
"He said he doesn't remember much in the first few minutes, but everything appeared to be slow-moving and loud," said Rimmer. She added that he hit another IED while driving a Humvee on his next Iraq tour in Spring 2007, and a mortar attack on the Forward Operating Base followed soon after. 
Though he suffered from terrible headaches, Rimmer said her husband never got a thorough medical examination until after his fifth deployment, and just before being sent out on his sixth. That is when they learned of his traumatic brain injury and post-traumatic stress disorder. And the more he was examined, the more problems were found. 
"[It] explained the seizures, migraines and mood swings," Rimmer said. "We had to deal with the PTSD daily. I fight hard for fair and equitable health care for him." 
With her husband unable to work, she said she struggled to raise their six children who all had trouble understanding what was wrong with their dad. Now grown, the children are helping with his care.  
Rimmer, who said she always dreamed of being a nurse, earned her associate degree in 2013. Her first nursing job was working in a private hospital near Camp Lejeune, North Carolina, with active-duty military personnel and veterans dealing with PTSD, substance abuse, and military sexual trauma. 
"It was my dream job, and now [nursing] is my passion," she said.  
And, though she gets up for work at 2 a.m. and does not return home until mid-afternoon, Rimmer said she still remains totally involved in her husband's life. She monitors his health and his medications, takes care of his day-to-day living requirements, manages the family finances, keeps the household going, and makes all the minor and major decisions in his life. 
"He does not mind. He tells everyone he needs to speak to his right brain, which is me." 
Now that she is receiving a Pillars of Strength scholarship, Rimmer said she wants to work toward a new dream job. First, her goal is to earn a bachelor's degree in nursing. Then, she aims for acceptance into a master's program to become a psychiatric mental health nurse practitioner. 
"I want to work with military families and veterans and active duty just to be able to support them," she said.  "I can relate [to them] a lot, and that's where my heart is telling me I need to be."