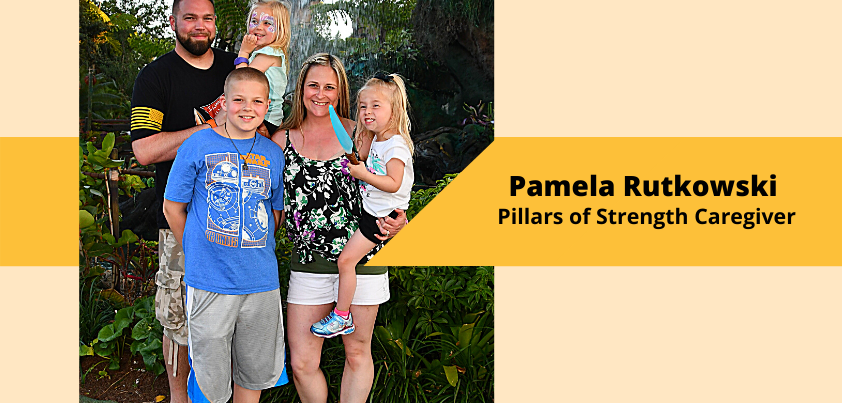 Pamela Rutkowski knows she will need a better education when she becomes the sole supporter of her husband, Jeff, and their three children.  
He had joined the Marine Corps in 2007 and two years later was deployed to Afghanistan as a diesel mechanic on a truck convoy. Rutkowski said that in October 2009 she got the call all military spouses dread. Her husband's truck had hit an IED and he, along with many others, had been injured. 
"That was pretty much all they could tell me. I didn't hear from him for two weeks after that. It was the worst two weeks of my life." 
He was awarded a Purple Heart and continues to struggle with a long list of visible and unseen wounds—traumatic brain injury, post-traumatic distress disorder, neck and back injuries, and other physical trauma.  
"Caring for a veteran with severe daily pain and 'invisible wounds' is difficult," Rutkowski said. "Memory loss, irritability and forgetfulness are just a few of the challenges we face together day-to-day." 
She works with support groups to share experiences and try to boost morale. But, one day, a member of the group who is studying to be a nurse said she had learned that severely damaged nerves may not ever sufficiently repair themselves. The PTSD was not going away. 
"We all sat there quiet and sad for a while," said Rutkowski. "That was not what we wanted to hear." 
Her husband has been working as a diesel mechanic since his discharge from the Marine Corps. But she said the work is both physically and mentally hard on him and he cannot keep it up for long. And though her associate degree in hospitality landed her a job as a restaurant manager, the scheduling demands made the job unworkable once the children came along. 
After the couple had their second child, Rutkowski took an eight-month course to become a certified medical assistant. For the past four years, she has worked part time in a medical office, which allows her to balance caregiving and employment. 
She said she finds it rewarding to help patients and knows that is the direction she would like to take. 
With her Pillars of Strength scholarship, Rutkowski said she plans to study social work so that she can help other veterans and their families. 
"I have an advantage. I know this end of it and what we go through. I have the knowledge to give support and to help somebody else," said Rutkowski, who added that the scholarship will change her life for the better in every way. 
"I have three young kids. My husband is not going to be able to work forever with his disabilities," she said. "I am going to have to take care of us.  I need to start now to be ready to help in the future."