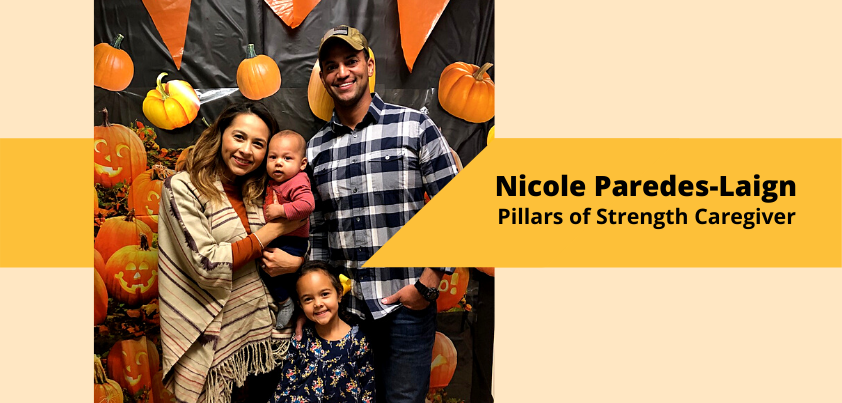 At first, Nicole Paredes-Laign was baffled by her husband's behavior after he returned from back-to-back tours with the Air Force in Iraq and Afghanistan in 2011 and 2012.
He is still on active duty at Cannon Air Force base in Clovis, New Mexico. But, worn down by combat-triggered psychological damage, her husband is seeking a medical retirement.
"After eight years [Justin] is finally getting diagnosed with combat PTSD and chronic depression," said Paredes-Laign, who admitted that for a long time it was hard to think of herself as a caregiver.
The idea was difficult to grasp, she said, even though she had to carefully monitor her husband's behavior and make sure he was not exposed to conditions that would set off panic attacks. The ruckus made by little ones at their child's fifth birthday party triggered an uncontrolled episode, for instance.
With the help of counselors Paredes-Laign now knows which warning signs to look for—isolation, severe sleep deprivation, and self-medication through alcohol.
"It is my responsibility to plan ahead and ensure there will be no trigger-inducing scenarios such as uncontrolled crowds or an abundance of screaming children," she said. "The task of not allowing his traumas to overtake him to the point of hospitalization falls on the individual capable of distinguishing between healthy and alarming behavior . . . me."
Her husband's next journey is finding a new career suited to his setbacks, she explained. Her next journey, now that she has had time to reflect on what she really wants to do with her life, is to travel the education path that gets her there.
In the past, she had undertaken paralegal studies at Clovis Community College—perhaps to prepare her to work for children's advocacy—and was doing well academically. But she backed away at the end of the 2020 spring semester when her husband was admitted to an in-patient program for his PTSD. She said she needed to focus her time on ensuring the physical and mental well-being of her family.
It was a time, too, for reflection. When he receives his medical discharge, the couple will pack up their two children, ages one and five, and move to her hometown near Gloucester, Virginia.
Meanwhile, Paredes-Laign said she has been digging deep into her husband's journey and coming to grips with all that it requires. "Now, I want to do something with therapy," she said. "I think psychology would be the best thing for me to study."
"I am extremely grateful to be receiving this scholarship. I am thankful to be recognized as a caregiver along with other incredible caregivers," she said.
"The kids are great cheerleaders for me, but my husband is my number one cheerleader. He is very thankful and proud."