Germanna Community College Students Now Have An Accelerated Pathway to a Bachelor's With UMGC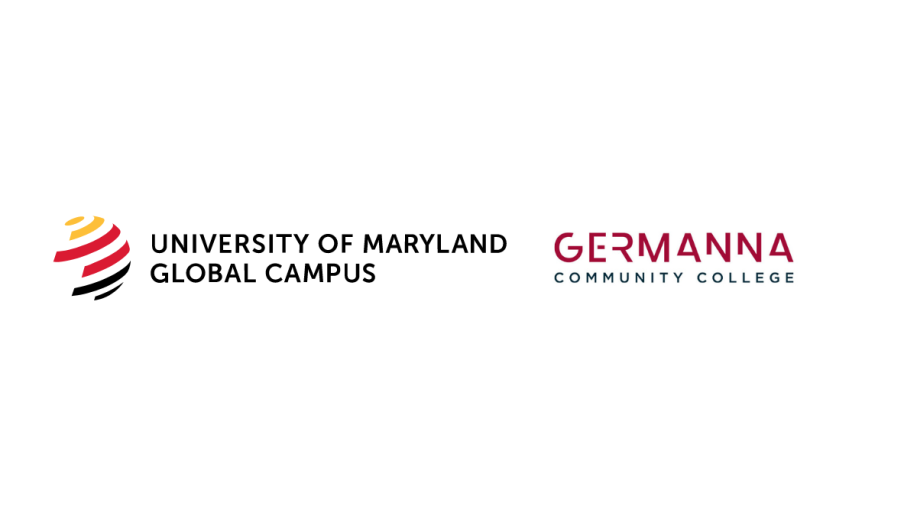 Adelphi, Md. (Aug. 8, 2022)—University of Maryland Global Campus (UMGC) and Germanna Community College (GCC), a two-year public institution in Fredericksburg, Virginia, have announced a transfer partnership as part of GCC's College Everywhere program. The partnership increases the affordability of a bachelor's degree for GCC students taking accelerated online degrees and classes, and in turn, expands the reach of UMGC's 125+ online academic programs.
Through the transfer partnership, students in the College Everywhere program are eligible for a discount on tuition and no application fee for new applicants. The partnership allows students to transfer a minimum of 60 credits when they complete an associate degree with guaranteed admission to a UMGC bachelor's degree program in a complementary field of study. Employees, spouses, and dependents of GCC are also eligible to participate in these benefits.
"We are excited to partner with Germanna Community College to expand access to quality and affordable bachelor's programs," said Blakely Pomietto, senior vice president and chief academic officer at UMGC. "Knowing from the start that you can pursue a four-year degree with a reduced tuition rate is great motivation for new students."
UMC has an enrollment of some 90,000 students—more than half of whom are active-duty military personnel and their families serving on military bases around the world—and offers award-winning online, in-person, and hybrid programs in disciplines including biotechnology, cybersecurity, data analytics, and information technology that are in high demand in today's increasingly technical, global workplace. UMGC also offers cost savings through its use of digital resources, which have replaced costly publisher textbooks in most courses.
"We're gratified to partner with UMGC, which has a great tradition of delivering quality online classes, to allow our students to go from our accelerated, 100 percent online College Everywhere program to earn associate's and bachelor's degrees quickly and affordably," said Germanna President Janet Gullickson.
For more information, visit the university's national community college alliances webpage.
About University of Maryland Global Campus
Currently celebrating its 75th anniversary, University of Maryland Global Campus (UMGC) was established in 1947 to serve adults in the workforce and the military. Today, UMGC enrolls some 90,000 students annually, offering bachelor's, master's, and doctoral degree programs, as well as certificates in more than 125 fully online, hybrid and face-to-face programs and specializations.
UMGC has a long history of innovation in reaching students where they are, including as a pioneer of internet instruction, piloting its first online classes in 1994. The university has received numerous awards for its groundbreaking work in developing fully online degree programs, including in high-demand fields such as cybersecurity, business, data analytics, health care, and education.
UMGC now offers classes to military service personnel and their families at some 180 locations in more than 20 countries. More than half of the university's students are active-duty military personnel, their families, members of the National Guard, and veterans.