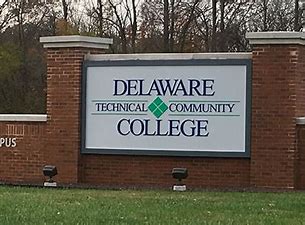 Adelphi, Md. (Aug. 18, 2022)–University of Maryland Global Campus (UMGC) and Delaware Technical Community College, an institution with four locations around the state, have announced a partnership that will expand the reach of UMGC's 90 online academic programs and increase the affordability of a bachelor's degree to Delaware Tech's nearly 13,000 students.
Under the alliance's transfer agreement, students can transfer a minimum of 60 credits when they complete an associate degree and be guaranteed admission to a UMGC bachelor's degree program in a complementary field of study.
"Students are at the center of everything we do at Delaware Tech," said College President Mark Brainard. "This agreement allows them another option to get an affordable bachelor's degree, provide for their families, and offer their talents to the workforce of our state. We are fortunate to have partners like UMGC that create these valuable opportunities."
All degree-seeking Delaware Tech students, graduates, and employees of the college, as well as their spouses and dependents who attend the college, will receive a waiver of the UMGC application fee and a discount on out-of-state tuition for most programs of study.
"We are proud to join with Delaware Technical Community College to increase access to quality bachelor's programs, accelerating the pathway to a four-year degree," said Blakely Pomietto, senior vice president and chief academic officer at UMGC. "Providing a seamless transfer process can be a catalyst for completion and momentum for a student to achieve their educational goals."
UMGC has an enrollment of some 90,000 students, more than half of whom are active-duty military personnel and their families serving on military bases around the world. Delaware Tech offers many veteran friendly services and assists veterans in their educational success. Each of the four campuses has a coordinator for veterans and service members to help guide them through the admission and veteran benefit process.
UMGC offers award-winning online programs in disciplines including biotechnology, cybersecurity, data analytics, and information technology that are in high demand in today's increasingly technical, global workplace. UMGC also offers cost savings through its use of digital resources, which have replaced costly publisher textbooks in most courses.
For more information, visit the university's national community college alliances webpage.
About University of Maryland Global Campus
Currently celebrating its 75th anniversary, University of Maryland Global Campus (UMGC) was established in 1947 to serve adults in the workforce and the military. Today, UMGC enrolls some 90,000 students annually, offering bachelor's, master's, and doctoral degree programs, as well as certificates in more than 90 fully online and hybrid programs and specializations.  
UMGC has a long history of innovation in reaching students where they are, including as a pioneer of internet instruction, piloting its first online classes in 1994. The university has received numerous awards for its groundbreaking work in developing fully online degree programs, including in high-demand fields such as cybersecurity, business, data analytics, health care and education. 
UMGC now offers classes to military service personnel and their families at some 180 locations in more than 20 countries. More than half of the university's students are active-duty military personnel, their families, members of the National Guard and veterans. 
About Delaware Technical Community College
Delaware Tech is an open-admission institution of higher education committed to Delawareans – to the success of students, the local employers who hire the college's graduates, and to the communities in which it is located. Every year, tens of thousands of Delawareans take advantage of the opportunities for lifelong learning at Delaware Tech including: degree programs that prepare them to go directly into the workforce; connected degree programs with area institutions for associate degree students seeking bachelor's degrees; developmental and general education courses; workforce training and customized corporate training programs for adults in the workplace; summer camps for kids; and courses designed to enlighten and enrich the lives of retirees.