UMGC Innovative In-Person "Grad Walk" to Recognize More Than 3,600 Graduates from Classes of 2020, 2021 and 2022, May 16-22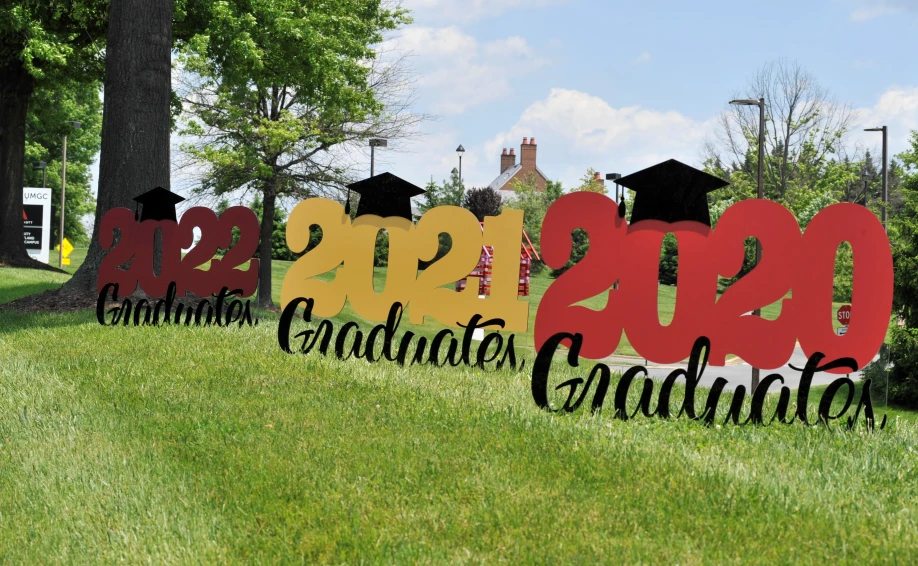 Some 1,700 Graduates from the Classes of 2020 and 2021 to Return for Recognition
University of Maryland Global Campus (UMGC) has announced Spring Grad Walk 2022, an innovative in-person and online experience designed to accommodate thousands of graduates and guests while protecting the health and safety of the university community.  
The UMGC Class of 2022 will be joined by graduates from the classes of 2020 and 2021 the week of May 16–22 for the university's first in-person graduation celebration in more than two years. More than 3,600 graduates have registered to attend, including some 1,700 from the classes of 2020 and 2021.  
The event will take place at the College Park Marriott Hotel and Conference Center, with graduates selecting from multiple time slots to cross the stage and receive individual recognition.  
Special features of Spring Grad Walk 2022 include:  
Each graduate's name will be called as they cross a formal commencement stage in regalia 

Family members and friends can cheer their graduate from a viewing area directly in front of the stage 

Professional photographers will be on site to take photos as each graduate crosses the stage, along with individual and group photos before and after recognition 

Each graduate will receive a video clip of themselves crossing the stage to keep as a memento and share online 

Graduates may take photos and selfies on UMGC's beautiful grounds and at photo stations decorated with the colors of UMGC and the state of Maryland 

Graduates can commemorate their achievements with family and friends in a special Celebration Zone, where they can meet UMGC faculty, staff, and Alumni Association representatives and purchase UMGC Alumni apparel, gear and other mementos.  
Since the start of the pandemic in early 2020, UMGC has conducted its commencements online to help protect the health and safety of students, guests, faculty, and staff. This year, a special website has been created for the Class of 2022 that includes an on-demand ceremony with presentations by speakers, the formal conferral of degrees by UMGC President Gregory Fowler, a keynote address from UMGC alumna Ginger Miller, and an online "Gallery of Graduates" showcasing graduates' personalized recognition slides that can be shared via social media or e-mail.  
Graduates in the Class of 2022 have received a mailed Grad Pack containing UMGC 'swag' to help jump-start the festivities. They are encouraged to share their achievements with fellow graduates via social media using #UMGCGrad.  
A profile of the UMGC FY2022 graduates: 
Number of graduates: 13,685 
Average age: 35 
Oldest graduate: 78 
Youngest graduate: 19 
Graduates come from all 50 states, four U.S territories and 20 countries 
Degrees awarded: 
Associate: 2,426 
Bachelor's: 7,278 
Master's: 3,980  
Doctorate: 34 
UMGC also conducts graduation ceremonies for military servicemembers and dependents overseas in Germany, Japan, Korea and Guam.  
About University of Maryland Global Campus
Currently celebrating its 75th anniversary, University of Maryland Global Campus (UMGC) was established in 1947 to serve adults in the workforce and the military. Today, UMGC enrolls some 90,000 students annually, offering bachelor's, master's, and doctoral degree programs, as well as certificates in more than 90 fully online and hybrid programs and specializations.   
UMGC has a long history of innovation in reaching students where they are, including as a pioneer of internet instruction, piloting its first online classes in 1994. The university has received numerous awards for its groundbreaking work in developing fully online degree programs, including in high-demand fields such as cybersecurity, business, data analytics, health care and education.  
UMGC now offers classes to military service personnel and their families at some 180 locations in more than 20 countries. More than half of the university's students are active-duty military personnel, their families, members of the National Guard and veterans.