Simultaneous Admission at Community College of Baltimore County and UMGC Allows Easy Associate's to Bachelor's Pathway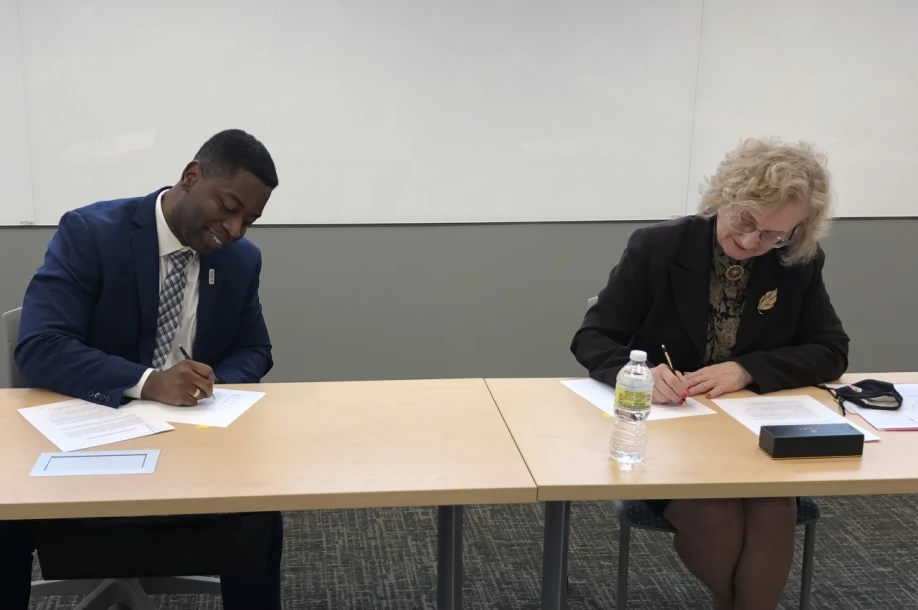 Adelphi, Md. (May 11, 2022)—Community College of Baltimore County (CCBC) has partnered with University of Maryland Global Campus (UMGC) to create the Degrees to Succeed Dual Admission Program, in which students are simultaneously admitted to both CCBC and UMGC. Under the new program, those students who complete an associate degree transfer credit seamlessly toward a bachelor's degree at UMGC. The two institutions held a signing ceremony today on the CCBC campus.
The Degrees to Succeed program complements UMGC's existing Maryland Completion Scholarship program, which allows Maryland community college graduates to transfer to UMGC and earn a bachelor's degree for $12,000 or less.
"We are excited to partner with UMGC to give CCBC students this wonderful opportunity to fast track their educational goals," said CCBC President Dr. Sandra Kurtinitis. "With the dual admission program, students who graduate from CCBC will be halfway toward their bachelor's degree, and they will have access to both colleges' resources along the way to help them succeed."
Benefits of dual admission include acceptance of all CCBC transfer credits; co-advising with UMGC advisors to ensure CCBC courses align with the chosen UMGC program; and access to UMGC's lifetime career services and library resources, including research help, guides, and writing and citation tutorials.UMGC also waives the $50 application fee for undergraduate transfer students enrolled at CCBC.
"Community college students are consistently shown to be high performers, and this new program builds on a proven—and affordable—pathway for CCBC students to transfer credit and continue their progress toward a bachelor's degree at UMGC," said Dr. Gregory Fowler, president of UMGC. "Knowing from the start that you have already been accepted to UMGC and have a scholarship that reduces the cost of a four-year degree can provide great momentum toward completion."
UMGC was recently recognized by U.S. News Short List as the top university in the nation for transfer students. UMGC enrolled more than 9,500 new transfers in fall 2020. Even more, it has a 100 percent acceptance rate, compared with 65 percent for higher education as a whole.
For more information or to contact an admissions counselor, visit University of Maryland Global Campus Transfer Programs (ccbcmd.edu).
About the Community College of Baltimore County (www.ccbcmd.edu)
Since 1957, CCBC has opened the doors to accessible, affordable, high-quality education empowering generations of area residents to transform their lives and the lives of others. Each year, nearly 50,000 students enroll at the college's main campuses, extension centers and online to make their starts, earn degrees, launch and build careers. CCBC offers the region's most expansive selection of degree, certificate and workplace certification programs that prepare students for transfer, job entry and career advancement in such industries as business, education, health care, information technology, cybersecurity, construction, and transportation. Designated as the "Best Community College" among the Maryland Daily Record's 2021 Reader Rankings, CCBC is also nationally recognized as a leader in innovative learning strategies and among the nation's top associate degree producers.
About University of Maryland Global Campus
Currently celebrating its 75th anniversary, University of Maryland Global Campus (UMGC) was established in 1947 to serve adults in the workforce and the military. Today, UMGC enrolls some 90,000 students annually, offering bachelor's, master's, and doctoral degree programs, as well as certificates in more than 90 fully online and hybrid programs and specializations.   
UMGC has a long history of innovation in reaching students where they are, including as a pioneer of internet instruction, piloting its first online classes in 1994. The university has received numerous awards for its groundbreaking work in developing fully online degree programs, including in high-demand fields such as cybersecurity, business, data analytics, health care and education.  
UMGC now offers classes to military service personnel and their families at some 180 locations in more than 20 countries. More than half of the university's students are active-duty military personnel, their families, members of the National Guard and veterans.