Accomplished Education Technology Executive Will Continue to Lead UMUC Ventures Subsidiary, AccelerEd
Adelphi, Md. (March 23, 2021)–Wendy Colby, an accomplished education technology entrepreneur and executive, has been named chief executive officer of UMUC Ventures, a not-for-profit supporting organization of University of Maryland Global Campus (UMGC). The announcement was made jointly by UMGC President Gregory Fowler and UMUC Ventures Board of Directors Chair William R. Roberts.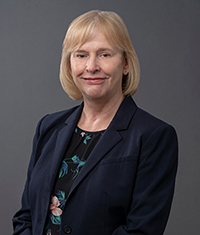 Most recently, Colby served as CEO of AccelerEd, a portfolio company of UMUC Ventures, which manages and develops innovative IT and technology solutions for client organizations, including UMGC. In her expanded role, which she assumed on March 1, Colby will also continue to lead AccelerEd. 
"Wendy is a seasoned executive who brings deep experience in all aspects of online education and digital transformation," said Fowler. "In addition to her entrepreneurial and team-oriented leadership style, she has a track record of building and growing businesses and a commitment to creating great customer service." 
Said Roberts, "Wendy is an outstanding individual and a wonderful leader. Ventures is fortunate to have a talented professional with her skills and capabilities, and I am confident that she will be successful in empowering UMGC to be the best online learning environment in Maryland and the world." 
Prior to joining AccelerEd, Colby served as divisional vice president at Laureate Education, where she led the development, commercialization and scale of a portfolio of teaching and learning solutions servicing universities worldwide. Previously, she was part of a team at Carnegie Mellon University that established and scaled a series of education technology businesses. 
"It's an honor to lead UMUC Ventures during this exciting time in online higher education," said Colby. "The organization was built to support innovation and transformation. Through our partnership with UMGC, we have a tremendous opportunity to shape the future of higher education for students around the world. We are committed to the advancement of new and emerging teaching and learning models that create more valuable student experiences, bring a focus to skills and elevate student success." 
Earlier in her career, Colby served as senior vice president of Houghton Mifflin Harcourt, where she led the company's new business and digital transformation efforts, and as senior vice president of Thomson Reuters, focusing on corporate online learning. She began her education technology career as vice president of product management for the Silicon Valley startup DigitalThink.   
A graduate of Illinois State University, Colby holds a master's degree from the University of San Francisco. 
About UMUC Ventures
UMUC Ventures is an innovative business model for higher education that funds, develops and launches new innovative ventures that help higher education institutions compete more effectively in an era of rapid change. UMUC Ventures is a nonprofit, 501(c)(3) supporting organization created by University of Maryland Global Campus to help build the university's endowment to maintain the affordability of a high quality UMUC education for adult learners in Maryland and around the world. To learn more about UMUC Ventures, visit UMUCVentures.org.
About University of Maryland Global Campus
University of Maryland Global Campus (formerly University of Maryland University College) is a world leader in innovative educational models, with award-winning online programs in disciplines including biotechnology, cybersecurity, data analytics, and information technology that are in high demand in today's increasingly technical, global workplace. 
With an enrollment of some 90,000 students, UMGC offers open access with a global footprint and a specific mission—to meet the learning needs of students whose responsibilities may include jobs, family, and military service. The university offers both undergraduate and graduate degree and certificate programs, including doctoral programs. 
A pioneer in distance education since 1947, UMGC today is harnessing the power of learning science and technology to deliver high quality, low cost, accessible higher education. 
In 1949, UMGC became the first institution to send faculty overseas to teach active-duty military personnel at installations in Europe. The university expanded overseas operations to Asia in 1956 and to the Middle East in 2005. UMGC faculty have taught in the war zones of Vietnam, Kosovo, Kuwait, Afghanistan and Iraq. 
UMGC now offers classes to military service personnel and their families at more than 175 locations in more than 20 countries. Today, more than half of the university's students are active-duty military personnel and their families, members of the National Guard and veterans.