Recipient—2018 Pillars of Strength Scholarship Awards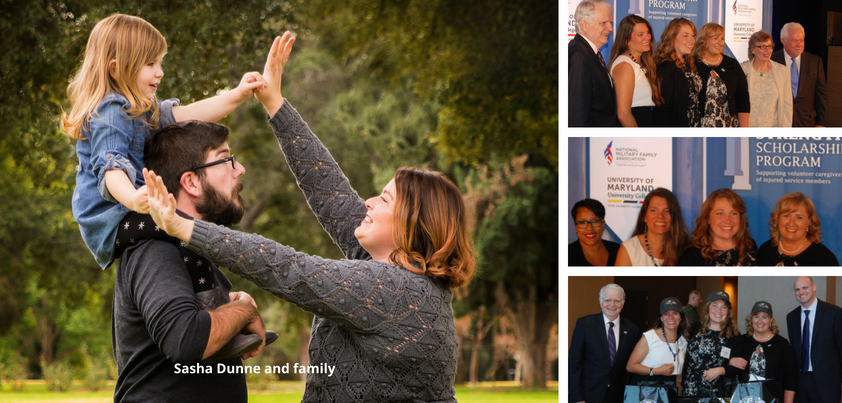 Sasha Dunne was six months pregnant when her husband, Colin, was discharged from the Marine Corps nearly five years ago suffering from severe PTSD.  She never had expected that her young married life would revolve around caring for her disabled husband who had been the family's primary breadwinner. They moved to Illinois to be closer to extended family but navigating the maze of regulations at the local VA hospital proved daunting.

"I spent hours on end, day after day, trying to figure out who to call, where to get help for Colin and for our family," Dunne said. "After two years and hundreds of hours of research and tears, we finally began getting him regular treatment, and I started to believe we might be okay."
Dunne said she had been forced to put her college career aside as the need to provide care intensified. But just lately, she has been able to go back to complete the 36 credits needed for a medical coding certificate and qualify for a job she thought she could do from home and provide for her husband's care at the same time.
She was wondering how she possibly could pay for what she really wanted—a bachelor's degree that will open the door to non-profit management and her goal of running a group to help veterans—when she saw a mention of the Pillars of Strength Scholarship and applied.
"I was just so excited to get the call," Dunne said. "It is a huge relief not to have to figure out a way to pay for school to get my bachelor's degree."
Dunne already is involved in the local caregiver and veteran community through Hearts of Valor.  She volunteers her time to assist others in getting through the VA bureaucracy.
"I hope to be able one day to open a non-profit that meets the needs of veterans and spouses that I see," she said. "I would like to help with dental costs, preschool and childcare costs, and relaxing retreats for veterans, caregivers and their families."