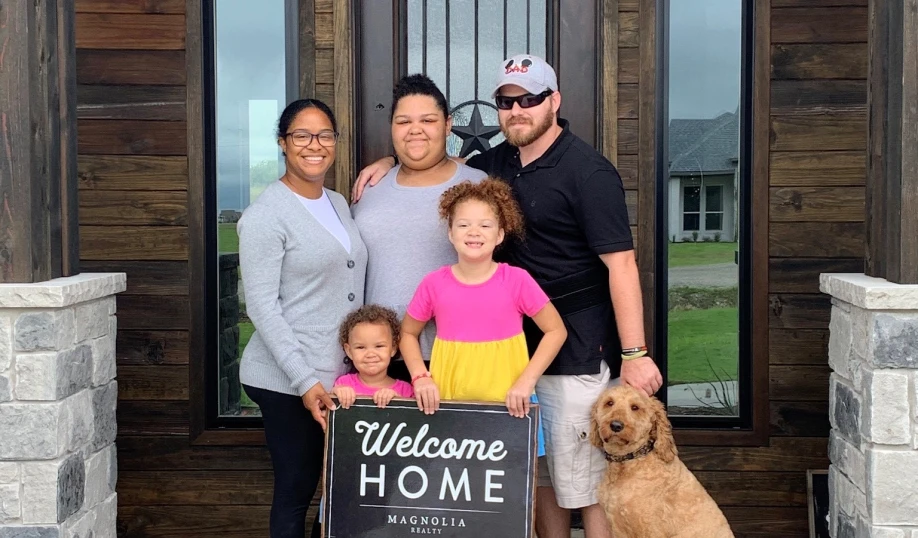 A New Degree to Support the Family and Help Injured Veterans
Sasha Clarkin's bright eyes and ready smile belie her years of caring not only for her wounded husband, but also for her 15-year-old daughter who has had a brain tumor since the age of 5.
Growing up in New Jersey, the daughter of Dominican and Haitian immigrants, Sasha headed to Adelphi University in a dual finance and physics degree program with Columbia University. Her goal was to end up on Wall Street. She was raising a daughter while she studied.
During a visit to Rutgers University in 2009, she met Jeremy. They became a couple.
Jeremy had a full scholarship to study engineering, but he soon became bored with academic life—he wanted more action. They broke up after he headed to California to enlist in the Marines. After he finished bootcamp, he returned to New Jersey and they reconnected.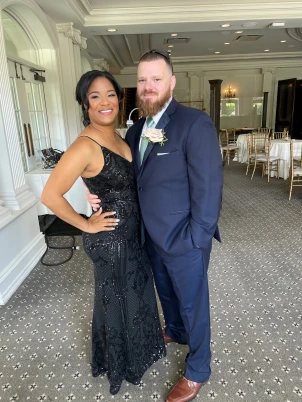 Sasha and Jeremy married on June 30, 2011, a week before he was to begin deployment training for Afghanistan.
Just two weeks before Jeremy left for Afghanistan, Sasha found out about her daughter's brain tumor. While she was dealing with her daughter's surgery and chemotherapy at home, Jeremy was in the thick of the fighting in Afghanistan. His company was one of the few in constant contact with the Taliban. He lost several compatriots and escaped close calls himself.
Once, withdrawing from a firefight, Jeremy was forced to jump over a ridge. He dropped 10 feet and smacked his head on a rock and on the machine gun he was carrying. He suffered a concussion, but he had to keep going. That incident turned out to be the source of as many as three traumatic brain injuries. He also suffered from post-traumatic stress disorder (PTSD) after watching so many other servicemembers die, among them his best friend.
Still, he insisted on pushing through. On his next deployment in a training exercise in Australia, he almost died from a poisonous spider bite.
Once at home, his wife could see the effects of his combat experience.
"He starts falling down the stairs often," said Sasha, who had transferred to a community college when her daughter became ill. "One time he falls down the stairs, and he's not getting up. So, I literally dragged dead weight of a 200-pound man up the stairs to my bed, trying to figure out what to do. He didn't want me to take him to the hospital."
He insisted on training to be part of the United States Marine Forces Special Operations Command. He suffered so many injuries to his shoulders, his elbow and his wrist that he required multiple surgeries. The Marines only give its members so long to recover, she said, and then you have to get out. That's when she insisted he talk about his PTSD so that he could qualify for a medical retirement with benefits. He wasn't diagnosed with epilepsy until he had a seizure while driving on an interstate highway. After leaving the Marines, his condition deteriorated, requiring more surgeries and extensive medical care.
"I transitioned to become my husband's caregiver," Sasha said. "Juggling doctor's appointments for my daughter and my husband became overwhelming and exhausting very fast. And, I got pregnant with my third daughter while working on his medical retirement."
Sasha's short-term goal with the Pillars of Strength Scholarship is to get a degree in finance, with perhaps a minor in cybersecurity, so she can better support her husband and her three daughters, now aged 15, 8 and 3. Longer term, she hopes to start a nonprofit that helps people work their way through the morass of the medical system, both military and civilian. Many people already come to her for advice because of her experience with Naval medicine, the VA and civilian medicine.
Sasha also watched her husband overcome the deep depression he fell into after leaving the Marines by taking up painting, matching the artwork with music.
"A lot of the veterans that he'll show the paintings to, they just know what he was feeling," she said. "With my help, he wants to help other veterans find a way to pour out their emotions into something more productive than addiction."
With that in mind, Sasha and Jeremy created Tattered Soul Creative.
Sasha and her family now live in Texas. Her husband finally is stabilizing with the painting therapy and her daughter is overcoming her cancer. Sasha says she will have the time to do the academic work.
And, does her husband think he got enough action by dropping out of college to join the Marines? "He thinks he got plenty," she said.