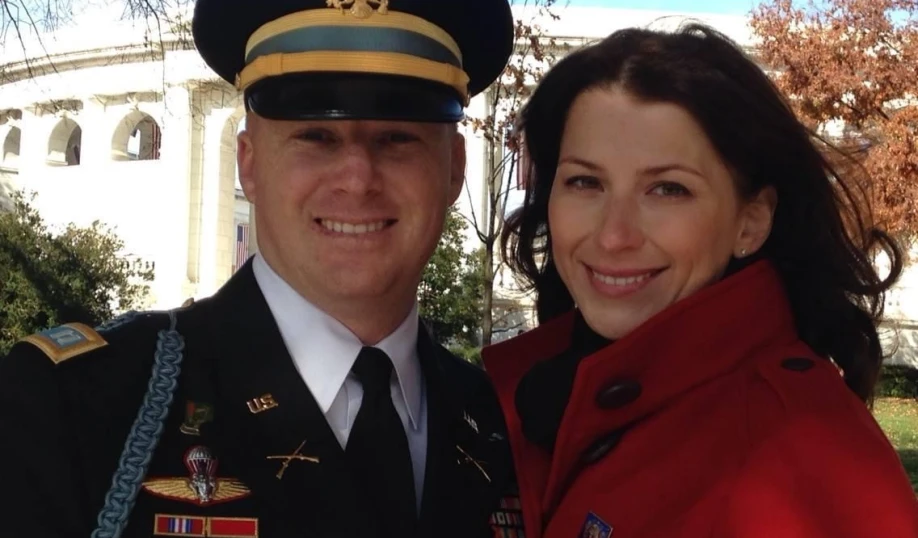 Combat Veteran's Spouse Maps the Future
Anna Soler was a student from Latvia, studying in Denmark, when she met the man of her dreams, a young U.S. soldier. It was 2007 and he was traveling in Europe for the first time after a 15-month deployment in Iraq.  
As Anna's schooling came to an end, the soldier received his new orders and she had to make a choice: chase after a career or follow Kyle Soler, the man who had unexpectedly entered her world and become the center of her life.
She chose love.
"I was afraid—and still am—of finding myself defined by my relationship to someone else," Anna said. "I came to understand that being a military spouse does not mean that my personal aspirations were automatically going to be derailed or lost forever."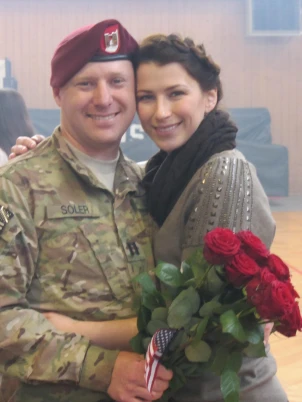 The transition to the life of a military dependent was a hard one for Anna. She had graduated from one of the top business schools in Scandinavia, and many of her peers held senior positions with international companies in Europe and the United States. Her decision to follow Kyle meant that she was moving every three years, each time reframing her goals. At every posting, she sought out the best professional opportunities she could find.
Anna said it was not easy to keep her dreams on track. She worked hard to fit her career goals into the life of a military family, focusing on opportunities rather than limitations. She looked to the example set by other military wives.
"So far, I am incredibly blessed to meet and work with amazingly capable, strong and intelligent military spouses. Their life stories inspire me to be a better person," she said.
As Kyle continued his now 17-year career in the U.S. Army, he returned for two more deployments to Afghanistan—and accumulated a growing list of injuries. He damaged his lungs during a chlorine gas attack, was shot when his team was ambushed and was wounded in a bomb blast from an IED. Each time he was patched up and sent back to combat.
He was even hit by lightning at an observation point atop of a mountain in Afghanistan. And that wasn't the only injury that had nothing to do with the battlefield.
 "On a night jump in Alaska, he had a bad landing that blew out both shoulders and hips, requiring multiple follow-up surgeries," Anna said.
Anna said Kyle has seen "amazing and specialized doctors" but complex medical cases like his are difficult to manage within a single military assignment. With each move, the process for his care started all over at a new location.   
"It was one of the primary reasons I became a caregiver, to help him to recover from his physical injuries and mental struggles with PTSD [post-traumatic stress disorder] over the last years," she said.
As Kyle nears the end of his military career, he has been assigned desk positions that no longer require extreme physical effort. That has also allowed him to continue his education. He enrolled in a master's degree program at the College of William and Mary in 2020 and graduated with top honors amongst his peers. Still, he has had some rough surgeries and his road to recovery is a long one.
The Solers don't know how much Kyle will be able to work after he receives his medical discharge. Anna will need to be ready for whatever the future holds—and she's relying on University of Maryland Global Campus (UMGC) and a Pillars of Strength Scholarship to make sure she is.
Anna's first exposure to UMGC came while they were stationed in Germany. She took advantage of their proximity to UMGC campuses to earn a graduate Certificate in Project Management. That inspired her to continue studying until she earned a master's degree in information technology with a focus on project management.
A whole new world opened for her.
"Innovation and information technology go hand by hand," she said. "It's a very rapidly developing field, where skills and knowledge can quickly become outdated."
To continue advancing in the field, she needs additional specialized training. She will use her Pillars of Strength Scholarship to pursue a graduate degree in cloud computing architecture.
"It wouldn't be possible for spouses like me to have opportunities like this without the scholarship," she said. "It gives us the opportunity to become better professionals, using both hands-on experience and theoretical knowledge. UMGC is making it possible for me to remain on the cutting edge of innovation."